St Enodoc offers Holywell Course Winter Special
---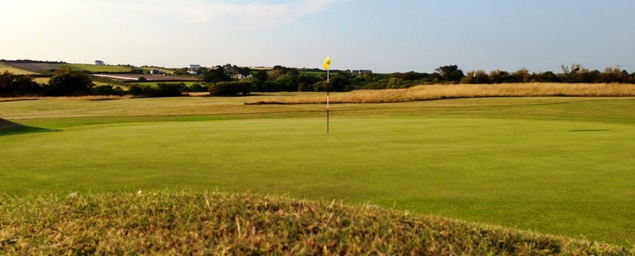 St Enodoc is offering a 'Golf & Grub' Winter Special over its Holywell Course for golfers who would like to visit St Enodoc but may not be up to the tough challenge of its testing championship Church Course.
For just £25, golfers can warm up from now until March 31st next year over St Enodoc's extensive practice facilities, play 18 holes over the relatively-short Holywell layout and then enjoy ham, egg and chips in the clubhouse of one of England's most historic golf clubs.
More manageable in length and carries than the
Church Course
, the Holywell is ideal for beginners, juniors, seniors and golfers without a valid handicap and also perfect for experienced golfers who would just like a quick round of golf.
Though just 4,082 yards, St Enodoc's second 18 still boasts some demanding holes with small, testing target greens making it a challenge for golfers of all skill levels.
Moreover the Club is giving the Holywell Course plenty of attention in terms of man hours and resources in an attempt to upgrade the Club's second course to the presentation standards of the championship course. Greenkeepers have been renewing tees, manicuring bunkers and continuing to implement new ideas for improvements.
"We decided to introduce a 'Golf & Grub' Winter Special on the Holywell during the quieter months to open up the course to golfers who would like to visit St Enodoc without the pressure of playing the Championship Course which can be intimidating.
"The Holywell is a great little track for all skill levels and a great opportunity for higher handicappers, beginners and the older generation to experience the game and enjoy a warming lunch in the clubhouse afterwards. I am sure that some of the more experienced golfers will also take advantage of this excellent offer of a quick 18 holes at a time of year when daylight hours are limited," comments Tuck Clagett, manager of St Enodoc.
Visitors to the Holywell are also able to make use of St Enodoc's excellent practice facilities which include a driving range complete with a target green and covered bay facility, two putting greens, a short game practice area and two PGA coaching professionals. In addition, the clubhouse provides the full range of usual amenities plus an elegant terrace.
Historically although St Enodoc will always be known first and foremost for its James Braid-designed Church Course which is generally considered to be one of the finest championship links courses in South West England, the Holywell comes a close second in terms of history and provenance.
Almost since golf was first played at St Enodoc there have been holes on the north side of the present clubhouse, at times part of the now Church Course and at times part of a shorter nine-hole course, which now form part of the Holywell.
Today's first nine were originally designed by Braid as well and offers some real character holes. In 1982 additional land was acquired in order to extend the course to the full 18 holes it is now. Since then some further modifications and the addition of some bunkers were made to give the current layout of 9 par 3s and 9 par 4s.
For more information please visit the St Enodc website -
Click Here
---
---
PLAY MORE PLAY BETTER - LATEST TUITION TIPS
---