Blog: Ernie Els Disappointing Outburst
By: Nick Bonfield | Mon 11 Nov 2013 |
Comments
---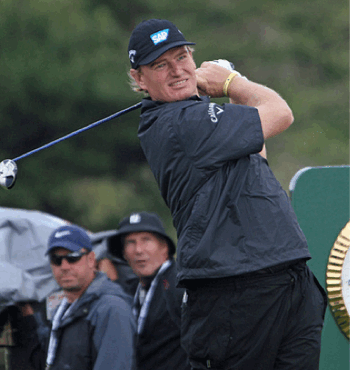 Ernie Els is a player who conducts himself with grace, professionalism and consummate class. Of course, he has garnered a reputation for excellence based on his on-course ability, but the way he represents the game of golf is equally as responsible for his standing in the golfing community. The magnanimity with which he accepted the 2012 Open crown and his subsequent, self-professed desire to tour the world and act as an ambassador for the sport endeared him further to those who hadn't already been won over by his attitude, application and long-standing dedication. I've always had the utmost respect for the Big Easy, especially given what he's had to deal with in his personal life, but I'm sorry to say that his recent statement lowered him slightly in my estimations.
Long-time support
Of all the touring professionals, no one has shown such stringent support to the European Tour. He was one of the pioneers of the two-circuit lifestyle and he refused to focus solely on America during the nascent stages of the global shift to the States. In fact, the South African has been a member of the European Tour for four decades, and he currently leads the all-time money list. Why? Loyalty and friendships, of course, but also because, as a smart, level-headed man, he recognises that a strong European Tour is an essential component of a healthy top-tier professional game. It staggers me that, given all he's done for the circuit, he'd react so unfavourably to a rule that, quite frankly, has minimal relevance and implication.
In case anyone is unaware of what he said, here is some context. European Tour authorities announced a rule that to be eligible for the season-ending DP World Tour Championship, all players had to compete in two of the three preceding Finals Series events. Last week, Els pulled out of the season finale in protest at the ruling. "Why would they make a decision like that and expect guys to play? It's farcical. In my view it's an absolute joke," he said.
On the surface, Els's disquiet seems easy to understand. He's played a global schedule all season and burnout is a very real phenomena faced by today' golfers. No one is disputing that it takes its toll, especially with the FedEx Cup play-offs adding to an already congested end-of-summer schedule, but there really wasn't a need for such an outburst. The bottom line here is that the European Tour has fallen behind the PGA Tour in terms of prestige and standing, both internally and externally, and is simply trying to take steps to redress this gulf. They aren't trying to hold players to ransom, and their motives really aren't sinister. I'm just surprised that Els wasn't able to see the bigger picture.
Confusing schedule
Looking at his schedule is also quite revealing. Els elected to play the CIMB Classic in Malaysia, instead of the BMW Championship. I don't know if he had any sponsorship commitments or not, but the obvious decision would have been a two-week stretch in China. If he'd done that, he would have satisfied the tour's requirements. It's hardly as if the two-tournament rule is forcing players to participate in second-tier events, quite the opposite. One is a World Golf Championship, another one of the most prestigious tournaments on the circuit and the third an exciting new tournament with a huge prize pool. Politics aside, why would anyone choose not to play two of the three finale-preceding events? The reality is the season has to be so long because the PGA Tour has monopolised the schedule until the end of September. As we've seen, the European Tour simply can't compete with the FedEx Cup, and while hosting tournaments this late in the year isn't ideal for the players, it's necessary for the good of the tour.
Teething problems
Much like the FedEx Cup, teething problems were always going to be inevitable. Indeed, Tim Finchem and his team had to tinker for a number of years to find a workable formula, and the European Tour even sat down with the player panel before announcing the introduction of the Final Series. It's clearly a difficult time for the European Tour, and such outbursts really don't help matters, especially from such a staunch supporter of the circuit. Els is a smart man, and his comments also show a concerning lack of commercial nous. With global players experiencing such a busy summer schedule, strong fields in October and November simply couldn't be guaranteed without the compulsory two-tournament proviso – a hugely significant factor when it comes to attracting lucrative sponsors. The last thing the tour needs when it's trying to implement an exciting new concept is adverse publicity.
No need
I do have some sympathy with Els, and in an ideal world there wouldn't be a need for these stipulations. But that's today's reality, and it's hardly if these demands are being made all season. In fact, with eight tournaments counting towards both tours, the quota to retain European Tour membership is actually pretty low. What's more, in non-Presidents Cup years there is plenty of time for rest between the Tour Championship and the BMW Championship, as well as a month off over Christmas. Yes, Els's outburst was predominantly to do with regulation, but I suspect his dislike of the Earth Course – host of the DP World Tour Championship – also had something to do with it.
Keith Waters, the European Tour's Chief Operating Officer, issued a statement the following day, and it'll be extremely interesting to see what alterations are announced by George O'Grady this week, if any at all. I can understand Els's disquiet on some levels, but his reaction was entirely disproportionate, especially given the motives behind the stipulation. The European Tour is simply trying to provide fans with excitement and prevent all its top players moving permanently to America, and I'm amazed that Els – a seasoned veteran with intelligence and loyalty – isn't able to recognise that.
Image Credit: www.tourprogolfclubs.com
---
Related Articles
2013 European Tour Schedule Announced
Race to Dubai - Luiten's Injury: Time for another Format Change ?
---
What do you think? leave your comments below (Comments)
---
---
PLAY MORE PLAY BETTER - LATEST TUITION TIPS
---
Leave your comments below
comments powered by

Disqus