Adams Golf launch XTD range of woods, hybrids and irons
---

Adams Golf has announced the launch of the XTD family of clubs showcasing a range of innovative technologies that set new benchmarks for forgiveness and ball speed generation.
Extraordinarily Adams tests every XTD driver four times throughout the manufacturing process to ensure maximum clubhead spring-like effect within USGA limits, resulting in the hottest face they have ever made. This is a unique process not known to be practiced by any other manufacturer. XTD fairway woods and hybrids include a combination of technologies never seen before and as a result Adams believe they have created the most advanced forged irons ever, featuring a hollow design and the category's only Cut-Thru slot.
"Quite frankly, these XTD products are the best we make thanks to a spare-no-expense mindset to create game-changing technology," said Justin Honea, Senior Director of Research and Development. "We ignored convention, built with premium materials and pushed the limits to deliver jaw-dropping ball speed increases off the face for every club in the bag."
Adams XTD Driver
Featuring several industry firsts, the XTD Driver is made like no other. Adams re-defined the driver manufacturing process by testing each head four times to ensure the hottest permissible face within USGA rules and the tightest tolerance in golf. Today's current competitive standard is measuring only a small percentage of the total production.
In addition, XTD is the only driver to feature Cut-Thru Slot Technology. These provide unmatched face flexion and expand the sweet spot to promote maximum ball speed on off-center and on-center shots. True to Adams' heralded aerodynamic shaping, there are neither engravings nor sharp edges to slow the club during its swing.
"We're touting that it's the hottest face in golf by using the strictest manufacturing tolerances," said Honea. "Every feature we've built into the XTD family is distinctive, and we've merged them all together into the ultimate driver."
Adams XTD Titanium Fairway Woods and Hybrids
Adams' heralded R&D team defied convention when creating the XTD Ti fairway woods and hybrids. Engineers combined titanium brazing with Adams' patented Cut-Thru Slot Technology and developed progressive face thickness to re-distribute mass and provide 29 percent more face speed on off-center hits**.
XTD flaunts an optimally-low CG, making it extremely easy to get the ball airborne for more consistent and controllable performance.
"We've consistently led the way in hybrid innovation and these have taken it to an entirely new level," added Honea. "We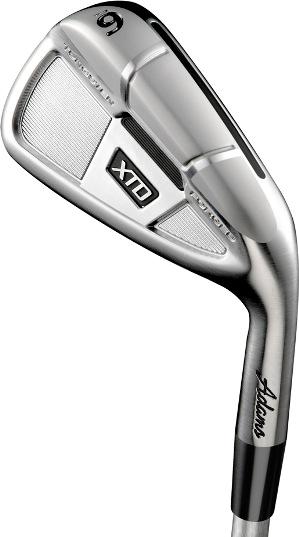 made sure XTD included every element to give golfers all they need when facing a long approach or looking to advance the ball toward the hole
."
Adams XTD Forged Irons with Slots
Unlike traditional forged irons, XTD is a multi-piece forging that boasts the category's first-ever Cut-Thru Slot Technology. A floating face and hollow design delivers a consistently faster face, adding forgiveness throughout. Tungsten weights in the sole optimize CG location.
"We created a forged iron that's caught up to our legendary hybrid technology, breaking the mould of what's been around for 80 years," said Honea. "Most blades sacrifice distance for workability but we're giving extra yards AND improvement on off-center shots!"
The full seven-piece set is available from 4-PW.
Adams XTD Availability and Pricing
XTD drivers ship to pro shops and golf retailers in January 2014 with an MSRP of £329.99. The Ti fairway woods and hybrids will be available for purchase in December 2013, each with an MSRP of £219.99 per club. All include a Matrix Red Tie shaft and Iomic Black Armor Sticky Evolution grip.
Also shipping in December 2013, the XTD forged irons include KBS C-Taper steel shafts for an MSRP £699.99.
For more information, retail locator and demo day availability, please visit
www.adamsgolf.eu
---
Tags: adams
---
PLAY MORE PLAY BETTER - LATEST TUITION TIPS
---