Doing it for the team - A tale of two cups
---
Every European Tour golfer who understands the game, whether they ply their trade on their home continent or in the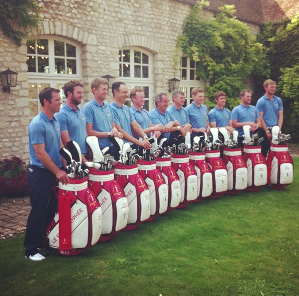 United States, will happily tell you that they owe it all to Seve Ballesteros. And the powers-that-be at European Tour will trot out out similar platitudes, conveniently forgetting that Seve accused them of mismanagement and overlooking the various spats they had with the most famous golfer Europe has ever produced.
Shame on them all. If Seve really is so highly revered by the Tour, why is it that until recently they weren't even able to confirm that the Seve Trophy, a Ryder Cup-style event launched in his name, would go ahead? And why will this be the last time that Great Britain and Ireland take on the Rest of Europe for the privilege of winning an event that meant so much to the Spaniard? From next year it will be competed for in some tin-pot event in Asia that takes place during the same week as...The Masters! In other words, when every one of theworld's top golfers will be in Augusta. Poor old Seve must be turning in his grave. His memory desrves better than this.
The Seve Trophy is being played at Saint-Nom-La-Bretèche , near Paris, France. There is no Justin Rose in the GB&I team. There is no Ian Poulter. No Lee Westwood. No Rory McIlroy. No Graeme McDowell. And the Rest of Europe is without Henrik Stenson, Martin Kaymer and Sergio Garcia. At least Stenson's absence is just about understandable - the Swede has played an awful lot of golf in recent months, and almost all if it played while in contention to win. He must be exhausted.
Thankfully, there are those who realise how special Seve was, and what it means to have a chance to represent your country. Here is Paul Lawrie on the subject. "To be honest with you, I would have walked to France from my home in Aberdeen for the chance to play for Great Britain and Ireland for the Seve Trophy."
Not for the first time, Europe is given a lesson in patriotism by the USA - a lesson in patriotism, not necessarily a golf lesson! At the end of a long haul towards the FedEx Cup, America is taking on the INternationals (effectively, the Rest of the World). And when Fred Couples did his roll call, every single player who qualified to be on his team was present and correct. Bill Haas, Webb Simpson, Phil Mickelson, Keegan Bradley, Steve Stricker, Jordan Spieth, Matt Kuchar, Tiger Woods, Jason Dufner, Zach Johnson, Brandt Snedeker and Hunter Mahan were all proud to represent their country. And so they should be. To be frank, that looks like a pretty strong Ryder Cup line-up, one that Tom Watson would be more than happy to lead to Gleneagles next year.
Likewise, there were no call-offs on Nick Price's International team. These are all proud golfers, ready to play for each other and for their part of the globe. Anybody who witnessed the way the Americans inspired each other on the opening day, and who listened to the passionate American crowd, will be left in no doubt as to which event holds the greater status. The Presidents Cup means something to players and fans alike. Compare it with the atmosphere in France, where the crowds were paltry and the golf little better. There has been a suggestion that the Seve Trophy should be used almost as a feeder event to the Ryder Cup. Rubbish. The Presidents Cup proves that there is no room for second best. It has been suggested that Paul McGinley, the European Ryder Cup team captain, will be keeping a close eye on events in France - it is far more likely that he will be watching the formation of a formidable American team at Jack Nicklaus' Muirfield Village. And he will not enjoy what he sees.
Image - European Tour Facebook
---

The Ryder Cup is unlike any other tournament in golf and the atmosphere is something that every golf fan should experience. The experts at Golfbreaks.com can help with all aspects of your Ryder Cup experience, from accommodation and ticket packages to hospitality and travel and playing some of the fantastic nearby courses.
---
---
---
PLAY MORE PLAY BETTER - LATEST TUITION TIPS
---