Golf psychology techniques help pupils boost GCSE results
---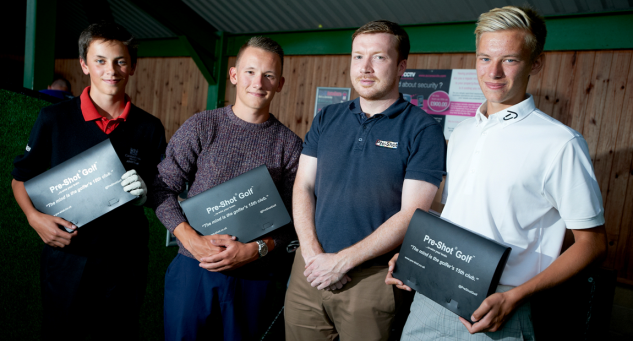 The same psychological training techniques which boost performance on the Golf course also helped a group of pupils at a London school to achieve successful GCSE results this week.
The 19 pupils at Colfe's School ,in the south-east of the capital, registered an improvement of almost 75 per cent above their mock exams. That equates to an average increase of three-quarters of a grade per subject between January and June 2013 and comes amid a widely recognised stiffening of standards by exam boards. Other pupils at the school who did not receive the training registered an improvement of just below two-thirds of a grade.
The great performance is credited to a unique form of teaching developed by the Tougher Minds training company which has also developed the Pre-Shot programme for Golf. In each case, they were created by PGA Golf Psychology Consultant
Jon Finn,
who has worked at the association's National Training Academy at The Belfry.
For BOTH golf and education, the training uses the latest understanding of neuroscience and psychology to teach mental skills like concentration, motivation and confidence and how to apply these practically
"We believe these results at the school show that our approach to developing key mental attributes for learning such as concentration, motivation and confidence are highly effective ",
said Jon Finn, Director of the Tougher Minds and
inventor of Pre-Shot Golf.
"Our methods are practical and can be easily implemented. We are confident they will help all young people improve their academic performance and help them develop key mental skills for life. Our Pre-Shot training programme for golfers uses the same techniques and is based on the same insight we have into how the brain works.
"We have seen a raft of success stories with golfers as well as the great news from the Colfe's pupils this week".
Finn added: "Tougher Minds training and the Pre-Shot system are rooted in performance psychology and based on the latest understanding of neuroscience and therefore they are highly robust.
"We would like to send our congratulations to the young people who have achieved these great results and we enjoy.
Andrew Foster, Head of Year 11 at Colfe's School, commented, "We have introduced the Tougher Minds method for the last year to pupils who showed an interest in experiencing a new approach.
"The results in the classroom are already startling. Pupils aged only 15 or 16 are training themselves to work more purposefully. By focussing more intensively, they surprise themselves at how much more they can do. As a result, we have gained these outstanding results at both GCSE and A level."
Tougher Minds training was also given to a group of A Level students at Colfe's who performed above expectations, when their results were announced last week.
Leeds Metropolitan University Professor Jim McKenna, who specialises in behavioural change, has also worked with Jon Finn to develop both Tougher Minds and Pre-Shot Golf.
The Pre-Shot programme is already being used by golfers of all standards , from high handicappers to aspiring Tour players.
Colfe's is a co-educational independent day school in Horn Park in the Royal Borough of Greenwich, in south-east London.
For more details of the Tougher Minds programme and the Pre-Shot Golf training programme check the websites:
---
Related Articles
---
---
PLAY MORE PLAY BETTER - LATEST TUITION TIPS
---