Powakaddy on a roll following successful first year with new owners
---
PowaKaddy has cause for celebration this month after completing a very successful first year under the ownership of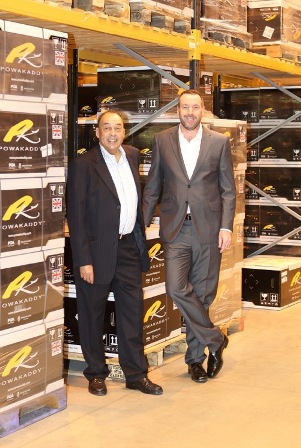 industry-experts, David Catford and John deGraft-Johnson. The duo, who returned to the helm of the company in August 2012, bought with them ambitious plans to take the PK brand to the next level in its 30th Anniversary year. A positive reception from the trade and media towards their new Freeway Family has translated through into an encouraging sell-through, and the pair have made clear their intentions to underpin future growth with continued investment and ultimately strengthen its market leadership position.
Former PowaKaddy owner, John deGraft-Johnson and previous owner of the Hill Billy brand, David Catford, blessed with decades of experience in the electric trolley market, immediately set about making an instant impression, declaring it was time to make 'Freeway Your Way'. The 2013 Freeway Family represented a new dawn for the company, but it hasn't all been plain sailing as the pair were faced with a number of challenges they needed to address.
"We have implemented a whole host of improvements and upgrades right across the entire Freeway range to deliver the very best in-class electric trolleys to our loyal following of PK enthusiasts," noted Catford. "We recognised that there were a number of structural problems and quality issues with the old PowaKaddy's business model and made it our immediate goal to rectify these issues."
He went on to add, "I'm pleased to say that our renewed focus is paying off and we have been able to make a considerable number of running changes to improve our trolleys, which we are delighted to pass on to our loyal retail partners."
The new ownership team also backed up the Freeway launch with their most impactful marketing campaign to date and extended their successful partnership with two of the
game's leading organisations
, The PGA and England Golf. The latter has seen the nation's elite men's and women's squads compete all around the world, reaping the health and fitness benefits of using their customised Freeway SPORT powered golf carts. In April the entire company hosted leading retail partners and members of the press, at London Golf Club to celebrate 30 year at the top of industry. The two-day gathering saw guest reflect on PowaKaddy's most impressive product categories over the years, record-breaking sales achievements, accolades and British heritage.
"It's amazing how quickly a year can go, but I can honestly say it has been one of the best of my life as we set about putting our own unique stamp on the company, drawing on our expertise and passion for the brand," comment deGraft-Johnson. "The Freeway Family continues to inspire golfers and we have been delighted with the reception all models have achieved, but we are already looking to the future as we aim to build on a reputation that stands for excellence born out of 30 years of innovation."
PowaKaddy's performance-infused Freeway Family features three stylish and technologically-advanced models within the range, including a
new Freeway model,
an enhanced Freeway Digital+ and the new Freeway SPORT. The latter has seen the critically-acclaimed PK SPORT model rebranded to spearhead the magnificent range, which looks set to strengthen the brand's position as the leader in the electric golf trolley market. With unerring reliability, robust performance and sporty design features resonating throughout, the Freeway Family offers outstanding on-course performance at a selection of attractive price points.
For further information on the PK Freeway Family and all other products in the 2013 range visit
www.powakaddy.com
---
---
PLAY MORE PLAY BETTER - LATEST TUITION TIPS
---