PowerKaddy Golf confirmed as No.1 choice for UK Golfers
---
PowerKaddy : Press Release
Market-leading electric trolley brand, PowaKaddy has had its status as the overwhelming #1 choice amongst UK golfers confirmed following the results of a recent independent consumer research. An impressive 51% of electric trolley users polled in the survey own a PowaKaddy, compared to the nearest competitor's 22% share. Conducted by the leading provider of industry statistics, SPORTS MARKETING SURVEYS INC., the comprehensive report sampled golf club members across a wide range of handicaps, ages and geographical regions, representing a broad cross section of the UK golf market.
The online survey also revealed a number of other encouraging results for the popular trolley brand that was originally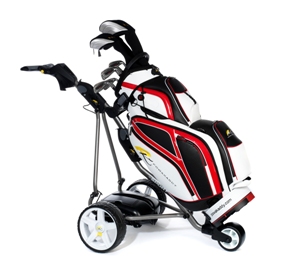 founded back in 1983 and is still regarded around the globe as golf's most iconic electric trolley brand. In the brand awareness category, PowaKaddy polled a dominant 96%, demonstrating the recognition of such models as the world's best-selling PK Freeway, the new PK Freeway Digital and the award-winning PK SPORT. Perhaps one of the most significant findings was that over half (53%) of golfers surveyed confirmed they would choose PowaKaddy for their next electric trolley purchase. PowaKaddy and Hill Billy were also ranked the top two brands for awareness amongst females and over 65's.
Equally conclusive results underlining the tremendous brand loyalty towards PowaKaddy were also highlighted in a recent ready reader survey conducted by leading UK golf publication, Today's Golfer. The results of the comprehensive analysis concluded that PowaKaddy has maintained its position as the clear #1 brand with a 37% ownership as well as being identified as the #1 choice for future purchases.
PowaKaddy's impressive UK market-share figures come on the back of industry experts, John deGraft-Johnson and David Catford's recent acquisition of the business. Simon Homer, the company's Sales & Marketing Director commented, "These surveys provide conclusive evidence that PowaKaddy remains the most recognised and preferred electric trolley of choice amongst a broad demographic of UK golfers. With experienced new owners now in place, a rich heritage and an all-encompassing product line-up, spearheaded by the cutting-edge Freeway Digital and our flagship PK SPORT model, I am confident consumer demand will continue to grow."
The new owners have already pledged to make significant investments in a move designed to secure the future growth of the PowaKaddy brand. The senior management team's intention is to continue to assemble products in Kent and maintain the principles that propelled the brand to its leadership position over the last 29 years.
---
---
PLAY MORE PLAY BETTER - LATEST TUITION TIPS
---