PowaKaddy continues it's growth under new ownership
---
PowaKaddy Press Release
Market-leading electric trolley brand, PowaKaddy received a boost this week as former PowaKaddy owner, John deGraft-Johnson and previous owner of the Hill Billy brand, David Catford secured the PowaKaddy business. In a move that can only be positive for retailers and consumers alike, the new owners have pledged to underpin future growth with continued investment in both PowaKaddy and Hill Billy.
The new senior management team's plan is to continue to assemble products in Kent and maintain the principles that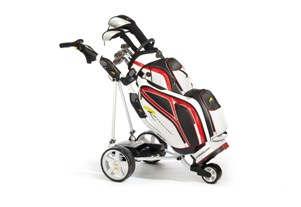 propelled the brand to its leadership position over the last 29 years. "PowaKaddy's reputation was built on quality, functionality and performance and we aim to take these core values to the next level whilst maintaining the British heritage of the brand," commented deGraft-Johnson.
Following the successful launch of Freeway Digital earlier this year, PowaKaddy has maintained a very strong following amongst core golfers and the new owners are excited for the future of the company. "The electric trolley market continues to grow and the PowaKaddy brand remains incredibly popular in key market sectors. We can also see an opportunity for the Hill Billy brand which has maintained a solid number 3 position in the market place during tough economic times," added Catford.
Recent independent figures from Sports Marketing Surveys* show PowaKaddy's electric trolley market share in the UK to be 51% and PowaKaddy's Sales & Marketing Director, Simon Homer is pleased to see the brand under new ownership. "This is extremely positive news for our retail partners and loyal end-user customer base as I believe we now have the platform in place to drive the brand forward now. It is reassuring to see the stewardship of both the PowaKaddy and Hill Billy brands in safe and experienced hands".
*Source: Sports Marketing Surveys Electric Trolley Report May 2012
For further information visit www.PowaKaddy.com
---
---
PLAY MORE PLAY BETTER - LATEST TUITION TIPS
---