Englishman Fitzpatrick wins US Amateur as Walker Cup team is announced
---
History was made in Massachusetts on Sunday when 18 year old Englishman Matthew Fitzpatrick holed a short, but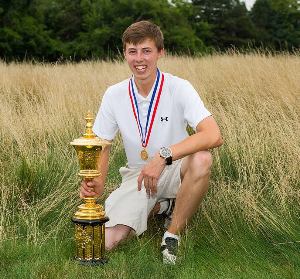 tricky par putt on the 33rd hole to claim a 4&3 victory over Australian Matt Goss.
Fitzpatrick first came to the attention of the golfing world when he won the Silver Medal for low amateur at this year's Open Championship at Muirfield. As a result it was no surprise to see him go deep into the matchplay at the US Amateur. The size of his achievement can be measured by the fact that he is the first Englishman to claim the coveted title since Harold Hilton won in 1911.
Following his win Fitzpatrick struggled to explain how he felt:
"I can't really describe how I'm feeling at the minute" he said, and continued "I mean, it's absolutely amazing"
Asked what won him the title, Fitzpatrick said:
"I'd probably say this week what's come out most is that my short game has just been really, really top drawer. I'd say my weakest part of my game was into the greens."
---
http://www.youtube.com/watch?v=qlwSDDw__GY
---
Despite his amazing year he has no plans to turn pro as he is due to start a scholarship at Northwestern university in Chicago later this year where he will be hoping to follow in graduate, Luke Donald's footsteps.
With the US Amateur title also comes an exemption to the 2014 US Open, the 2014 Open and a likely invite to the 2014 Masters.
Even before his victory at The Country Club, Fitzpatrick was a shoe in for the Walker Cup, and it was indeed included when the GB&I squad was announced on Monday. The match will take place at the National Golf Links of America, Southampton, New York on the 7th and 8th of September.
GB & I squad:
Matthew Fitzpatrick, 18, of Hallamshire, Yorkshire, England
Nathan Kimsey, 20, Woodhall Spa, Lincolnshire, England
Gavin Moynihan, 18, The Island, Dublin, Ireland
Max Orrin, 19, North Foreland, Kent, England
Kevin Phelan, 22, Waterford Castle, County Waterford, Ireland
Garrick Porteous, 23, Bamburgh Castle, Northumberland, England
Rhys Pugh, 19, Pontypridd, Mid Glamorgan, Wales
Neil Raymond, 27, Corhampton, Hampshire, England
Callum Shinkwin, 20, Moor Park, Hertfordshire, England
Jordan Smith, 20, Bowood, Wiltshire, England.
Reserves:
Greg Eason, 21, Kirby Muxloe, Leicestershire, England.
Ryan Evans, 26, Wellingborough, Northamptonshire, England.
Captain:
Nigel Edwards, 45, Whitchurch, Cardiff, Wales.
The USA also announced their final squad:
USA squad
Jordan Niebrugge, 20, of Mequon, Wis.
Nathan Smith, 35, of Pittsburgh, Pa.
Michael Weaver, 22, of Fresno, Calif
Todd White, 45, of Spartanburg, S.C.
Bobby Wyatt, 21, of Mobile, Ala.
Max Homa, 22, of Valencia, Calif.
Michael Kim, 20, of Del Mar, Calif.
Patrick Rodgers, 21, of Avon, Ind.
Justin Thomas, 20, of Goshen, Ky.
Cory Whitsett, 21, of Houston, Texas
For more information please visit the official Walker Cup Site >>
Click Here
Image: USGA Facebook
---

The oldest & most prestigious major, a trip to The Open is a must for every golf fan. From tickets and transfers to hospitality & golf, Golfbreaks.com can build the perfect package to help you experience The Open in style.
---
---
---
PLAY MORE PLAY BETTER - LATEST TUITION TIPS
---