Greats of the game appeal for Park recognition
---
Inbee Park will have they eyes of the golfing world on her this week at St Andrews, at least that is what some of the greats of the Women's game hope. Undoubtedly Park's tilt at history will receive some serious media attention, but with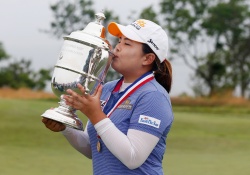 Tiger, Phil and Rory teeing it up in the latest WGC event some worry that Park is not getting the attention she deserves.
Park will be aiming to become the first golfer, male or female to win 4 majors in the same season.
Former world no.1 Annika Sorenstam commented:
"This is going to be huge if she wins, but it won't mean as much if she doesn't get the recognition and attention this deserves, It's a big deal, but people aren't really paying attention. You look at what she has done already, I don't think it's getting enough attention. If this were a player on the PGA Tour, it's all anyone would be hearing about."
Sorenstam went on to suggest that St Andrews would be a fitting venue for Park to achieve the remarkable feat:
"The way this is setting up, at St. Andrews, makes it even more special," Sorenstam said. "It's amazing. Hopefully, people will tune in and it will become this amazing highlight, not just for her, but for the LPGA and its history"
Fellow hall-of-famer Nancy Lopez was more candid in her comments on the attention Park is receiving:
"I feel like women are never given the credit they deserve," Lopez said. "The women in golf need to be given more credit. I don't think they've gotten it. I just hope the credit is given to Inbee. She's a great player and a super person, and she has done a great job handling this"
Another great of the game, beth Daniel also weighed in with her thoughts:
"It's getting a lot of attention in the women's golf world, as it should," Daniel said. "It's a pretty large feat, just winning three majors in a row, and pretty incredible to be going for the slam.
"There's always been some disappointment, for my whole lifetime, that women's sports have taken such a backseat, that for some reason it's not as great an accomplishment if a woman does it. It gets a little frustrating."
The Women's British open gets under way on Thirsday at St Andrews. All four days will be broadcast on
TV by BBC Sport
.
---
Related Articles
Inbee Park wins her third major of the year
---

The oldest & most prestigious major, a trip to The Open is a must for every golf fan. From tickets and transfers to hospitality & golf, Golfbreaks.com can build the perfect package to help you experience The Open in style.
---
---
---
PLAY MORE PLAY BETTER - LATEST TUITION TIPS
---