By: Golf Shake | Fri 12 Jul 2013 |
Comments
---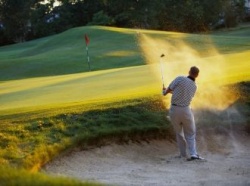 As golf is such a sociable sport, it's a fantastic option for a big group event. Golf is the most popular activity searched for online by lads planning a stag do and is a great activity to include in a birthday weekend or a big work social.
However, it's not always that easy to plan a round of golf for a large group, especially when you're making plans for different skill sets and interest groups. Often the skill set is divided, with a few keen golfers mixing in with people whose experience is limited to pitch and putt, or it's possible some of the group have never picked up a golf club in their lives. There's also the consideration of where to go for the best group golfing experience; should you stay in the UK or head overseas to soak up the best courses for your group?
To help make planning a group golf experience a little easier we've gathered some top tips and advice, including some insider's tips from stag group specialist Eclipse Leisure. With a little planning you can make sure that even the most inexperienced golfer can have a great time.
How to please the masses
If everyone attending is a keen golfer then planning your trip is likely to be fairly easy, as everyone will know how to navigate their way round the course. If, and this is far more likely, the group is mixed ability, then you may find that lower level or inexperienced golfers won't find a full round of golf as exciting as those who play regularly. This is where fun multiplayer games come in, allowing groupings that will keep the game moving fluidly in a way that's more exciting for those with less experience.
• Foursomes
The most popular group play is 'Foursomes' in which players pair up (it helps to mix experienced golfers with lower levels here) and hit alternate shots at each hole until they hole out. One player always tees off at the even holes and the other on the odd holes. The handicap allowance is half of the combined total of the pair.
• Bingo, Bango, Bongo
Another fun game for groups is 'Bingo, Bango, Bongo', in which you can choose your own selection of actions that will award points. For example, being the first to reach the green, getting closest to the hole or being the first player to putt out. You can add in your own rules here, which makes this ideal for mixed abilities. Consider picking up some prizes for the best and worst scores.
• Indoor Play
If you have members that really wouldn't appreciate a full day of golf, consider indoor golf simulators - they will often let you play any course in the world, but you can still enjoy a few drinks at the same time. The group is far less likely to get bored that way and won't need to be worried about slowing down other players or remembering specific etiquette.
Where to go in the UK
Cities are a great option when choosing your destination for a golf break with a group. Be it a stag do or birthday weekend, choosing a golf course that's within easy reach of bars, restaurants or nightclubs makes it a lot easier to organize the evening celebrations.
Stag company Eclipse Leisure says, "City-based golf courses are ideal for stag or birthday weekends as you can quickly and easily be back at your hotel and ready for a night out. Our Newcastle stag dos are particularly popular with golf enthusiasts, as there are plenty of great courses in the area, such as the centrally-located Merewether Golf Course. However, it doesn't all have to focus entirely on golf as the city offers a wealth of other group-friendly activities like quad biking and paintballing, as well as a varied nightlife that's ideal for pleasing the whole group.
Other popular UK destinations for golfers include major cities with plenty of action, such as Bournemouth, Bristol and Leeds - all of which offer a huge variety nightlife as well as top golf courses."
Where to go overseas
One of the more obvious destinations to visit in Europe for a golf weekend is the Algarve. Albuferia in particular has an infamous nightlife, with the notorious 'Strip' boulevard, but is also home to a number of golf courses to suit all abilities. The Pine Cliffs course run by Hotel Sheraton offers two rounds of its nine hole course and takes pride in the views from the 9th hole, from where players can tee off over a ravine overlooking the nearby sandy beach. Or you could try the Algarve's Christy O'Connor golf course which is better suited to slightly more experienced groups, with a number of water hazards making an appearance.
Benidorm, Marbella, Barcelona and Tenerife are among the top most popular group golf destinations, but Eclipse Leisure has taken a number of golf bookings for stag weekends in Bratislava. The capital of Slovakia only really boasts a couple of full outdoor courses, but has a number of driving ranges, 6-hole training courses and indoor simulator centers that are appealing to mixed ability groups.
How to prepare
It will be important to make sure everyone is aware of the etiquette, rules and behavior codes expected on the course you'll be visiting. Some courses have specific dress regulations and expect a certain level of behavior, so messing around on the golf carts or shouting loudly is unlikely to be accepted. You can still have plenty of fun without offending other golfers, just by making sure your whole group is up to speed on what's expected of them.
Your whole group will obviously need clubs and these can usually be hired at most destinations - if you book through a group holiday specialist, they will usually be able to help you arrange these. If members of your group prefer to take their own, make sure the clubs are packed carefully and, if flying, you know the specific allowances for your airline so you can prepare for any additional costs you may incur. See this handy golf baggage allowance chart for more information.
Simplify Scoring, Results & Stats
Additionally the Golfshake score tracking system which is available for web, iOS and Google provides an effecitive tool for scoring for individual players, multi player games as well as golf groups & golf socities. Both the web and apps will provide scoring including group/nett scores, stableford points, additional stats and leaderboards for the most popular formats. For more information on the Golfshake score, stat and handicap services click here.
---
Related Articles
Cost of Taking Your Clubs Abroad
Organise Your Very Own Ryder Cup
---
What do you think? leave your comments below (Comments)
---
---
comments powered by

Disqus