GOLFBOO - New golf holiday comparison site launched
---
Today saw the launch on an innovative new website that will help golfers from all over the world make more educated decisions when booking golf holidays. www.GOLFBOO.com is a ground-breaking new online community and powerful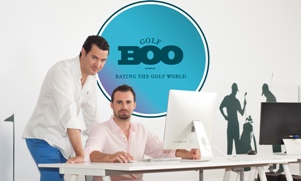 search engine that has been specifically designed to connect golfers together and help them make more informed and tailored choices when they are booking their next golf break. With thousands of packages and experiences readily available to view online, all of which are easily searchable by price, rating and availability, this revolutionary digital golf travel portal is a must-visit for any golf traveller looking for their perfect holiday. Using advanced mathematical formulas alongside an exclusive ratings system, GOLFBOO calculates a value that will guide consumers to the most applicable golf experience for them. With advice and reviews from fellow golfers, a wide variety of choice and seamless links to booking tools, make sure you sign up for free and Before You Book It…..GOLFBOO It!
"The concept behind GOLFBOO is to enable golfers to access great information relating to their golf experience," commented Fabio Peral, Commercial Director and Co-Founder. "Society has become accustomed to using search engines for a variety of day to day necessities and we believe the golf industry is ready for a search engine of its own!"
The concept is the brain child of two entrepreneurs who have over 20 years collective experience in the golf travel business. They have identified a gap in the market and plan to create a community for golfers much like Trip Advisor has done for the avid traveller.
Antonio Conde, Co-Founder remarked "We have developed a state of the art platform that is set up for golfers to find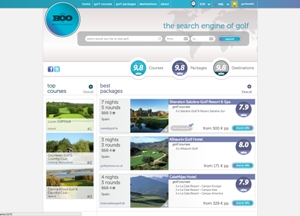 essential information for their next golf holiday at the click of a button." The digital expert continued "We have worked tirelessly on making sure the project is designed with ease of use in mind and with relevant and up to the minute information. Life has got busier and it is important to make sure organising your next trip is as simple as possible. We also want to make sure our consumers get the desired experience, which our unique rating system will help guide."
To celebrate the launch to the general public, the team at GOLFBOO have committed to entering the first 1,000 profile sign ups into a prize draw to win a once in a lifetime experience at one of GOLFBOO's five star featured resorts. All golfers have to do is sign up to GOLFBOO for free which will allow them to post their very own reviews from their own golf experiences to share with other golf enthusiasts from around the world.
"We want the site to have as much consumer interaction as possible, giving golfers the chance to share experiences, good and bad, to help guide anyone booking a golf trip. The system is simple and effective and will ultimately lead to more universally pleasing golf holidays," said Peral.
Whats more the GOLFBOO site will be using Golfshake course information, reviews and ratings to help golfers decide their perfect golfing destination.
So far, the site has thousands of golf courses and resorts featured in almost every golf destination you can imagine. Tour Operators have been quick to snap up the opportunity to promote their latest packages to the hottest destinations around the world, making GOLFBOO the one stop shop for golf travellers.
For more information for your next golf holiday ensure you visit www.golfboo.com and for the very latest news follow and like GOLFBOO on Twitter and Facebook.
Twitter: @GOLFBOO
Facebook: www.facebook.com/golfboo
---
---
PLAY MORE PLAY BETTER - LATEST TUITION TIPS
---