Motocaddy launch M1 PRO for 2013
---
Motocaddy is building on the success of its S-Series powered trolleys by launching a new range for 2013. The new range are designed to fit easily into the boot of a car, whilst retaining a host of features that have proven popular with golfers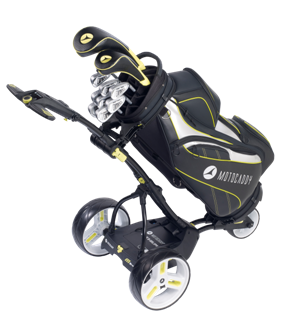 around the world.
Weighing 10.5 kg and folding down to a size not much bigger than an airline hand luggage allowance Motocaddy say the M1 PRO electric trolley has been designed to make transportation to and from the golf course even easier.
The sleek trolley offers golfers all the trademark Motocaddy performance benefits, plus a sporty new look incorporating a two-bar frame that allows an 18 hole Lead-acid or Motocaddy Lithium battery to remain in its tray when the trolley is folded down. The M1 PRO also features an integrated Accessory Station, a simple handle height adjustment and an inbuilt device cradle designed to hold a wide range of GPS devices that can also be powered from a patented USB charging port.
"The M1 PRO is our first compact folding trolley," said Motocaddy Managing Director Tony Webb. "We know from our research that a large number of golfers want transport-friendly, reliable trolleys that can fit into a variety of car boots and the easy-fold nature of the M1 PRO has been designed with this firmly in mind."
In addition to the USB charging port, the M1 PRO offers Adjustable Distance Control (ADC) – a system that allows the user to set the trolley to travel independently up to 45 metres; fully adjustable bag supports – to accommodate a variety of bag sizes – and a new look ergonomic handle designed to allow both right and left handed use.
The trolley offers nine different speed settings and is powered by a whisper-quiet 230w motor, along with either an 18 hole Lead-acid battery or a powerful, super-lightweight Lithium version available in both 18 and 36 hole options.
The M1 PRO trolley is available in Black or Alpine matt finishes from £399.99 with 18 hole Lead-acid battery, £549.99 with 18 hole Lithium battery and £599.99 with the 36 hole Lithium option.
For more information on Motocaddy trolleys, bags, batteries and accessories, please visit www.motocaddy.com.
---
Tags: motocaddy
---
PLAY MORE PLAY BETTER - LATEST TUITION TIPS
---