Wilson Staff launches new D-100 range of woods, fairways and irons
---
Wilson Golf is introducing a new family of SuperLight clubs for 2013 that feature the game's latest lightweight technology and allow amateur players to gain more distance with the same swing effort.
The new Wilson Staff D-100 drivers, irons, fairway woods and hybrids follow on from the brand's award-winning Di7 and Di11 irons and incorporate advances in virtually every performance area to help average golfers improve their game. The changes generate a faster clubhead speed that could add up to 15 yards to a drive and between 5-10 yards on iron shots.
The clubs were inspired by the fact that the world's best players have moved to lighter and lighter clubs and shafts in recent times, while increasing the distances they hit the ball. So, for the benefit of the vast majority of golfers, Wilson has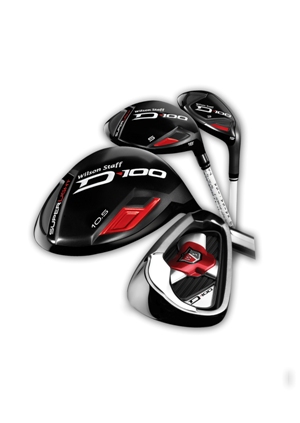 crafted new clubs incorporating its own The Right Light™ technology, which balances the correct weight distribution across the clubhead, shaft and grip to deliver greater distance efficiently.
"You can make clubs that are too lightweight," said Michael Vrska, Wilson Golf's Global Director of R&D. "But extensive research has shown that The Right Light™ technology can help the game improvement player expend the same amount of effort and get faster clubhead speeds to generate seriously long distance…and everybody wants more distance."
The launch of the D-100 family of clubs marks the first time in several years that a new set of Wilson Staff irons has been matched with a driver and fairway woods from the outset and coincides with a resurgence in market share.
"Once again, Wilson is at the forefront of bringing the latest in Tour technology to the wider golfing market with the SuperLight D-100 range of clubs," said Doug Wright, Commercial Director of Wilson Golf in Europe. "Everything about the new range is focused on giving both the trade and the consumer the best possible equipment at the best possible terms."
Wilson Staff D-100 Irons
Wilson Golf first introduced 'D' or Distance irons in 2005 and the new Wilson Staff D-100 irons (5-SW) deliver the ultimate performance-enhancing technology for players who want lightweight, easy-to-swing distance and forgiveness. They incorporate:
Large, Thin, Unsupported Face: 7% thinner iron face delivers faster ball speeds and unsurpassed distance;
Higher MOI: Exoskeleton technology coupled with an undercut cavity allows 35% more mass to be moved to the sole, heel and toe areas for extreme perimeter weighting and forgiveness;
Progressive Head Design: Optimized head proportions throughout the iron set deliver ideal launch angles, ball speeds and spin rates for each loft.
Wilson Staff D-100 Driver
The Wilson Staff D-100 driver is the lightest, easiest-to-swing driver on the market. The Right LightÔ technology delivers extraordinary head speeds resulting in greater distance thanks to:
SuperLight Technology: Improved, next generation of SuperLight optimizes grip, shaft and head for a combined club weight of 269 grams, enhancing the ability to swing faster with the same effort;
Enhanced Cup Face Design and Variable Face Thickness Technology: 9% hotter CT fires the ball with greater speed and distance. Variable thickness in the large, deep face creates an immense sweet spot for more forgiveness on off-centre drives;
Chemically-Etched Crown: An optimized crown weight is realized by relocating non-essential weight to the sole for a lower, deeper centre of gravity to heighten launch angle and increase MOI for forgiveness and more fairways hit.
Wilson Staff D-100 Fairway Woods
Wilson Staff D-100 fairway woods are among the lightest and easiest-to-swing on the market. The Right LightÔ club technology delivers optimally-designed club mass properties for greater head speeds with the same swing effort:
PVD Finish: Low profile design with sleek black finish sits square and delivers ultimate confidence at address.
Optimized Head Mass Properties: Relocated CG 11% more toward the heel makes it easier to square the club face at impact; 8% back improves launch angle and spin rate, and through chemically-etching the crown, moving it 10% lower improves feel and launch angle.
Progressive Head Design: Tailored head and face sizes throughout the lofts deliver maximum forgiveness on all turf conditions.
Wilson Staff D-100 Hybrids
Wilson Staff created the D-100 hybrids at The Right LightÔ to perfectly compliment the D-100 irons and serve as a long iron replacement option:
Improved Distance: Easy-to-swing lightweight design and correct mass properties for ideal launch angles and spin rates generate maximum distance;
Rounded Sole Design: Toe and heel relief provide shot control and confidence from all course lies;
Progressive Design: Head size and face bulge and roll are optimized across each loft for improved distance and accuracy.
Recommended Retail Prices:
Wilson Staff D-100 irons (5-SW) : £429 graphite or £349 steel shaft also in LH;
Wilson Staff D-100 Driver (9°, 10.5° & 12° - LH in 10.5°) : £199;
Wilson Staff D-100 Fairway Woods (3W, 5W & 7W) : £129: and
Wilson Staff D-100 Hybrids (17°, 19°, 22° & 25°): £119.
Details for the Wilson Staff D-100 family can be seen at www.wilson-staff.com.
---
Tags: wilson
---
PLAY MORE PLAY BETTER - LATEST TUITION TIPS
---