Bridgestone Golf launch new e-Series ball for 2013
---
Bridgestone Golf – has launched a new range of its popular e-Series golf balls offering amateur golfers access to long distance performance and Tour-level spin performance.
Inspired by Bridgestone's exclusive new 326 Seamless Dual Dimple technology – providing a 6% larger dimple surface area than previous models – the re-designed e5, e6 and e7 golf balls reduce drag off the clubface and generate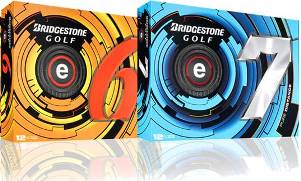 advanced aerodynamics for longer carry and greater total distance.
"The e-Series has grown in popularity and proved a big hit with many of the golfers attending our ball fittings," said Steve Kettlewell, MD for Bridgestone Golf UK. "The addition of the new Dual Dimple technology and striking packaging will give the range even more impetus this season," he added.
Each new ball has a distinctive characteristic designed to appeal to different players and address their individual playing needs from tee to green.
The softest multilayer golf ball on the market and the top-selling e-Series model in the UK is the e6, which is now 3% softer than its predecessor. Designed to help players eradicate hooks and slices, it reduces spin for straighter distance. A softer surlyn cover and low compression
core improve feel, while an anti-side spin inner layer helps keep it flying straight. The new e6 ball is available in white, yellow and orange colour options.
The e5 is an advanced 2-piece urethane construction that favours those golfers wanting higher ball flight, more distance and greater control. A large gradational core contributes to longer carry distances, while its Tour-calibre urethane cover delivers significant stopping power on the greens.
The ultimate distance ball is the new, multilayere7 model - designed purely for faster, longer shots. The larger Dual Dimple and reactive surlyn cover combine to reduce drag and increased lift, while a speed-enhancing core and spin-reducing inner layer deliver explosive velocity and greater distance.
Available from February, all three new e-Series balls have a RRP of £25.99 per dozen.
Bridgestone has conducted nearly 200,000 ball fittings worldwide – helping golfers add up to 10 yards to a drive by changing to the correct ball to match their swing speed.
For more information on all Bridgestone golf balls, visit www.bridgestonegolf.com
---
Tags: bridgestone
---
PLAY MORE PLAY BETTER - LATEST TUITION TIPS
---