Titleist launch new range of Pro V1 and Pro V1x balls
---
Titleist has this week announced the latest in its flagship Pro V1 and Pro V1x models, which are the world best-selling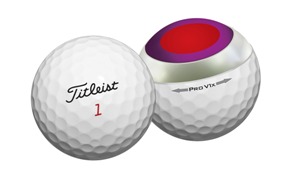 golf balls. Titleist say the new Pro V1 and Pro V1x model delivers even more distance, softer feel and longer lasting durability through new core and cover technologies.
The 2013 Pro V1 provides an even softer feel, making it the softest Pro V1 yet. Titleist suggest that golfers will also benefit from the Pro V1's longer distance due to lower driver and long game spin, and a shallower angle of descent that produces more roll. The 2013 Pro V1x delivers even more distance and more consistent performance with its deep downrange peak trajectory, tight ball flight and outstanding spin control. Both new models feature an improved Urethane Elastomer cover and paint system that results in longer lasting durability while retaining a whiter, brighter finish. New Pro V1 and Pro V1x also maintain their outstanding Drop-and-Stop control, providing all golfers with the proven short-game scoring performance that contributes to shooting lower scores.
http://www.youtube.com/watch?list=PLbY3VIgx2ZAcXqR3gqIZp4jQCMBTjoUTW&feature=player_detailpage&v=mfWggqOeu_I
The 2013 Pro V1 and Pro V1x have been tested and validated by golfers at every level of the game – including the world's best tour professionals, PGA professionals and amateur golfers of all swing speeds – to resounding positive feedback and success. Among the early converters to the new golf balls were Adam Scott (Pro V1) and Luke Donald (Pro V1x), each player winning convincingly on the worldwide professional tours after putting the 2013 model in play.
Titleist Pro V1 and Pro V1x recieve tour validation
Prior to their official launch in the marketplace, new Titleist Pro V1 and Pro V1x golf balls undergo rigorous machine and player testing. Titleist's iterative process of listening to golfers' needs, testing prototypes and further refining ensures the new models deliver meaningful performance improvements. The 2013 Pro V1 and Pro V1x have been tested and validated by the world's best tour players, as well as PGA professionals, competitive amateurs and golfers of all skill levels.
On the PGA Tour, the 2013 season began with more players teeing up 2013 Pro V1 and Pro V1x models than any other golf ball. At the Sony Open, the first full-field event of the year, 62 players relied upon new Pro V1 and Pro V1x golf balls for their success. Fifty-five players put the 2013 models in play the following week at the Humana Challenge, including champion Brian Gay. Trusting a new Pro V1x, Gay closed in 9-under 63 and won a three-man, all-Titleist golf ball playoff with a birdie on the second playoff hole. The same day, David Mackenzie played a new Pro V1x in winning the Victorian PGA Championship in Australia. A week earlier, on the European Tour, Louis Oosthuizen trusted a new Pro V1x to victory at the winners-only Volvo Golf Champions event, rallying from five shots back with a closing 6-under 66.
In total, new Pro V1 and Pro V1x players have combined for seven victories on the worldwide professional tours since the start of the tour seeding and validation process, highlighting a period of instant acceptance and success for the 2013 models.
On the same Sunday last November, Adam Scott and Luke Donald each trusted a 2013 model to register the first wins for the new Pro V1 and Pro V1x golf balls. Scott, playing the 2013 Pro V1, posted a pair of 67s over the weekend, on his way to a four-shot victory at the Australian Masters, his third consecutive top-8 finish after putting the new ball in play. Donald, playing the 2013 Pro V1x for the first time in competition at the Japan Tour's Dunlop Phoenix event, opened with rounds of 64-65 en route to a five shot victory. The following week, he tied for third at the European Tour's season finale, the DP World Tour Championship playing his first 56-holes without a bogey.
The 2013 Pro V1 and Pro V1x golf balls made their competitive debut on the PGA Tour in early October, as the seeding and tour validation process began at the Shriners Hospital for Children Classic. Eighteen players immediately switched to the new models that week, five of them finishing T-13 or better.
Since their successful debuts on the PGA Tour and European Tour, a number of Titleist golf ball loyalists have put their trust in the new 2013 Pro V1 including, Jason Dufner, Tim Clark, Chris DiMarco and Charley Hoffman, and the list of 2013 Pro V1x players includes newly crowned Volvo Golf Champions winner Louis Oosthuizen, Bubba Watson, Webb Simpson, Zach Johnson, Nicolas Colsaerts, Matteo Manassero, Bernd Weisberger and Rickie Fowler.
The seeding and tour validation process continues into 2013 across the worldwide professional tours. Additionally, more than 45,000 golfers around the world participated in the R&D testing process, having received new Pro V1 and Pro V1x prototype golf balls and reported their feedback through Team Titleist
What the Tour Pros are saying about the Pro V1 and Pro V1x
"I'm a guy that likes the softer feel… The feel (of the 2013 Pro V1) is unreal. It's the best feeling ball I've played ever." – Charley Hoffman
"I like to see a slightly lower ball flight on my driver. I feel like when I bring the ball flight down, I can control it a little better and with this ball I've been able to do that, but also keep plenty of distance on it. I also like to see the ball fly a little higher with my irons, so it's very hard to balance that, but somehow they've managed to be able to do that with the new Pro V1… The new Pro V1 golf ball definitely has a softer feel which is something that I personally like. I feel that the soft feel, especially around the greens, is where I find the biggest benefit. That's where you want the touch and the nice feel coming back up off the clubface and into your hands and you can really zero in on getting it close to the hole." – Adam Scott
"I put the 2013 Pro V1x into play for the first time at the Dunlop Phoenix and won on a tight, demanding golf course. From tee to green, I felt I had total control of distance, ball flight and shot shape, and on and around the greens, the ball performed just as I needed in order to shoot winning numbers." – Luke Donald
"I know every time that Titleist makes a new ball, it's going to be better. It's going to be just as good, and then, better. There's no reason to come up with the same ball. So they're making a product that's better. It's going to be good for my game, it's going to help my game, and help me get better. … When you see that name Titleist on the ball…you know you have confidence in it, you can pull off any shot. The ball's going to react the way you want it to react. Now it just comes down to me swinging it the right way." – Bubba Watson
"I'm a guy that hits my wedge shots really hard, I like to max out my lob wedge and sand wedge, and what I've seen is with the cover…I can play a ball a full round now. I can probably play it more than that…. The ball's durability is great." – Webb Simpson
"The 2013 Pro V1x has all the characteristics I want. You want something that (flies) high but is low spin off the tee, but then something you can control with your wedges and your irons, in particular. When I say control, it's all about trajectory and spin, so I feel like I can move it both ways and I'm getting the proper trajectory into the greens so that my distances are consistent and the spin is consistent. I'm really excited about it. It feels great off the putter and great around the green with my chipping and pitching." – Zach Johnson
---

Be part of the action with a selection of unique golf tournament experiences, from playing in a pro-am with the stars to watching the action at golf's most illustrious events. Whether it's the Masters or The Open, The Ryder Cup or WM Phoenix Open, build your own bespoke package with the experts at Golfbreaks.com.
---
Tags: Titleist
---
PLAY MORE PLAY BETTER - LATEST TUITION TIPS
---