---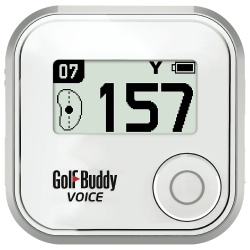 The Golf Buddy Voice launched earlier this year and made a great impact offering something different in the fast growing Golf GPS market and at a fantastic entry level price point, around £159 in the UK.
Not only did Golf Buddy launch the first talking GPS but they ensured it was the smallest and lightest GPS product on the market weighing in at only an ounce and measuring 1.7".
Having not really used a GPS device before and especially one that talked I was very eager to test out this product.
Quick and East Set-up
Pre loaded with 40,000 golf courses all you need to do is charge it and your ready to go, no subscriptions, no fees, no fuss. Clip it anywhere you like, hat, belt, bag, trolley or just slip it in your pocket it will automatically tell you when you have reached the 1st tee. Golf Buddy also recently released a watch converting wrist strap.
Simple to Use
It really is very very simple to use. Press the button once and The Voice will tell you your yardage to the middle of the green, press and hold for front of green and press and hold again for back of green.

The individual using the Voice does need to take other golfers into consideration when using The Voice, but for me it's about common sense, don't press the button for a yardage when some is on a tee box and don't press the button for a yardage when someone is in the middle of the backswing. Plus if you do want a yardage you can just look on the screen.
The only drawback for me is that I'm a visual person and sometimes like to see a hole laid out in front of me which obviously the Voice doesn't have available. Other More traditional GPS units may also give you distances to bunkers, water hazards and lay up points, which again The Voice doesn't. But then if those are the features your looking for then your looking in the wrong place.

I found it to be a great product to use and accuracy compared well to the other GPS products on the market.

Finally, I've recently had a couple of conversation with avid golfers about the Voice both of which had their opinions and made valid points but both severly overlooked what the Voice brings to the market.
The Voice is small, simple, easy to use, unique and a pleasure to play golf with, it really is a cracking little product.
GolfBuddy Voice comes with an 8hr re-chargeable lithium battery and includes the following additional features:
Tells the time via a digital clock
Multi-lingual support
Ability to change from yard to meter readings
Auto Course & Hole Recognition technology - which means it always knows exactly what hole you're playing
40,000 course memory, is preloaded with thousands of worldwide courses
For more information visit www.gpsgolfbuddy.eu
---
What do you think? leave your comments below (Comments)
---
Tags: gps units gps golfbuddy golf gps
---
comments powered by

Disqus