Footjoy improve layered technology for Winter outerwear
---
FootJoy has enhanced its innovative and much heralded FJ Layering System ahead of the coming winter months to provide golfers with a fresh new range of performance-packed essential garments. With a reputation for designing innovative products that provide the ultimate in performance, comfort, fit and style along with true value, FJ has continued its ethos of Making Every Day Playable with this new outerwear collection. No matter what conditions you encounter on the golf course, this all-encompassing system allows you to comfortably and confidently adjust your layers to maximise your performance.
The FJ Layering System has been developed specifically for golf and has benefitted from extensive feedback from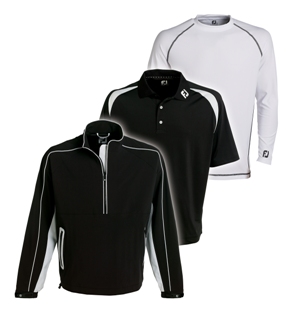 golfers at all levels, including the stars of the PGA and European Tours. By utilising lightweight, thinner, stretchable, more breathable garments, golfer are able to regulate body temperature and better adapt to changing weather conditions while also enjoying a complete range of motion during the golf swing. No matter what conditions you encounter on the golf course, you can comfortably and confidently adjust your layers for maximum performance. The system is made up of three distinct layers that all combine to make up the most technologically-advanced and complete outerwear offering in the game.
The OUTER LAYER has been FootJoy's signature layer for years, as the brand has consistently delivered products that provide the ultimate protection from the elements. Outer layer options include garments within the DryJoys® Tour Collection and DryJoys® Performance Light Collections.
The MID LAYER adds versatility during changing weather conditions. This layer features such high-performance garments as the FJ Performance Long Sleeve Golf Shirt, with its exclusive ProDry® fabrication technology to wick away moisture and provide excellent thermal protection in the cold winter months. Also falling into the mid-layer category is the increasingly popular FJ ChillOut, featuring a 4-way strathc fabric which keeps the golfer warm whilst enabling a full and uninhibited range of motion.
The BASE LAYER provides an initial layer of moisture management & comfort and regulates body temperature by moving perspiration away from the body to allow for a warm, dry core. The FJ ProDry® Performance Base Layer features a golf-compression fit, which conforms to the body to stimulate blood flow, warmth and to reduce fatigue, whilst ensuring ultimate freedom of movement throughout the golf swing.
More than 100 Tour players have already rely on FJ layered technology during the most challenging conditions. "It's a challenge to stay warm and dry in changing weather conditions," commented FJ brand ambassador and Ryder Cup stalwart, Steve Stricker. "Layering with thin materials allows me to adapt during any weather without affecting my swing."
For more information on Footjoy apparel please - Click Here
---
---
PLAY MORE PLAY BETTER - LATEST TUITION TIPS
---