Adams Golf launch new Tech V4 Hybrids and Irons
---
Adams Golf, leaders in hybrid and hybrid iron technology, has taken another leap forward in producing high-performance, easy-to-hit playability for a wide range of golfers with the introduction of the Idea Tech V4 hybrids and irons. The latest refinement in Velocity Slot Technology features a revolutionary Cut-Thru design that produces the same CT levels to that of a driver.
"With refined Velocity Slots, we were able to produce a CT around 240, which is what golfers will find in today's drivers,"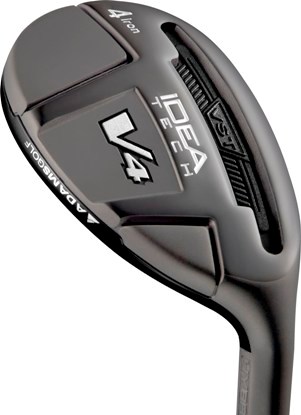 said Justin Girard, Senior Design Engineer. "This is something the industry hasn't seen in a standard stainless steel hybrid. The increased CT is going to deliver a higher launch angle and higher ball speeds. Golfers will quickly notice that these hybrids are as hot as their driver."
Cut-Thru Technology
With continuous refinements being made in club design, and specifically for hybrid design, the technology has evolved quickly, and never more apparent than with the Idea Tech V4 hybrids. This new design has Velocity Slots in the crown and sole of the club, and also features a channel that is literally cut through the head of the club from the top slot to the bottom allowing for even more face deflection. It was important to seal the slots in order to be compliant with USGA regulations, so the Idea Tech V4 hybrids feature a TPU insert which also improves the feel and give the hybrids a very crisp sound similar to that of an iron.
Unprecedented Performance
Designers are able to optimize Velocity Slots Technology in the Idea Tech V4 hybrids by isolating each slot shaping parameter, including the thru-slots resulting in the maximized CT. With the introduction of the original Velocity Slot Technology in the Idea a12 OS hybrids, engineers saw an increase in CT of 20% vs. the Idea Tech V3 hybrids. With the use of Thru Slots in the new Idea Tech V4 hybrids, engineers have achieved an increase in CT of 67% to levels only seen before in today's titanium drivers, but done in a stainless steel hybrid. In addition to the hotness of the face, the Idea Tech V4 uses a multi-material construction featuring tungsten heel/toe perimeter weighting in the long irons provides optimal CG location for increased forgiveness & higher launch.
Two Distinctive Set Options
Because the Tech V4 is offered in two distinct sets featuring high-performance stainless steel, a forged iron set and an all-hybrid set, the V4 covers a wide range of golfers anywhere from the single handicap golfer to the higher handicap golfer who is looking to launch the ball higher and gain more distance. The forged set features a 3H, 4H, 5H and 6-iron through PW using forged 8620 carbon steel with nickel plating. The all-hybrid set is 4H through PW. Both sets feature a premium PVD finish for a non-glare, sleek look.
Models, Pricing and Availability
The Idea Tech V4 Iron sets will have a manufacturer suggested retail price (MSRP) of £699 (steel) and £799 (graphite) for the forged set and £799 for the all-Hybrid set in graphite. The Idea Tech V4 Hybrids will have an MSRP of £149.99. They will be offered in right and left hand in light, regular and stiff flexes. The Idea Tech V4 all-hybrid set will also be offered in a set specifically designed for women featuring a satin finish. The Idea Tech V4 hybrids and irons will be shipping from Adams Golf from October.
---
---
PLAY MORE PLAY BETTER - LATEST TUITION TIPS
---