Thomas Bjorn fine tunes for excellent performance
---
Callaway Staff Professional and 13-times European Tour winner,Thomas Björn, has provi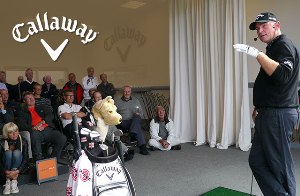 ded golfers at the company's Performance Centre in Gothenburg, Sweden, with valuable advice explaining why they should be custom-fitted for their clubs.
Thomas took a VIP audience of Callaway customers through his complete bag of clubs, from wedges through to driver, highlighting the way in which they have all been fine tuned to match his requirements and performance – a service Callaway offers all golfers at the busy Swedish facility.
Thomas regularly meets with the expert club fitters at the hi-tech Performance Centre, based at World of Golf and with the help of a Trackman launch monitor and Callaway's proprietary Optifit Fitting system, is able to check the set up of his clubs.
Thomas, who is currently making final preparations for his role as European Vice Captain at this month's Ryder Cup 2012 match at Medinah Country Club in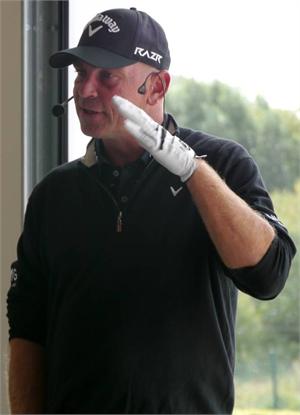 the USA commented:
"You can not underestimate the importance of having the correctly tuned equipment for your game and that is why this Gothenburg facility is so important for golfers to visit. When I am in the area, I make an appointment to check that everything in my game is how it should be."
He continued: "Using The Ryder Cup as a good example, when you are in the heat of competition you need to have complete confidence in your equipment … especially under that type of pressure! Most golfers may not experience what this feels like, but they will certainly have many pressure putts, drives and iron shots of their own and the trust I put in Callaway's Performance Centre helps me ensure every shot is within my control."
Thomas has a rich Ryder Cup history, becoming the first Danish player to compete in the event in 1997 and remaining unbeaten in the winning European Team captained by the late Seve Ballesteros. He was part of the winning team in 2002 and has played six matches, winning three and halving one. Thomas was also previously Vice Captain to Bernhard Langer in 2004 at Oakland Hills and to Colin Montgomerie at the Celtic Manor Resort in 2010.
The Callaway Performance Centre at World of Golf is open six days a week, 9.00am - 4.00pm Monday to Thursday, 10.30am - 1.00pm Saturday. Each full fitting takes approximately 90 minutes, and there is the full RAZR range of woods and irons for mens, ladies and left handed golfers to test. For further details and bookings visit the World of Golf website atwww.mycallaway.eu/custom-fitting
---
---
PLAY MORE PLAY BETTER - LATEST TUITION TIPS
---