The new Face Forward wedge aims to improve your game
---
F2 Golf Press Release
The major technology advancements in golf equipment over the last few years have very much focused on hitting the ball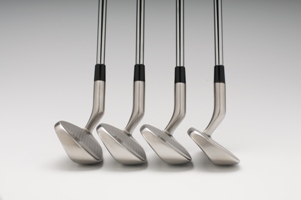 further and giving golfers the ability to sink more putts. It's difficult to think of many changes in the design of the humble wedge. Launching to the UK market after a successful year in the U.S, the F2 SS wedge changes that with a major breakthrough in wedge design.
The F2 SS wedge differs from all other wedges on the market – F2 stands for Face Forward and points towards the unique design which sees the face move forward and the hosel back. Primarily this enables the ball to strike and leave the clubface before sand or grass can grab the hosel and twist the clubface, but also has the undoubted benefit of making the dreaded shank virtually impossible. In addition, opening up the club face becomes a lot easier when the hosel is taken out of play giving the confidence of producing a clean shot when extra loft is needed.
Ian Waddicar, UK distributor for the F2 SS wedge believes it has a far reaching audience "The F2 SS wedge provides a boost in confidence for players that struggle with their short game, but the benefits can also be seen with lower handicap golfers. It's great to be able to offer something completely new to the wedge market that looks like any other wedge at address and will help golfers reduce their scoring from 100 yards in."
By looking at the common difficulties faced in wedge play and applying innovation in design, the makers of the F2 SS wedge have created a unique product that offers clear game improvement benefits. And ultimately, that's what makes a club worth having.
The F2 wedges are available in the UK in the following lofts:
52, 56, 60 and 64 deg in right hand steel shaft.
56 and 60 deg in right hand graphite shaft
52, 56 and 60 deg in left hand steel
Steel SRP: £79.99, Graphite SRP: £99.99
---
---
PLAY MORE PLAY BETTER - LATEST TUITION TIPS
---