Collapses and Clichés - Part of Masters History
By: Adam Smith | Mon 11 Apr 2011 |
Comments
---
On a day that saw Rory McIlroy collapse and his bid for a first major title disappear quicker than you can say Greg Norman, the comparisons with the Great White Shark at Augusta are now in the history books and unfortunately for young Rory, every time he drives down Magnolia Lane whispers from Amen Corner will be heard again.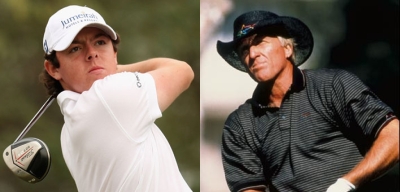 The comparisons are their demise of a lead on the final day and the fact both players should have a Green Jacket in their wardrobes.
For Norman however it was an enigma that had haunted him before. The golfing greats that had won at the famous course had shut the door on him for the last time.
Just when you thought it was his year, Nick Faldo came from six shots behind in 1996 to claim his third Green Jacket after watching Norman crumble in front of his very eyes.
A final round 78 was two shots better than McIlroy's but it was around the famous Amen Corner that their worlds began to fall apart.
Norman had three straight bogeys from the ninth to the 11th and then dumped his tee shot at the 12th in the water ending up with a double bogey.
Sound familiar? McIlroy also had a double bogey on the 12th but found dry land with his tee shot before four putting in the middle of what he describes as a "horrendous" run.
"I lost confidence with my putter early on" Said McIlroy, "I was second guessing reads and just hitting and hoping, you just can't do that here".
Before that double bogey McIlroy's troubles started on the 10th tee. Going into the famed back-nine on Sunday where the championship is well known to be won or lost, he led by one stroke. It would be the last time he saw his name on top of the leader board.
A snap hook off the tee saw his ball hit a tree less than 100 yards away and ricochet nearly into one of the houses that lie some 50 yards from the playing area. Playing pretty much out of the front garden, the 21-year old did well to advance hit some 150 yards down hooking it around to find the first cut of rough down the right hand side of the fairway but still well over 200 yards to go to the green.
Playing his third with a fairway wood another pull saw him miss the green by 30 yards and then for him to hit another tree on his pitch up to the green. On in five and two putts saw a disastrous triple bogey seven on his card as he dropped well into the chasing pack.
Hopes of him hitting straight back was strengthened when a delightful approach on the 11th saw him about 12ft away for birdie but as that putting touch was gone a three putt followed and the hope was well and truly evaporated.
No-one would have been surprised if he had found water on the dreaded 12th like Norman did 15 years previous. Even a solid iron shot to the heart of the green couldn't stop the rot.
Looking like a man distraught and sucked of all energy and will power to carry on another hooked drive did see him in Rae's Creek but it was down the 13th fairway not the usual part in front of the 12th green. He managed to salvage par not before bogeying the 15th.
The world watched as he stumbled across the finishing line.
Ironically the man on the bag for Norman in 96' was involved again this time round. Tony Navarro was on the bag for Adam Scott who took the lead with a birdie on the 16th to move to 12 under par.
Scott and playing partner Jason Day were trying to be the first Australians to wear the Green Jacket after the failings and three second place finishes from Norman.
They however will have to wait another year as four birdies in the final four holes from South African Charl Schwartzel meant he added his name to the illustrious list of champions at Augusta National.
12 months will pass before we hear all these stories again and McIlroy will have to re-live his nightmare again.
Incidentally, again like Norman he took defeat and his collapse with great dignity and acted the like the great professional he is even at his young age.
McIlroy said: "It was a very disappointing day obviously. But hopefully I'll learn from it and come back a little stronger.
"I don't think I can put it down to anything else than part of the learning curve.
"Hopefully if I can get myself back into this position pretty soon I will handle it a little bit better.
"It will be pretty tough for me for the next few days, but I will get over it - I will be fine.
"There are a lot worse things that can happen in your life. Shooting a bad score in the last round of a golf tournament is nothing in comparison to what other people go through.
"Getting applauded up onto the greens, I was almost a little embarrassed at some points. But the support I had here was fantastic and I really appreciate it.
"I can't really put my finger on what went wrong. I lost a lot of confidence with my putting, but I just hit a poor tee shot on 10 and sort of unravelled from there.
"I'll have plenty more chances I know and hopefully it will build a bit of character in me as well."
I don't think anyone can argue that between them form can be temporary but class is permanent.
---
What do you think? leave your comments below (Comments)
---
---
PLAY MORE PLAY BETTER - LATEST TUITION TIPS
---
Leave your comments below
comments powered by

Disqus