Golfshake Debate - It's All Gone Quiet Over There!
By: Adam Smith | Fri 04 Feb 2011 |
Comments
---
Ever wondered why golf is a generally quiet sport? No noise from the crowd, stewards with boards saying 'Quiet Please' and the players hearing nothing but birds sing and maybe the roar of the crowd from the other end of the course.
The etiquette of the game is of course why and it certainly should be adhered to but it just got me thinking last night when watching the Phoenix Open that there could be that carnival atmosphere at golf tournaments.
My argument pretty much sits on the fence though as on one side you never hear of football fans go silent when someone is about to take a penalty or in rugby when a conversion is being lined up. But then you have the 16th hole at TPC Scottsdale's Stadium Course which every year is turned into an 'Amphitheatre' that generates electric noise after every shot thanks to the specially erected stands that surrounds the hole which is known as the 'best spectator hole' in the world.
It certainly doesn't escape the news as it's the only hole in the world where you can cheer, boo and pretty much say anything you want as the stands are usually packed with students from nearby Arizona State University. Most notable moments would be Tiger Wood's hole-in-one in 1997 along with Justin Leonard's 'giving the finger' to the crowd after the American hit a poor shot. Interesting to hear that Woods now refuses to play in the event due to objects being thrown at him several years later.
The best attended golf tournament of the PGA's golfing calendar is usually held on the same weekend as the Superbowl which makes Sunday's final day one big party. Back in 2009 the fans had a dilemma as Kenny Perry and Charlie Hoffman went into a play-off denying fans the chance to watch the start of their biggest sporting event which incidentally featured their very own Arizona Cardinals.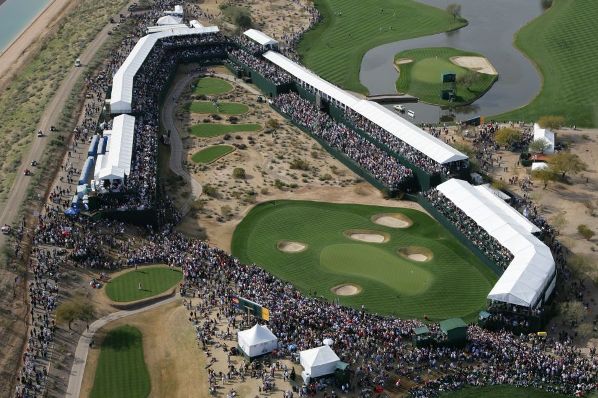 It would be interesting to hear people's opinions on this matter. The European Tour is very well supported at which ever country they visit but could the crowds get a bit more involved with cheers and chants? Think back to the Ryder Cup and what a great atmosphere that was and how much the players enjoyed it. Should that be kept to an event held every two years?
Let's hear your thoughts....
---
What do you think? leave your comments below (Comments)
---
Tags: TPC Scottsdale Phoenix Open
---
PLAY MORE PLAY BETTER - LATEST TUITION TIPS
---
Leave your comments below
comments powered by

Disqus