FootJoy Performance Fit Process Review
By: Golfshake Editor | Thu 16 Nov 2023 |
Comments
---
Review by Ed Dimambro
---
If, like me, you have been fitted for shoes, you will be familiar with the ever present brannock device that is an international standard in shoe fitting processes. The team at FootJoy have gone against the philosophy that if it isn't broken, don't fix it, and have developed the FJ Fit Lab as part of their new FootJoy Performance Fit process.
FJ Performance Fit Process
I was treated to the new FootJoy Performance Fit process at FootJoy HQ, spending some time with Alex, James and Herbie to take me through the fitting and answer my many questions. The process starts with you stepping onto the fitting unit and very quickly the cameras have produced a 3D image of your feet and projected it on the screen in front of you. At this point you may awkwardly stand in a very still position for a while (guilty as charged) but I assure you that once the scanning process is complete that you can stand at ease and chat through the parameters on screen with your FJ fitting expert.
From the information, this is where the FJ fitting experts come into their own and talk to you about what it means as well as find out more from you about your shoe preferences and thoughts so that you can make a super informed decision. For example, I wasn't aware that the different shoes in the FJ Premier range are varying widths and can therefore be recommended to really get you into something that best suits your foot size and shape.
So, why do FootJoy fit golf shoes? It can be summarised in one word - performance. This is both from getting the most out of your shoe in terms of longevity and getting the most from the shoe in relation to them providing the stability from which we all try to launch those tee shots. Ever been frustrated at excessive creasing in your favourite shoes or notice yourself wearing the inside of your heel too quickly? Well, chances are the shoes are not quite the right size or fit for you. I found that the information being on screen in front of you with the 3D image of my feet much easier to buy into and it helped to override years of thinking I knew what was best and making what now seems to be many ill informed choices.
Correctly fitted shoes, perform better and last longer.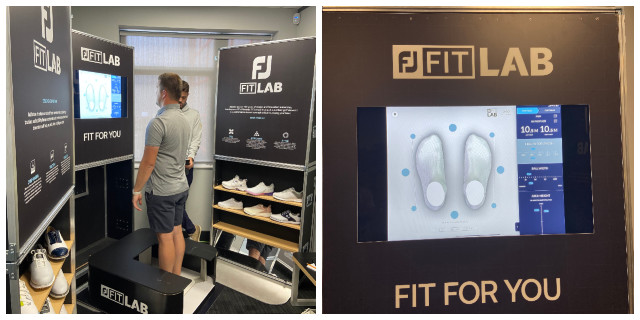 My personal fitting experience highlighted that I was wearing shoes that were too long by half a size and additionally that my heels are narrow, which is why I was wearing through the inside heel of my shoes quickly and they creased a bit more than I would have liked. Alex was quick to point this out and honed in on two shoe recommendations for me, which took into account what I had said about my personal preferences and the information from the FJ Performance Fit process.
The shoes for me were the FootJoy HyperFlex Carbon. (See Ryan Rastall's Review on Golfshake!)
The reason these came out on top in terms of selection were because I added in an additional complexity which was that I have been struggling with plantar fasciitis recently and the extra cushioning in these along with the sole design would give me the best results.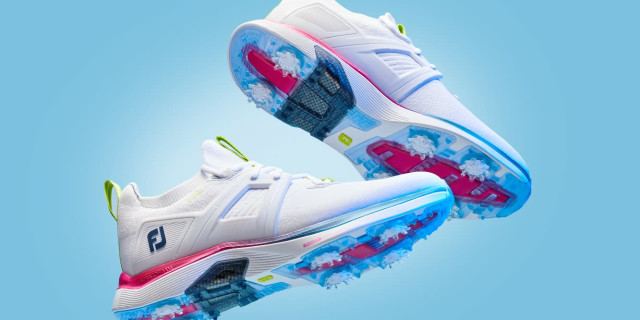 The Results
I have now played my first five rounds in these shoes and what I will say is the level of grip and stability provided is noticeable and especially as we head into the winter golf season after the clocks have gone back (sigh). These shoes have zero issue with the increased early morning dew or the damper ground conditions. The Ortholite Impressions FitBed did take a couple of rounds to get used to as it will naturally shape to your foot and adjust to where your feet distribute pressure into the shoe but, now after a little time are comfortable and certainly helping reduce the pain I was experiencing when playing before due to my plantar issue.
The half a size smaller shoe choice means the shoe has a good snug fit especially around my heel, which means it is not moving around as much during play and is not something I would have picked up on without this fitting process. The learnings from this are also being applied into my other footwear choices outside of golf, which is a great additional benefit. The only point to note on these shoes that isn't a positive, is the coated knit section of the shoe has discoloured already away from the lovely white it started as and I am yet to figure out the best way to clean them/keep them as close to new as I can.
I am so pleased with the information from the FJ Performance Fit (you even get an email that contains all the data/3D imagery from your fitting) and the overall process itself whereby the FJ fitting experts really get to show off their knowledge to get you into the right shoe and highly recommend this to anyone when looking into their next shoe purchase.
---
Related Content
---
What do you think? leave your comments below (Comments)
---
Tags: shoes review golf shoes gear Footjoy equipment
---
comments powered by

Disqus