The Golfers You Never Want to Play Against
---
EVEN if most of your golf is social, there are bound to be times when you play the sport competitively, either in matchplay or strokeplay/medal competitions.
These can be fun. They can also be pretty stressful. Much depends on the type of golfer you are playing with or against.
Trust me when I tell you that what follows is the template for the golfer you do not want to be playing against under any circumstances.
The Perfectionist
You amble up to the course, get your clubs out the boot, wander over to the practice green to hit a few meaningless putts and a few minutes later this golfer greets you with a cheery: "Hello." You then realise they have spent an hour on the driving range hitting dozens of golf balls. And that he or she is ready to go. This could be a long afternoon!
The Cowboy
He tells you that his handicap is 15.3 but your mates have already advised you that it should actually be about five shots better than that - and when you watch his practice swing on the first tee you know that they are right. It is going to be a long afternoon!
Mr Fearless
You toss a coin on the first tee and no matter which way it falls, you know that he is going to be happy to hit first. Off the first tee. And, sure enough, he nails it, straight down the middle. You hit a duck hood into the woods. The afternoon is becoming longer with every single shot!
The Tailor's Dummy
There's also something rather disconcerting about this golfer's appearance. Everything they are wearing looks like he or she has just bought it. There are no creases where there shouldn't be. And it all matches.
Mr/Mrs Moneybags
You look at his or her tournament-size golf bag resting on its state-of-the-art remote-controlled trolley and glance at their clubs, which are the very latest TaylorMade/Callaway/Ping/Titleist.
Their golf shoes are spotless. Their bag is full of brand new Titleist ProV1s - and they put a new one down on every single tee. He or she makes you feel like an absolute beginner.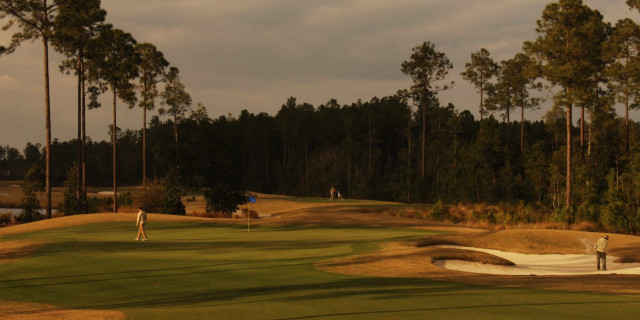 The Serial Winner
As you wander down the fairway they casually drop into the conversation that they won this competition last year and that they won a stableford competition at the weekend on a course they had never played before. With a score of 42 points.
The Strategist
While you are spraying your driver all over the place, they find every single fairway. And, horror of horror, they are somebody who plots their way around the golf course. He or she hits fairway woods and utility clubs from the tee for goodness sake. You smash it 70 yards past them. Just one small problem - you have it it into the lake. And they haven't! Oh for goodness sake, it's only a game. Why do they have to take it so seriously?
The Compliments
Every time you hit a poor shot, lip out a putt, get a bad bounce, he or she says: "Oooh, what rotten luck." You thin it and you hear: "Shot." They beat you 7&6 and say: "You didn't get the breaks out there mate."
The Excuses
You beat him or her 7&6 and they say: "I nearly called off today. I am really not feeling well."
The Master of Gamesmanship
So, not only does he consistently find the fairway but as you stand on the tee he points out the out of bounds on the right, the lake on the left, the wind blowing from left to right. You have never hit it out of bounds on that hole. But guess what? That's exactly what you do. Another hole lost.
The Walking Rule Book
He or she knows the rules inside out. As you ponder whether you are entitled to a free drop they state quite categorically that you are not. And before you can even begin to question it they quote the rule that says you can't - and does so word for word.
The Concession
Over the front nine when you are left with two-foot putts they tell you: "That's good." You just know that you should be holing these anyway but he or she doesn't give you the chance, picking the ball up for you. And then, deep into the back nine, you leave yourself another one and this time they say nothing. You start to wonder if they have seen something in the putt that you haven't. And, of course, you miss it. They walk off without saying a word. But when you get to the next tee, they say: "Bad luck." You want to insert your driver somewhere the sun doesn't shine.
The Putting Machine
With the match finely poised, you have both hit the par-four 15th green in two. You are eight feet away, he or she is at least 40ft from the hole. They have been putting like a dream for 14 holes and you have a feeling that you know what's coming. And, sure enough, their birdie putt doesn't touch the sides. Your effort to halve the hole is way off line and runs about six feet past. You console yourself with the thought that at least you gave it a go - and then realise you are two down with three two play.
Loud & Proud
It is bad enough that these golfers hole everything in sight but when they do so you would think that they had won The Open. They let out a roar or shout "Get in!" And then punch the air. And it starts to get into your head. Of course it does.
---
Related Content
10 Characters You Will Meet in The Golf Club Bar
8 Characters You Will Likely Meet at Your Golf Club
The Types of Golfers You Want And Do NOT Want to Play With
The Different Types of Golfers You Will See in The Monthly Medal
The Most Important Characters at Your Golf Club
---
What do you think? leave your comments below (Comments)
---
Tags: GOLFERS Golf daily picks
---
comments powered by

Disqus