The Different Types of Golfers You Will See in The Monthly Medal
---
Ah, the monthly medal. It's the round of golf most club golfers really look forward to, when we get the chance to put our wits against the course, when we all go out there with hope in our hearts, determined to see if we can reduce our handicaps.
For many of us, one of the joys of competition is that it provides us with the opportunity to play with people we don't normally compete alongside. It can lead to new friendships. It can also pair you with people you will never want to see again.
Here are just a few of the characters you can expect to come across in the monthly medal...
THE SUPER COMPETITOR
This is the golfer who is here for one reason and one reason alone - and that is to win! And heaven help us all if he has an off-day. He has spent an hour on the driving range and 30 minutes on the practice green before teeing off with you. He takes endless practice swings, lines up putts from every angle. And boy does he sulk if he discovers that he has lost. Don't ever say to him: "It's just a game."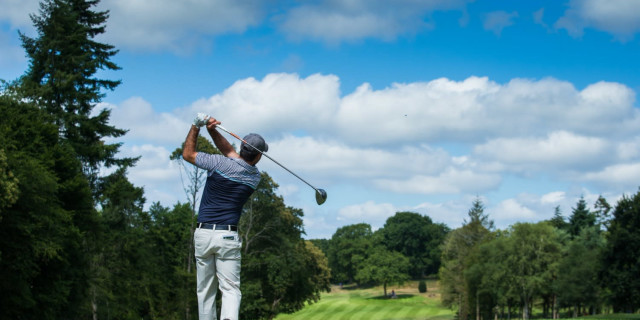 THE HANDICAP EXPERT
This is the person who will spend 18 holes boring you to tears with everything you don't want to know about how the World Handicap System has ruined the game. "It's caused my handicap to go up and I don't understand why," he moans. It could have something to do with the fact that he possesses the worst golf swing you have ever seen.
THE WALKING STROKE SAVER
It's the course you play every week. You know where all the hazards are, and so you know the areas to avoid. But the Walking Stroke Saver insists on pointing them out to you, consulting his rangefinder and telling you exactly how far you are from the pin, how many paces from the front of the green the flag is located. All you want to do is crack on with it and tell him to shut up. By the time you have finished you want to strangle him and throw his rangefinder into the lake guarding the 18th green. Instead, you smile, shake his hand, ask him to join you for a drink (hoping he will say no thanks but knowing he is going to say yes) and knowing he is going to relive every shot.
THE LIV GOLF HATER
We all have our opinions about LIV Golf, what it really stands for and how it is going to develop. But this is the golfer who spends the entire 18 holes droning on about Phil Mickelson's shortcomings, Greg Norman's role and endlessly condemns every single golfer who has taken the opportunity to bank millions of dollars for playing less golf! The thing is that you started off by generally agreeing with him but by the time you walk off the 18th green you are hoping that Greg might give you a call and offer you a blank cheque!
THE BEGINNER
We all have to start somewhere and I have to put my cards on the table and tell you that I normally enjoy playing with high handicappers, especially if I feel that I can help them and point them in the right direction. But the nightmare is the learner who enters the monthly medal and flat-out refuses to take any advice - and then adds insult to injury by attempting to tell you how he thinks you could improve your game!
THE NO RETURN
We all know one of these. This is the golfer who starts off with the best of intentions. He is obsessed with ensuring that his handicap doesn't go up. But at the first sign of trouble he informs you that he is no longer keeping his score. Or feigns a mysterious injury, makes his apologies and walks off the course!
THE BIG HITTER
Every golf club has one - the guy who hits the ball out of sight. I hold my hands up and admit that I hate playing with somebody who hits the ball 50 yards further than I do. So you know what happens, don't you? I try to open my shoulders and hit the ball as hard as I can when I am drawn with the Big Hitter. And my game falls to pieces and I end up pulling a shoulder muscle. Sometimes you just have to accept that there are golfers who hit the ball further than you do and admire their big drives rather trying to compete with them. A trip to A&E is no way to finish a round of golf.
THE COMEDIAN
I keep saying this, and make no apologies for doing so. I used to be very competitive and didn't always enjoy my golf. And then one day I had a lightbulb moment when I finally realised that being grumpy on the golf course really wasn't doing me any good at all. Golf is a hobby and it should be enjoyed. I now play with like-minded people whose company I enjoy and, for me, there is nothing better than turning up for the monthly medal and realising that I am playing with the club comedian, the guy who makes everybody laugh, even when they are playing badly. And here's the thing - when you play with this person you almost always play at your best because you spend so much time laughing!
THE PASSION PLAYER
Heaven help you if you get drawn with this character. Every good drive is accompanied by a first pump. When he finds the green you hear: "YES!" He holes a putt for a birdie and yells: "GET IN!" And throws his cap in the air. By the time a round of golf with this guy is over you are a nervous wreck.
---
Related Content
The Types of Golfers You Want And Do NOT Want to Play With
The Types of Golfer You See at The Driving Range
8 Characters You Will Likely Meet at Your Golf Club
---
What do you think? leave your comments below (Comments)
---
Tags: GOLFERS Golf daily picks
---
comments powered by

Disqus