Are These The Scariest Tee Shots in Golf
---
By common consent, the most frightening shot in any round of golf is the opening drive. You probably haven't warmed up properly and there are lots of pairs of eyes watching you.
And while that is true, there are many golf holes that give players of all standards the screaming heebie-jeebies. It can be water, it can be knee-high rough, out of bounds, a howling wind, or a narrow fairway.
And it doesn't have to be a drive on a long hole that makes us nervous. I have put together a list of what I consider to be some of the most terrifying tee-shots in the sport - and you may be surprised at just how many par threes feature.
17th, TPC Sawgrass
Par 3, 137 yards
Probably the most famous par three on the planet. It is played to an island green, totally surrounded by water - and there is absolutely no margin for error. Mark Calcavecchia once said of it: "It's like having a 3 o'clock appointment for a root canal. You're thinking about it all morning and you feel bad all day. You kind of know, sooner or later, you've got to get to it."
17th, Ocean Course, Kiawah Island
Par 3, 231 yards
You can be sure that Calcavecchia has some thoughts about this par three too. During the 1991 Ryder Cup he somehow managed to lose it to Colin Montgomerie, who recorded a double-bogey five. The wind almost always blows and there is water to be cleared. A knee-knocker, no matter how good you are.
14th, Coeur d'Alene Golf Resort
Par 3, 218 yards
Only in America! The tee shot is played to a floating green. That's right - a floating green! And there is nowhere to bail out because you need a boat to get to the putting surface. A bonkers hole in Idaho, ready to wreck scorecards!
5th, Pine Valley
Par 3, 220 yards
Yet another frightening short hole. And yet again it involves a tee shot over water and bunkers to a raised green. Make a four here and move on! Quickly!
18th, Carnoustie
Par 4, 444 yards
Remember Jean Van de Velde? This hole is a monster, especially when the wind is blowing. From the tee you have to negotiate the Barry Burn, and that's without thinking about the fairway bunkers and the out of bounds.
1st, Old Course, St Andrews
Par 4, 367 yards
Why would standing on the tee of a hole that boasts one of the widest fairways in all of golf be scary? First of all, for that very reason - imagine hooking it so badly that you went out of bounds (as did Ian Baker-Finch many moons ago). But the real reason is that this is the Old Course and there will always be lots of people milling around to watch you. And, erm, this is the Old Course. Period.
15th, Cape Kidnappers
Par 5, 650 yards
The first challenge is the narrow fairway, bordered by thick, thick rough and bushes. And there is no margin for error as there are huge drops on either side of the fairway. Finding the short and prepared is something to be proud of here. It is known as 'Pirate's Plank' for a reason.
14th, Royal Portrush
Par 3, 210 yards
Yes, it is another par three. This one is usually played with wind whipping in off the Atlantic Ocean. There is also thick rough. Oh, and a 75-foot ravine filled with even more rough. Not for the faint of heart.
8th, Pebble Beach
Par 4, 416 yards
The Pacific Ocean hugs the cliffs down the right of the fairway. The views are amazing, the tee shot less so. A well-hit drive can overrun the fairway and into the ocean below. This was the hole that proved to be Dustin Johnson's undoing at the 2010 US Open. It is a properly terrifying drive.
18th, Doral
Par 4, 473 yards
This is one of the most difficult finishing holes in the game. On the left side of the fairway, there is water and on the right, trees loom, waiting to catch a stray ball. And if that isn't enough, there are bunkers scattered everywhere. At the 2015 WGC-Cadillac Championship, there were four birdies in 145 attempts against 69 scores of bogey or worse!
1st, Oakmont Country Club
Par 4, 482 yards
Gulp! This hole measures 482 yards and is a par four with eight bunkers just off the fairway. As if that is not bad enough, the fairway is just 24 yards wide. Throw into the equation the fact that this is the opening hole and you will understand the challenge it represents.
17th, Old Course, St Andrews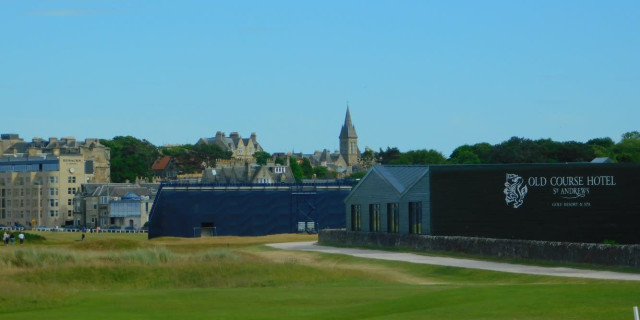 Par 4, 455 yards
Statistically, this is the hardest hole in championship golf. The drive is as intimidating as they come because as you stand on the tee you can't see the fairway! You have to go over the corner of the Old Course Hotel. Or, more accurately, over what used to be a railway shed. The difficulty comes in the fact that the best line to the green is from the right but if you go too far right off the tee you will be out of bounds. Too far left and you are in thick rough.
4th, Bethpage Black
Par 5, 517 yards
By common agreement, Bethpage Black in one of the most difficult courses in America, and the fourth is a beast. It is a par five that measures "just" 517 yards but it is uphill. There is a huge bunker on the left and thick rough on the right. When you stand on the tee all you see is sand!
18th, TPC Sawgrass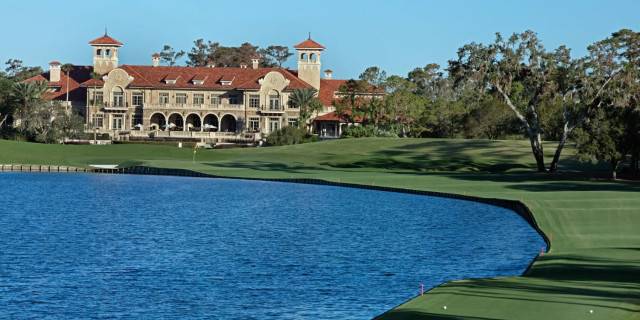 Par 4, 462 yards
You are standing on the final tee needing a par to win - and all you can see is the vast expanse of water running down the entire left side of this fearsome closing hole. And a fairway that looks as wide as a cricket strip. The temptation is to go right. But if you do that you could end up in the trees, giving yourself a nightmarish second shot, especially if the flag is positioned on the left. A horrible finishing hole.
16th, Cypress Point
Par 3, 219 yards
You know that a par three is difficult when you discover that the man who designed it provides you with two options. Step forward Alister MacKenzie. This is a fiendish hole. If you go for the green you have to hit your ball over the Pacific Ocean, so MacKenzie provided a safe landing area to the left, offering an almost guaranteed four. But this is a par three, so you want to go direct for the putting surface - and then ask yourself why you bothered! Three-time Masters champion Jimmy Demaret described the hole thus: "There is no relief. The only place you can drop the ball over your shoulder is in Honolulu."
---
Related Content
The Most Frightening Shots in Golf
7 Mistakes That Every Golfer Makes
10 Shots We Never Want to Play Again
18 of The Toughest Holes in Golf
---
What do you think? leave your comments below (Comments)
---
Tags: GOLFERS Golf daily picks
---
comments powered by

Disqus