How Tony Jacklin Changed The Ryder Cup Forever
---
"It's beyond money. The Ryder Cup is a symbol. The emotion that it generates. The energy."
When you look at the awesome spectacle that the Ryder Cup has become; the huge crowds; those giant grandstands; the unforgettable moments, it's an event that has transcended the game to become a genuine sporting showpiece.
It's worth taking a moment to consider the journey that it has taken to reach this point, and the individuals who have carried the Ryder Cup along the way.
Few - if anyone - have made a greater impact to this ongoing success story than Tony Jacklin, a mainstay player for Great Britain & Ireland, four-times captain of Europe, the man who bridged eras and played a transformative role, helping to lay the brickwork of what the Ryder Cup is now today.
Speaking to Golfshake from his home in Florida, the 79-year-old reflected on what has been arguably the most impactful of Ryder Cup legacies.
The Playing Days
To fully understand what drove Jacklin to later pursue the visionary leadership role that he elevated and moulded so successfully, you have to first look back to the beginning of his own relationship with the Ryder Cup.
His debut for GB&I came in 1967 at the Champions Club in Houston, Texas. Then 23, the lad from Scunthorpe was already claiming titles worldwide and making a name for himself - but at this time, there was only one golfer who topped the charts when it came to fame - Arnold Palmer - the modern icon who Jacklin faced on the final day singles.
"It was an exciting time for me. To say it was a huge learning experience would be an understatement. You're getting thrown in at the deep end. I gave him a good game. He turned out victorious. It was an awesome experience. It was something special as far as I was concerned. But we were outgunned."
Noting that it was an unrecognisable environment when contrasted to the Ryder Cup of today, Jacklin recalled his lucrative partnership with the big Welshman, Dave Thomas, and the domineering presence of American captain, Ben Hogan, whose shadow loomed over his own players.
"He'd watch shots and rather than looking for where the ball went, he'd be looking at what you did."
That critical eye may have been unsettling for those home stars with notoriously loopy swings like Masters champion Gay Brewer, but it nonetheless didn't stop the Americans from winning by 15 points, the largest margin in Ryder Cup history.
Away from the team setting, it wouldn't be long before Jacklin became Champion Golfer of the Year in 1969, ending an 18-year drought for a British winner in The Open and inspiring a fresh generation in the gallery, including a young Sandy Lyle who was present at Lytham.
Success across the Atlantic was quickly attained in the most spectacular fashion too - following a seven-shot victory in the US Open at Hazeltine.
But when it came to resuming hostilities with the Americans every two years, Jacklin and his Great Britain & Ireland teammates invariably came a distant second best.
"It was humiliating. That's what it was. You could only do so much as an individual. I considered myself to be a winner. I was pushing myself all the time to be as good as I could possibly be."
However, there was one notable moment of respite at Royal Birkdale just months after Jacklin etched his name on the Claret Jug.
It was an edge-of-the-seat contest that came down to the last day (Saturday) and two sessions of singles matches. Jacklin faced Jack Nicklaus in both, winning in the morning, but it would be the afternoon encounter that went down in legend.
The last two men on the course, the fate of the Ryder Cup was in the hands of the star figure on both teams. Each on the final green facing par putts, Nicklaus holed his to retain the trophy for America, but his immediate, instinctive concession of Jacklin's own short putt (little more than 20 inches in length) ensured that the event would end in a tie.
It was an act of sportsmanship that defied American captain Sam Snead, but it forged a lifelong connection between the two men, who jointly designed a course named The Concession in Florida, and which has now been immortalised through the Nicklaus-Jacklin Award that was created in 2021 to recognise the player that best embodies the true spirit of the Ryder Cup.
"It's been a big plus in my life and Jack's been a great friend," Jacklin reflected 54 years later. "He was a friend before that and we've been friends ever since. It's something that he and I have shared through our lifetimes."
But Tony Jacklin, a winner, the greatest British player of his generation, subsequently had to swallow the bitter taste of defeat in the Ryder Cup in 1971, 1973, 1975, 1977 and 1979. These scars created a resolve that would soon change the direction of this marquee event.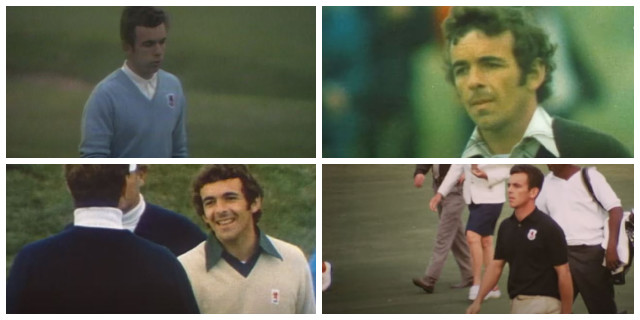 Becoming Captain
It was a confluence of factors that came together that made the Ryder Cup what it became. Players from continental Europe were introduced for the first time in 1979, while in 1981 organisers settled on the format that we know today of four foursomes and four fourballs matches on Friday and Saturday, followed by 12 singles on Sunday, allowing captains to hide players and manage their team strategically.
But Seve Ballesteros was missing that year due to a dispute with the European Tour. Europe were crushed by a formidable American side at Walton Heath. The ingredients may have been in place, but a new style of leadership was required. That's where Tony Jacklin came in.
Named captain six months prior to the matches at PGA National in 1983, the Englishman immediately sought to address the many frustrations that had accumulated during his playing days.
"I had thought a lot about what happened in the past. It helped me make the decisions I made to level the playing field. I knew the Americans were being treated better than us. We were being treated like second class citizens. With travel, they blocked some seats off in the economy section so you were all together. Some of the outfits we wore in the 70s, jackets, blazers with piping on them, we looked like a band. And that was part of the humiliation.
"Once I sorted things, the players responded. Travelling by Concorde, wearing cashmere, the best, a team room where you had everything, where you could gel together. The response they gave to the way they were treated was wonderful. And it's been the same way ever since."
That initial outing as captain - fittingly opposite Jack Nicklaus - was ultimately an agonising loss, the closest match since the events of 1969, but it was the first opportunity that Jacklin had to create pairings that were based on compatibility of people as opposed to bringing together two individual games.
"It's far more about the personalities being drawn to each other. You put yourself around people that you're comfortable with and that's what you're looking for when you're making your pairings."
Perhaps the most intriguing duo of the 1983 Ryder Cup was placing confident rookie Paul Way alongside the talisman Seve.
"Paul was 20 years old. He thought he was going to be king of the hill. He had this confidence of youth. He didn't think anyone was better than he was. There were other guys on the team who were in awe of Seve. I put Paul with him because he was only affected in a positive sense - he wanted to show Seve how good he was! The irony there was that Seve didn't get it and we spoke on the second day at lunchtime. He said; 'I feel like his father.' I said 'you are, that's why you're playing with him.' And the penny dropped."
That match is best remembered for a shot that wasn't seen on TV - which no footage of exists. Ballesteros was facing Fuzzy Zoeller in the singles and played a 3-wood from the fairway bunker on the 18th that has gone down in folklore.
"Well, I was on the other end at the green," his captain recalled. "Jack was at the bunker and he said it was the best shot he had ever seen. And he's played a few himself. It was extraordinary."
The Changing Tide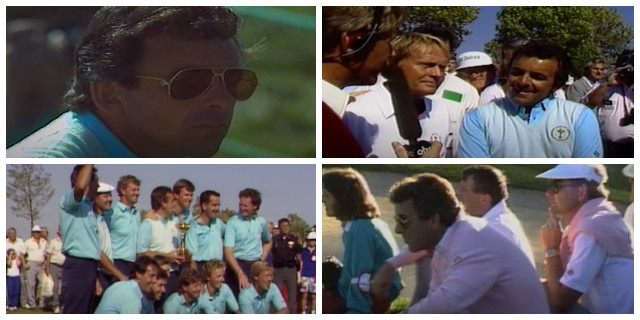 Despite the disappointment of defeat, this felt different, a tide had been turned, a newfound confidence would carry Europe and its captain to The Belfry in 1985.
"I thought about the things I had instigated, could I have done more, and I was comfortable with the way we had done it. It was just not to be on that first occasion.
"We had created this new atmosphere that was conducive to winning confidence. There was a genuine belief in the team that we could actually get this done. All of a sudden we felt capable."
Despite a slow start, those three days in the West Midlands were a magical validation for Jacklin's vision as Europe inflicted the first American defeat in the Ryder Cup since 1957.
This was a decade when the likes of Seve, Nick Faldo, Bernhard Langer, Sandy Lyle, Ian Woosnam and Jose Maria Olazabal emerged, but bringing these individual champions together as a collective was a task mastered by Jacklin.
"One of the first things I did when we got all together was tell them to leave any ego on the hook outside this room because we have to operate as a team. You create a consistent environment within the team room. So much is luck. You need a lot of luck. But I also believe there is a chemistry between players and certain individuals have a positive effect on others.
"The relationship you have with your players as captain is a vital one. You've got to be able to go into their psyche and be straight. And that's the way you're going to get the best out of your team."
For Tony Jacklin, the highlight of his Ryder Cup career came in 1987 when Europe won for the first time on American soil, once again facing up against Jack Nicklaus at Muirfield Village.
But his own chapter wouldn't conclude there. Returning to The Belfry in 1989, Jacklin had two men from the island of Ireland to thank for retaining the cup in dramatic fashion.
"Christy O'Connor was a prime example of staying strong under pressure. He delivered in '89 when all the superstars failed. Woosie got beat, Seve got beat, Faldo got beat, but Ronan Rafferty also came through. I said to him before he teed off in the singles; 'you're far too good a player to come through this without a point.' And he delivered.
"Anyone who has played in a Ryder Cup knows that it's even beyond major championship pressure. Because it's not just about you. It's about your team."
The Legacy
Reflecting on his four Ryder Cups as captain, the understated pride that Jacklin exudes shines through.
"I could have gone on for longer. But I think it would have been self-indulgent to do so. I loved doing it. It was fantastic. I just enjoyed the challenge of it. But once we won at home and away, then got the tie in '89, I just felt it was time to move on.
"The most important time was the first one when we made the fundamental changes that dictated how our players were going to feel about themselves. Once their self-esteem was taken care of, that's when they just focused on doing what they do best."
Decades may have passed since his tenure as captain ended, but the template that Jacklin established has been the one followed by his successors.
Speaking in a recent short film, 2014 Ryder Cup captain Paul McGinley said: "I think Tony brought to the table the importance of the captain. It just wasn't a ceremonial position. And he certainly moved the Ryder Cup to a completely different level than it was before."
2023's European captain Luke Donald added: "Tony Jacklin was a pioneer in terms of being able to turn around the success of the European team in the Ryder Cup. Creating an environment where we could succeed and creating a great rivalry with the US, and obviously the shift in balance, we became a successful team, and that's a lot of thanks to Tony and that will go down as his legacy."
The once apparently serene outlook for European golf had been threatened following the launch of LIV Golf, but Jacklin's primary concern is that the Ryder Cup will remain what it has been for future generations to relish.
"I want young guys like Aberg and Hojgaard to experience what Faldo and Seve did. And what I have experienced in terms of the camaraderie, sharing of pressures and rigours of the Ryder Cup. We need to protect the opportunities that these guys have to be able to do this. That's all I really hope for the game. I want them to have that experience because it comes out top of the list.
"I wouldn't sell my major championships for all the money in the world, but my Ryder Cup experiences were beyond that. When we won in America for the first time. Being at the helm of 12 guys that got it done. I said at the time that it was the greatest day of my life. And it was."
There have been many great days in Ryder Cup history. For Europeans, the most special of all can be attributed back to the platform created by Tony Jacklin.
---
For more stories like this, you can buy Tony Jacklin: My Ryder Cup Journey (written by Tony Jacklin alongside sports journalist Tony Jimenez) from Pegasus Publishers.
---

The Ryder Cup is unlike any other tournament in golf and the atmosphere is something that every golf fan should experience. The experts at Golfbreaks.com can help with all aspects of your Ryder Cup experience, from accommodation and ticket packages to hospitality and travel and playing some of the fantastic nearby courses.
---
---
What do you think? leave your comments below (Comments)
---
Tags: ryder cup PGA Tour european tour dp world tour daily picks
---
comments powered by

Disqus