This Year's Ryder Cup Could Become a Classic
---
EUROPE will go into the Ryder Cup with four rookies in the team. Ludvig Aberg, Robert MacIntyre, Nicolai Hojgaard and Sepp Straka are the men who will be experiencing the unique pressure and atmosphere for the first time. On the American side, Brian Harman, Wyndham Clark and Max Homa are all rookies.
Luke Donald will go to Marco Simone with three of the world's top-ranked golfers in his team in Rory McIlroy, Jon Rahm and Viktor Hovland. The Americans have the US Open, PGA and Open champion in their line-up. In Brooks Koepka they also have a prominent LIV golfer. Everybody is making the right noises about Koepka's inclusion in the team but he is a divisive individual. Two years ago he was at odds with teammate Bryson DeChambeau as they played out a ridiculous war of words in public.
There were also rumours of a spat involving Koepka on the flight home after the Americans suffered a humiliating defeat at Le Golf National in 2018. Let me say here and now that I admire Koepka hugely. This is a man who won four majors in the blink of an eye, rose to number one in the world rankings and then plumbed the depths of despair after suffering a series of debilitating injuries.
If you watched the Netflix documentary Full Swing you will know that he was almost ready to give up the game when his form and fitness deserted him. It is difficult to imagine how hard he must have worked to get himself back into the sort of shape that allowed him to finished second at The Masters and then win the US PGA Championship. He nearly qualified for the US team by right, which is quite something when you consider that he only played in four counting events.
But American captain Zach Johnson will know that he has a job on his hands to maintain team unity. Koepka has been deeply critical about teammate Patrick Cantlay's pace of play. He is not alone. Many golf fans, myself included, feel exactly the same way. But Johnson has to find a way to ensure that everybody gets along.
On the plus side, he captains a team that is not full of egos. Scottie Scheffler, the world's best golfer, is a thoroughly likeable and unassuming individual. Nobody has a bad word to say about him. The same applies to Clark and Harman. If you have ever heard Collin Morikawa being interviewed you don't need me to tell you what a humble individual he is.
And in comeback kid Rickie Fowler they have one of the most-loved golfers on the PGA Tour. Even his fellow pros were rooting for him coming down the stretch as he won the Rocket Mortgage Classic. And Fowler, Jordan Spieth and Justin Thomas are close friends away from the game.
On the face of it, Johnson has a team in every sense of the word - if he can find a way to keep Koepka happy.
But when it comes to pulling together and playing for each other they have a long way to go to come anywhere close to Luke Donald's European team.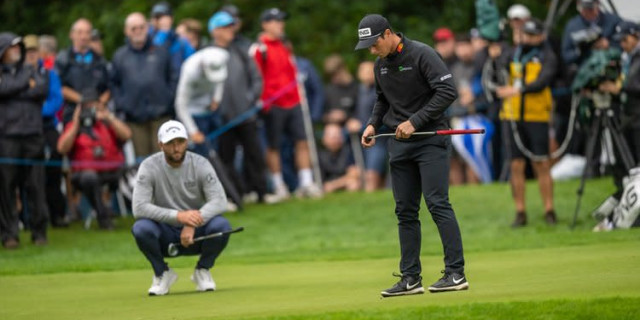 (Image Credit: Kevin Diss Photography)
Justin Rose, who was one of Donald's wild cards, summed it up perfectly when he said: "We play for ourselves week in, week out, but the Ryder Cup is bigger than that. There is something very special about playing for a team and going out alongside your friends and doing it for the team. I have had the best moments of my career in the Ryder Cup." Remember that this is a man who has won the US Open, Olympic gold and just about everything else the game has to offer.
Before making his Ryder Cup debut, McIlroy described it as a glorified exhibition. He soon changed his mind. If you want to know how much it means to him take a look at his tearful interview after losing his singles match at Whistling Straits in 2021.
Aberg was like a wide-eyed kid when he was told that he had been picked for the team. You never quite know how a raw rookie is going to perform but I don't think Donald need lose any sleep over how Aberg will do.
There was a lot of scar tissue after that defeat at Whistling Straits so having four rookies in his team can only be a positive for Donald and Europe.
And that's without taking into account what Rahm, Hovland and Tyrrell Hatton bring to the party. Rahm has assumed the mantle of Seve Ballesteros and regards himself as a leader on and off the course. Hatton will, no doubt, throw a few temper tantrums, but you just know that he will also hole more than his share of pressure putts.
Tommy Fleetwood will call on his memories from Le Golf National, when he won all four matches in partnership with Francesco Molinari. He struggled two years ago but has enjoyed a stellar year on the PGA Tour.
And what of Straka, Hojgaard and MacIntyre?
Straka is an Austrian who talks with an American accent but he is a proud European and a hugely underrated golfer. He is hardly an overnight success but has turned himself into a winner on the PGA Tour through dedication and natural talent. If he arrives in Italy on form he could be the surprise package for Europe.
Hojgaard will be disappointed that his twin bother Rasmus is not alongside him. Hojgaard has played brilliantly all summer, week in, week out. He hits the ball a mile and when his putter is hot he is nearly unbeatable. MacIntyre was bitterly upset not to make the team in 2021. His only goal for 2023 was to qualify automatically and he has played a full schedule in order to ensure he did precisely that. He is a proud Scot, the first to represent Europe since Stephen Gallacher way back in 2014, and representing Europe really matters to him. He also happens to be one of the best putters in the game.
There is a sense that we could be in for a classic.
---
Related Content
Luke Donald Completes His Ryder Cup Team With Eye Catching Picks
---

The Ryder Cup is unlike any other tournament in golf and the atmosphere is something that every golf fan should experience. The experts at Golfbreaks.com can help with all aspects of your Ryder Cup experience, from accommodation and ticket packages to hospitality and travel and playing some of the fantastic nearby courses.
---
---
What do you think? leave your comments below (Comments)
---
Tags: ryder cup PGA Tour european tour dp world tour
---
comments powered by

Disqus