Introducing LA Golf - A Brand That is Ready to Change The Game
---
Reed Dickens is a man on a mission. And that mission is to shake golf to its core.
He is the founder of LA Golf. You may not have heard of them. That is about to change.
Dickens and his company are already enjoying success on the other side of the Atlantic with their range of putters, golf shafts and a golf ball that is giving Titleist's Pro V1 a run for its money.
His Marucci Sports turned the world of baseball on its head, replacing Louisville Slugger as the market leader in the production of baseball bats, and he is determined to do the same thing in the golf industry.
Dustin Johnson and Bryson DeChambeau are already on board and Collin Morikawa uses LA Golf shafts in his putter. It should be noted that Morikawa does not have any form of endorsement deal - he uses the shaft because he believes it is the best.
Dickens says: "Bryson wanted to help design his own shafts and I gave him a blank sheet of paper to work with our engineer Jeff Meyer, who is the most creative engineer I've ever worked with in my career, and the result is the best shafts ever created.
"We don't do endorsements. Every one of our players have invested in the company and are involved with every part of our business.
"I ask everybody I ever talk to, do you know why every putter ever made is made of solid steel and why do they all have a flat face and a tiny sweet spot? The answer? No reason. Golf does not evolve.
"The fact that Titleist spend millions of dollars on patents for what is essentially the same technology that hasn't changed since 1990 is a snapshot of what golf is like. Golf is a backward-looking sport.
"People are afraid to change the status quo because if you change the status quo then you change who is in power. I want golf to be innovative and forward-looking to have a broader appeal, whereas the current governing bodies wake up every day to try to figure out how to maintain the status quo. How to make it more difficult and less fun.
"We have three basic criteria with our product range at LA Golf. One, is it better than anything the best players in the world are using, two, does it have a material science story and three, is it cool and sexy?
"The people at Scotty Cameron said in 2022 that the largest possible sweet spot is 5,000MOI but we came up with a putter that has almost 7,000MOI. So clearly, somebody didn't do enough research.
"If you have a tiny sweet spot in your putter, even a scratch golfer will miss it nine times out of 10. And that means you are going to come up short of the hole.
"Our shafts are 100% stable. Scotty Cameron sells a $600 putter with a $3 steel shaft. And the putter-head wiggles at impact and you miss the putt.
"Traditional putters have tiny sweet spots. Our carbon putters have the biggest sweet spot on the market and the quality of our shafts ensures a consistent strike, time after time."
Dickens can talk up his product line until the cows come home but the real proof of the pudding lies in trying them out.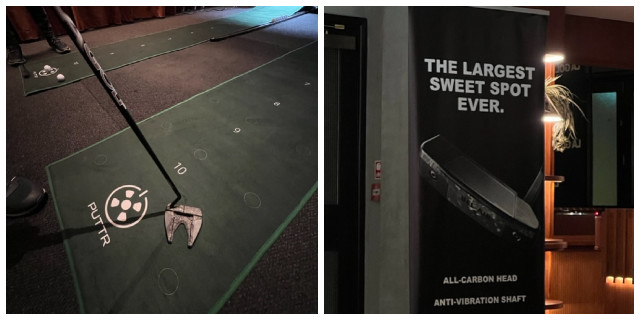 The Malibu mallet putter creates a wonderful sense of feel and when the ball comes off the face the sensation is glorious. At £499 it is not cheap but consider this - club golfers are prepared to spend that sum on a driver that will be used 14 times per round at the most. You will use a putter on all 18 holes, so why wouldn't you want to put the best possible club in the bag?
I also had the opportunity to try out a number of clubs fitted with LA Golf shafts and I have to report that they all felt as good as anything I have ever had in my hands. TrackMan technology told me that the ball flew 160 yards with a seven iron and 250 yards with a driver.
Oh, and the ball I was striking was the LA Golf Ball. It is a four-piece design that LA Golf says produces optimised spin with irons and improved wedge control around the greens. I have since used it in actual play and I am here to tell you that it will be replacing the Titleist ball I have been using for as long as I can remember.
In independent testing it flew further than the Pro V1X and Pro V1 and in my own testing I am consistently hitting it 10 yards further.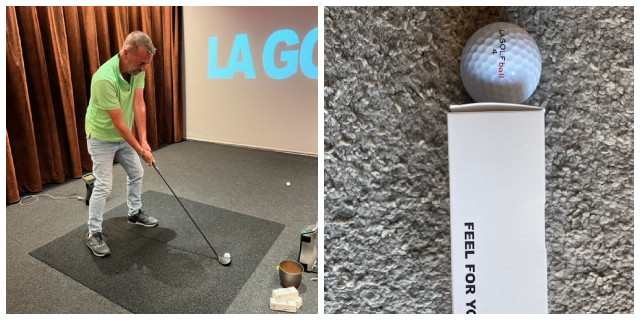 There is also a sassy clothing line and Dickens hinted that his company might be launching a series of drivers and wedges.
LA Golf have formed a partnership with Yumax, one of the leading marketing agencies in the golf industry. I believe they are going to cause quite a stir.
Watch this space.
For further details, please visit https://lagolfglobal.co.uk/.
---
What do you think? leave your comments below (Comments)
---
Tags: Golf Clubs golf balls gear equipment clubs
---
comments powered by

Disqus