Everything You Need to Know About Callaway Golf Balls
---
Each manufacturer has a variety of golf balls that are suitable for a wide range of players dependent on what they want to achieve from their performance.
Over the last few years, visual aids on golf balls have become increasingly popular as golfers look for every edge on the competition.
Whilst the traditional method was to mark your ball with a pen, Callaway have exploded into the market with several different alignment features that will suit a large majority of golfers.
In the video below, Golfshake Equipment Expert, Ryan Rastall, discusses the Callaway golf balls for the 2023 season and also discusses the latest in ball alignment innovation. You can also find detailed information below including prices.
---
Chrome Soft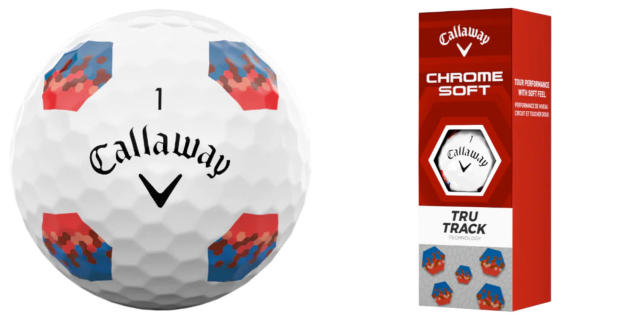 Ball shown: Callaway Chrome Soft Tru Track
From amateurs to major championship victors, the Chrome Soft golf ball has bolstered the games of millions of players around the world. Thanks to Callaway's proprietary Precision Technology, the ball now produces explosive distance in addition to the synonymous soft feel that Chrome Soft effortlessly achieves. It also produces a fantastic launch trajectory with lower spin rate on full shots. Thanks to technological advancements such as the new High-Speed Mantle System and the Thinner Urethane cover, golfers will still benefit from high spin rates and an exceptionally soft feel around the greens.
Key Tech
Construction Optimisation
Precision Technology
Callaway Chrome Soft X
The technology in the Chrome Soft X was introduced to help bridge the gap between professional and amateur golfers. Through breakthroughs such as Precision Technology, Chrome Soft X helps to provide Tour-level speed, spin and ultimate control throughout the bag. The premium golf ball features a new Tour Aero dimple pattern that helps produce a consistent ball flight for ultimate distance in all conditions.
Key Tech
Tour Aero
Construction Optimisation
Callaway E-R-C Soft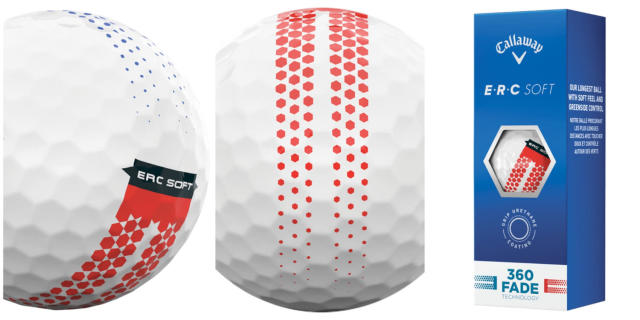 Ball shown: Callaway ERC Soft Fade 360
By blending technologies that complement one another, Callaway proudly present a golf ball that provides a soft feel throughout the bag. This specific ball is terrific for distance while issuing the golfer ultimate control around the greens with wedges. A new GRIP Urethane Coating is responsible for greenside spin and the high-elongation paint offers golfers ultimate control on approach swings and short game shots.
Key Tech
New GRIP Urethane Coating
High Speed Mantle
Callaway Supersoft
Callaway's Supersoft golf balls are a highly popular offering that are used from an array of different abilities. They are known for their long, straight distance but it is the soft feel that golfers will benefit from the most. The brand has improved the cover, core and construction technologies to help enhance the ball even further in recent years. If you're looking for a ball that produces greenside spin and favourable distance, then the Supersoft option is for you.
Key Tech
Hybrid Cover
Exceptional Feel
Callaway Warbird
The Warbird golf ball has been tweaked over the years to improve its quality. It now features an extra-large, high-energy core for increased carry distance and a penetrating ball flight. The ball's core is highly compressible to give the golfer a softer feel, but this ball will not spin as much as the premium offerings, which is something to account for. Having noted that, the ionomer cover does provide greenside control, so it's worth testing the Warbird before committing in bulk.
Key Tech
High-Energy Core
2-Piece Construction
Callaway REVA
The REVA golf ball has been designed to deliver more distance for female golfers. They have been engineered with a Tri-Blend lonomer Cover, which has been specifically developed for a female audience. It helps to maximise both distance and forgiveness in their golf swing. Moreover, they are easier to hit as the oversized construction conforms to the rules of golf to give the user more confidence on every swing. Furthermore, the ball has been engineered to encourage a higher ball flight – which will result in longer distance.
---
Callaway Golf Ball Alignment
Triple Track 360
New for 2023 is Triple Track 360, an alignment tool that expands horizontally across the golf ball. The advanced alignment aid helps to increase putting accuracy, which will keep you on target for improving your ability on the greens. It has been specifically designed for golfers to choose their start line and the visuals also provide roll feedback when on the green.
Fade 360
Fade 360 technology is new from Callaway and it has been designed to help golfers choose their start line before witnessing visual feedback from the roll of the ball. One side of the ball has a faded line coloured in blue, whilst the other side is red. When the ball is rolling, it produces a purple kind of colour which helps indicate if you're rolling the ball as well as desired. Expect these to be very popular with golfers who are looking to improve their putting ability.
TruTrack
TruTrack is a combination of Truvis and Triple Track to produce detailed roll feedback, visible spin and alignment. The elements of Truvis and Triple Track blend well to produce yet another golf ball that can offer immediate feedback – the golf industry has been calling out for this for quite some time!
What Ryan Says
"TruTrack looks quite similar to the Truvis golf balls but they have slightly different pixelations and colours on top of the golf ball. This is designed to help golfers understand how they are rolling the ball on the greens by providing immediate feedback via the line on the ball."
Truvis
Whilst Truvis won't particularly help with your putting ability, it is an unusual golf ball that can easily be identified within the rough. The balls feature unique patterns – similar to a football – and they can be very fun to play with. As an additional bonus, Callaway have released a Limited Edition Truvis Odyssey Swirl golf ball. If you're gaming an Odyssey putter, then you're definitely going to want a ball to match your sparkling putter!
What Ryan Says
"TruVis features Odyssey swirls that actually look like a football with the different patterns on the ball. It won't massively help you with your alignment but they look very good."
Callaway have long been a huge player in the golf industry and the introduction of these visual aids looks to cement their reputation further.
Have you always gamed a Callaway ball or has the recent releases tempted you to change your golf ball? Let us know in the comments.
---
What do you think? leave your comments below (Comments)
---
Tags: golf balls daily picks callaway
---
comments powered by

Disqus