Brand Fusion Unveil Innovative Shot Saving Ball Markers
---
Brand Fusion has announced the release of two new products – On Point and Shot Saver – which have been created specifically for improved putting performance.
The markers will help golfers start their putts on line, which should inspire much-needed confidence during the most important stroke.
On Point & Shot Saver Ball Markers
The On Point markers originated from America and they are the only patented dome-shaped designs on the market to provide full alignment recognition.
The advanced ball markers make it easier to identify an aim point, align the putter towards the target and visualise the distance of the putt.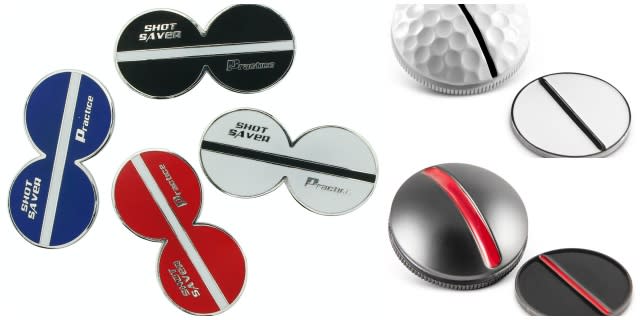 Jim Furyk, the former US Open champion, has endorsed the products and the 3-rail alignment technology has been proven to improve putting performance by 12%.
On the other hand, the Shot Saver model features a central bold line to help golfers start their putts on line.
The larger indication will encourage golfers to focus their attention on the start line of each putt more efficiently.
Six visual options have been released alongside the On Point markers, which should feature a design for everybody.
Three dimpled dome versions come in White/Black, White/Red, and Navy/White colour combinations, with an additional 3-Rail option for those seeking to match it up with three alignment lines on the ball.
There are also two smooth polished models available – in Black/Red and Black/Black – and they offer a more professional finish.
As an additional bonus, all On Point products come equipped with a secondary traditional ball marker that can be easily removed to ensure an accurate mark can be made.
"We were blown away by the benefits of using the ball markers when we first tried them during play and are delighted to make the game-enhancing products available to European golfers," said Nigel Freemantle, Managing Director of Brand Fusion International.
"Alignment recognition makes a huge difference to accuracy during putting and golfers can really focus with the user-friendly designs and ultimately improve putting performance at a fraction of the price of a new putter," he added.
Who is Brand Fusion?
Brand Fusion is one of Europe's leading golf equipment distributors and offers a collection of products from their online store.
Since opening their doors in 1980, they have concentrated their efforts in and around the UK before excelling into the European market.
They offer bags, accessories, balls, clubs, grips and plenty of other useful products that will come in handy when golfing.
If you would like to peruse their current catalogue, you can access their website.
---
What do you think? leave your comments below (Comments)
---
Tags: brand fusion
---
comments powered by

Disqus