Odyssey Golf Presents Exciting New Putters For 2023
By: Golfshake Editor | Wed 25 Jan 2023 |
Comments
---
It's always an exciting day in the golf industry when Odyssey reveals new putters, which is what we can showcase now following the launch of the VERSA and Tri-Hot 5K LE 23.
Odyssey VERSA
Product at Retail Date: 03/02/2022
Head Shapes: One, Double Wide, Three T, Seven: DB & S, Twelve: DB, S & CS
Following significant feedback from many of the leading minds in putting, Odyssey has brought its Versa alignment technology back in a reimagined profile, better than ever before.
This high contrast alignment technology highlights the proper face angle from address to impact, allowing you to align the putter throughout your stroke. The black and white contrast lets your eyes key in on the linear designs while highlighting face angle, for a design that can benefit any level of player. The lineup features a blend of blades and mallets with the acclaimed White Hot insert and Stroke Lab shaft.
Versa Alignment
This proven, major winning Versa technology has dominated on tours all over the world. The black and white high contrast alignment system helps golfers with their alignment at address and through your stroke. It highlights the proper face angle and improving concentration, so you make more putts.
White Hot Insert
The original White Hot formulation creates incredible feel, sound, and performance in one exceptional two-part urethane insert. Versa and the iconic White Hot insert are long time favorites of tour players and golfers alike.
Red Stroke Lab Shaft
The newest generation of proven multi-material Stroke Lab shaft features even better performance. By shortening the steel section, Odyssey has reduced the weight by seven grams. They also made it stiffer and more stable for even more consistency in your stroke and your performance.
GBP: 279 / EUR IRELAND: 329
Odyssey Tri-Hot 5K LE 23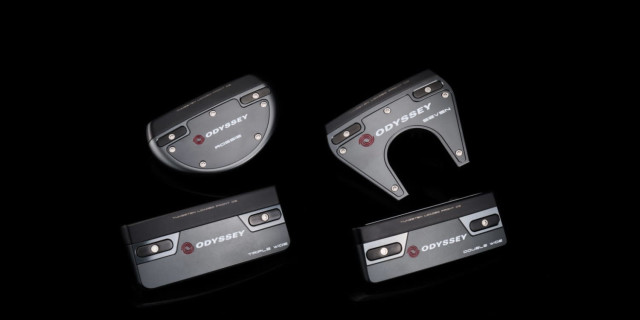 Product at Retail Date: 03/02/2022
Head Shapes: One, Two, Three, Double Wide: CH & CB, Triple Wide: DB & CS, Rossie: DB &S, Seven: DB, S & CH
The new Tri-Hot 5K was an ambitious development, creating a new putter construction for a complete shift in performance. Focusing on blade designs, Odyssey moved the CG positioning forward and leveraged new materials in ways that have never been realised in a putter. Stainless steel, tungsten, and 6061 aircraft grade aluminum have all been meticulously crafted to re-invent what a blade can accomplish.
Engineers then wanted to achieve the same with mallets. Using the Tri-Hot formula, they significantly raised the head's inertia while also moving the CG forward. The result is a more forgiving and better performing mallet. By applying large amounts of tungsten, Odyssey developed an inertia level exceeding 5000 IZZ for incredible forgiveness, all while moving the CG closer to the face.
This combination promotes improved performance in speed control, spin control, speed consistency on off-centre hits and a much tighter downrange dispersion versus conventional blades.
High Performance & Tight Dispersion From Stainless Steel Front
Built to improve performance by reducing the amount of side spin on off-centre hits, resulting in putts that are closer to the original line, with tighter dispersion, and a greater chance to go in on less-than-perfect strikes. This is achieved through a 303 stainless steel front section that includes the hosel and face area. The back section of these putters has been finish milled to exact shape and weight, helping to keep the CG forward.
Improved Forgiveness & Improved Roll From Tungsten Front Weights
Odyssey has precisely positioned massive amounts of tungsten (up to 120 grams) behind the face in the toe and heel sections of the club head. The CG is moved forward for improved roll, while also increasing inertia to over 5,000 IZZ. It's an improved level of performance that's now available in new standard size mallets.
Interchangeable Front Weights
Available in 5, 10, 15 and 20 grams these removable weights allow you to dial in your head weight to your exact preference.
Legendary White Hot Insert
The most popular insert of all time is back with the original formulation, feel, sound, and performance.
Red Stroke Lab Shaft
The newest generation multi-material Stroke Lab shaft features even better performance.
GBP: 429 / EUR IRELAND: 429
---
BUY PUTTERS ONLINE at Scottsdale Golf / BUY PUTTERS ONLINE at American Golf
---
What do you think? leave your comments below (Comments)
---
Tags: putters odyssey Golf Clubs gear equipment
---
comments powered by

Disqus