10 of The Most Memorable Feuds in Golf
---
YOU are probably aware that Rory McIlroy has called upon Greg Norman to quit as commissioner of LIV Golf, saying that as long as Norman remains in post the chances of finding a solution to the impasse that exists in professional golf has little or no chance of being resolved.
It is fair to say that the pair are not members of a mutual appreciation society. Here, we look at some of the things they have said about one another and take a look at some of golf's most high profile feuds.
Rory McIlroy & Greg Norman
(Image Credit: Kevin Diss Photography)
McIlroy took great delight in passing Norman's 20 PGA Tour victories and was thrilled to reclaim the world No1 spot in the rankings, making it clear that his next target was to surpass the number of weeks Norman held the top spot. He could not even bring himself to say Norman's name. And he now says that Norman "has to exit stage left." For his part, Norman has accused McIlroy of hypocrisy.
Nick Faldo & The British Media
Faldo's determination to win was legendary. This is a man who went away and rebuilt his swing because he realised that the technique he possessed would not stand up to the pressure when it came to winning majors. It is fair to say that the British media built him up, only to turn on him when he hit the heights. The problem was that Faldo was totally single-minded in his pursuit of perfection. And he got his own back on the media after winning The Open for the third time in 1992. In an extraordinary winners' speech he first of all sang "My Way" to the gallery, then thanked the crowd from the "bottom of my heart" before thanking the press "from the heart of my bottom."
Bryson DeChambeau & Brooks Koepka
These guys make no secret of the fact that they don't get along. When you consider that they now compete on the LIV Golf circuit, with its 48-man fields, it is difficult to imagine how they can possibly avoid one another. It reached an unacceptable level when Koepka encouraged golf fans to heckle DeChambeau, promising to buy them beers if they did so.
Patrick Reed & Jordan Spieth
The pair formed a decent partnership at the 2014 and 2016 Ryder Cup and 2017 Presidents Cup. But early in 2018, Reed was denied relief during the Arnold Palmer Invitational and muttered: "I guess you have to be Jordan Spieth." A few weeks later he joked about having carried Spieth at the 2016 Ryder Cup. And then along came the 2018 Ryder Cup at Le Golf National, where it was assumed they would partner one another again. But it didn't happen and Reed said: "The issue's obviously with Jordan not wanting to play with me. I don't have any issue with Jordan. When it comes right down to it, I don't care if I like the person I'm paired with or if the person likes me as long as it works and it sets up the team for success."
Sergio Garcia & Well, Just About Everybody…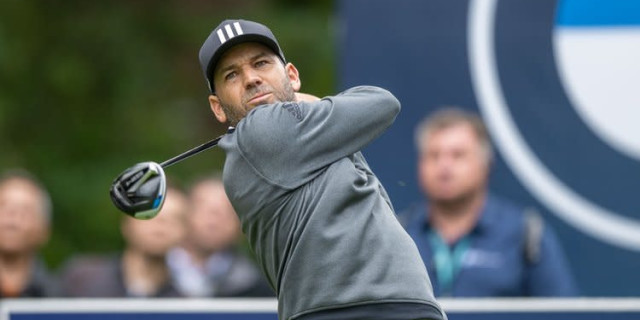 (Image Credit: Kevin Diss Photography)
The Spaniard is Europe's record Ryder Cup points scorer and, as a 19-year-old, was one of the most precocious talents the game of golf had ever seen. There was genuine warmth towards him when he finally won The Masters. But boy has he been difficult to like over the years, picking verbal spats with Tiger Woods, spitting into the cup in front of TV cameras, breaking clubs, kicking golf shoes into crowds, attacking bunkers and, finally, launching an astonishing verbal attack on the DP World Tour before defecting to LIV Golf. You get the impression that Sergio could start an argument in an empty room.
Sergio Garcia & Nick Faldo
By common consent, Faldo's Ryder Cup captaincy in 2008 was a disaster. Unsurprisingly, Europe were thrashed by a well-organised US team. Some years later Faldo told the Golf Channel that Garcia had been useless in 2008. During the 2018 Ryder Cup at Le Golf National, Garcia won three points and became Europe's all-time top points scorer. Asked afterwards what it meant to him, he said: "This means a lot to me. I have passed some of my heroes today - and Nick Faldo."
Paul Azinger & Seve Ballesteros
Where to start with this pair? It all began at the Ryder Cup in 1989 when Azinger refused Seve's request to replace a damaged golf ball. "Is this the way you want to play today?" asked Ballesteros. The bad feeling simmered for the rest of their singles match. On the 18th hole Seve disputed a drop Azinger took out of the water as the American won one up. And it didn't end there. In 1991, at the infamous Kiawah Ryder Cup, Seve and Jose Maria Olazabal were paired against Azinger and Steve Pate. The Spanish pair accused the Americans of using different golf balls in the foursomes format, which is against the rules. There was a furious row and Seve and Olazabal would go on to win 2&1 and then beat them again in the afternoon fourballs. Afterwards, Seve called Azinger a liar, Azinger called him "the king of gamesmanship" and accused him of coughing during his shots.
Tiger Woods & Stephen Ames
Not so much a feud as a "why didn't I just keep my mouth shut?" Before the 2006 WGC Match Play, Woods was struggling with his game. He was drawn to play Ames, who said of their forthcoming clash: "Anything can happen, especially where he's hitting the ball." Woods beat him 9&8. Over 18 holes. When asked for his reaction to Ames' comment after the round, all Woods said was: "9&8."
Gene Sarazen & Walter Hagen
At the 1933 US Open, Sarazen was asked by the media how he thought Hagen would fare. He replied: "They don't have rocking chairs anymore in golf. How can Hagen win?" It turned out that Sarazen was correct but Hagen did finish in a tie for fourth, 11 shots better than Sarazen. After Sarazen finished his final round, a rocking chair was delivered by a caddie, who said: "Mr. Hagen sent this out. He thought you might need it."
Miguel Angel Jimenez & Keegan Bradley
Miguel Angel Jimenez is one of the quickest golfers in the business. Keegan Bradley is not. So when they came up against each other in the WGC Match Play in 2015, nobody should have been too surprised when they didn't see eye to eye. Jimenez disagreed with where Bradley had taken a drop on the 18th and, while trying to put his point across, told Bradley's caddie Steve Hale to shut up. Hale took exception to this and Bradley stepped right in front of the Spaniard to say: "Don't tell my caddie to shut up." Jimenez won the match, but although he and Bradley shook hands, the debate was still raging and Hale refused to shake hands with Jimenez on the 18th green.
---

Be part of the action with a selection of unique golf tournament experiences, from playing in a pro-am with the stars to watching the action at golf's most illustrious events. Whether it's the Masters or The Open, The Ryder Cup or WM Phoenix Open, build your own bespoke package with the experts at Golfbreaks.com.
---
What do you think? leave your comments below (Comments)
---
Tags: PGA Tour european tour dp world tour
---
comments powered by

Disqus