AimPutt Putting Training Aid Review
REVIEW: AimPutt

---
Golfshake ambassador Melvyn Davies was impressed by this unique aid for fine-tuning set-up and perception
UK-based company AimPutt has developed a new putting aid designed to improve golfers' set-ups and perceptions when hitting putts.
A common cause for missed putts is poor alignment at address, with amateur golfers especially failing to get their eyes correctly over the ball and looking straight down the target line - prerequisites for performance and consistency on the greens.
Investigating this issue, AimPutt found that tried and tested methods, like 'dropping a ball from the bridge of your nose' and using putting mirrors, to help fix these issues fell short of the mark, which their innovative putting training device - the AimPutt - aims to fix.
To find out whether the theory translates into practice we sent Golfshake ambassador Melvyn Davies to the putting green.
---
Tech Specs
The AimPutt training device was created by Manchester based former scratch golfer Ken Hardy while trying to improve his putting, Ken was frustrated by trying to get his eyes over the ball and looking straight down the target line - whatever method he tried, it just wasn't as conclusive as he'd like. After experimenting with different solutions, he eventually used the idea of lining up three balls in a row to the hole. He found that swapping the middle ball for a vertical alignment stick made it much easier to see straight down the line - and the stick acted as a fixed reference point to check alignment and posture.
Such was the background to the AimPutt. However, this was only part of the development process. With the initial idea in place, Ken took the idea to a trusted friend Roger Smithies, together they decided to get the concept appraised by local professional Gareth Benson, Head Coach at Hillside Golf Club. Gareth was 100% committed to the concept of AimPutt and sought a second opinion from Harrington Golf who also agreed it was a great product. Positive feedback encouraged the AimPutt team to consider production. Meanwhile, Ken also sought the opinion of Brad Faxon who also applauded AimPutts efforts to help all golfers improve putting and said he would add it to his repertoire of training aids.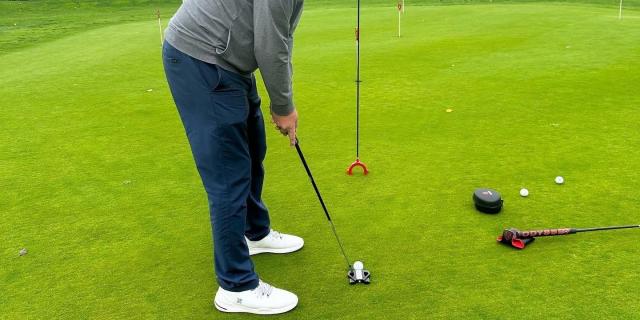 Looks
The AimPutt is a very simple-looking training aid. Having found a nice straight putt, you put the trainer down, line the alignment stick up with the back of the hole and off you go. So one of its perks is that it's easy to use. It also looks great, with a professional appearance that inspires confidence - it's simple but elegant. You can tell it's been very well-made too.
Feel
The AimPutt really stands out on feel: you get instant feedback with each stroke which is vital to honing correct technique and which I greatly appreciated.
Performance
Although the AimPutt is marketed for use with putting, the first few times I used it without a ball. Hoping to train my perception with less strokes, I lined myself up with the stick at the back of my hole and kept walking in and out of the set up for a short while everyday. While my stance with the AimPutt initially felt strange, day by day it began to feel more normal. Thus acclimatised, I started hitting some actual putts on matts and instantly saw and felt a huge difference. This translated to the course, when after a few putts to get my eyes in the putts started rolling through the arch and into the cup. The aid certainly did for me what it says on the tin as over time I was able to move further away from the arch (going back as far as fifteen feet) and still getting a good portion of putts through the gap.
The aid has continued to pay dividends for me as I practice at home without a ball and on the actual practice green. Last round I had 35 putts, which represented a good poke for me on a course with difficult greens and is surely in part due to the time I've spent honing my set-up and stroke with the AimPutt.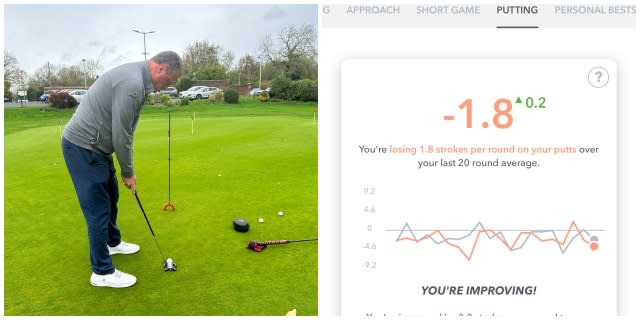 Pros
The AimPutt is very simple to set up and use. It also gives instant feedback. It comes in a handy case and with an alignment stick and is easily portable, fitting into any bag. It instantly highlights any set-up issues and makes it easy to correct them.
Cons
None that spring to mind.
Verdict
AimPutt has been a real eye-opener for me in regards to my putting set-up. What really stands out is its versatility: you can literally use it anywhere, and with or without a ball or hole. In my opinion, there is no doubt that this is an aid that will help golfers improve their set-ups, consistency and ultimately hole more putts. Who doesn't want that?
The complete AimPutt bundle is sold online priced at £49.99
Overall Rating: 9
To find out more and to buy online visit: aimputt.com
---
What do you think? leave your comments below (Comments)
---
Tags: training aids
---
comments powered by

Disqus