FlightScope Mevo+ Launch Monitor Review
---
Having been introduced to the FlightScope Mevo+ Launch Monitor in this first article, Golfshake Ambassador Matt Holbrook has now been using the product for a month and describes his progress and thoughts.
---
So, now I've had it for four weeks and been using it where I can - including giving a local professional a demo as he was interested in purchasing one himself - I wanted to dive a little bit more into each aspect of the game and where it's helped me most. Hopefully that will resonate with you.
Driver
One area I've always struggled with is off the tee, especially with my driver. Over the years I have had to really work hard on getting my path less over the top (out to in) and more in to out. During this process my club face control has also had to be looked at. What the Mevo+ is allowing me to do is focus on fixing one at a time and giving me some firm numbers on this along the way.

Hitting up more on the driver to get a better launch was also an area that I wanted to improve and using the dashboard I can easily see all of the numbers I need to enable me to work on this part of my game.
Normally, I'd have a lesson with my pro who uses another brand of launch monitor, so when I'm hitting during the lesson, we are able to look at the numbers as we go. But then when you go away it's a bit of guess work as to what is happening. Now, with the Mevo+, I am able to see the same numbers during my lesson to make sure I am really grinding in those moves and feels.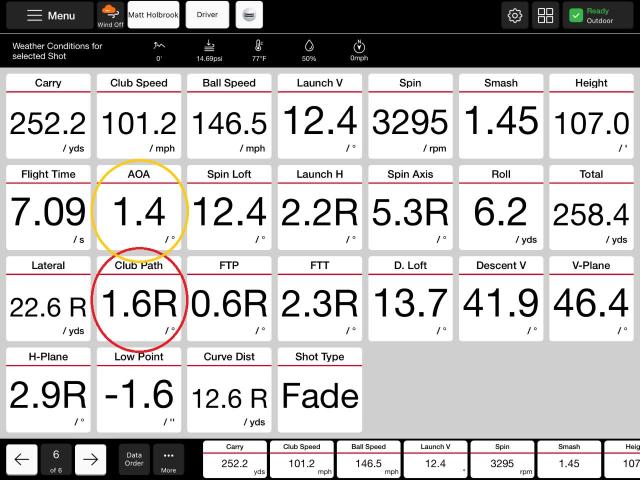 Irons
Any golfer that works on their game can relate to this, I'm sure. You are working on one thing with one part of your game and that has a knock-on effect on another.
In my case I had spent so long trying to hit up on my driver - it had led to me having a tiny issue with the angle of attack on my irons. Now, firstly, it's not something I would have noticed without looking at the numbers the Mevo+ were giving me.
I've been able to fix this issue pretty quickly by striking down a bit more with my irons and improving that angle of attack.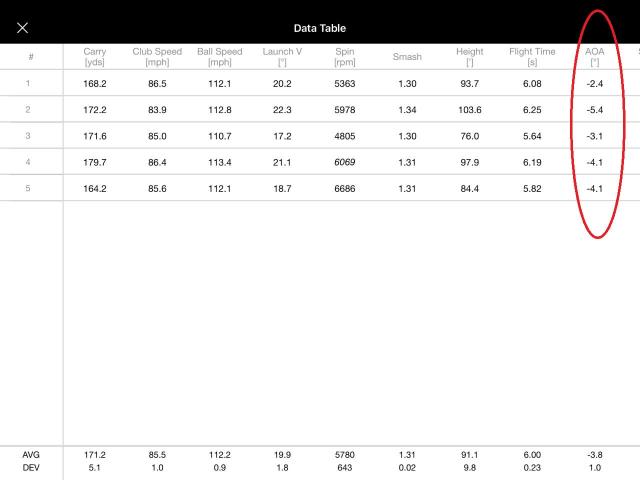 Wedges
As mentioned in the previous article, I've really taken a lot from hitting real balls on the practice field at my golf club getting some numbers for my wedges.
Being able to hit real balls on grass with your own personal launch monitor behind giving real numbers with real balls and instant tangible numbers is adding so much to my game. Really dialling in those numbers from 100 yards and in.
Putting
I have had a go with the putting function on the Mevo +. Naturally there are some real specialist pieces of putting software available, but for all-round working the option of hitting some putts on the Mevo + is there. You can most definitely use it for start line and distance control though - as I have done a couple of times in my dining room.
FS Skills
The FS Skills test is a great way to really focus and practice with purpose. With various targets to aim at, using a point-based system will give you a score to aim for and something to work towards. Targets starting from 20 yards and working all the way up to 250 yards, the FS Skills test can either be a good way to structure your practice or getting some friends along to go head-to-head - either way it's just adding so much more to your range session than simply hitting balls.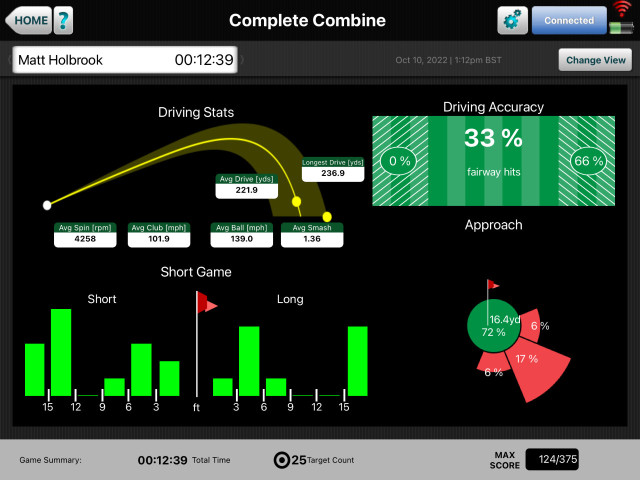 Overview
Overall, I have found the addition of Mevo + to my game so beneficial already the back end of this year.
Having it in my golf bag where I keep the training aids that I most frequently use has been really handy and it's so quick and easy to set up it can always be on hand to help. Whether I am having a specific session working on something, or just a casual range session - I have found that I have definitely been practicing with more purpose and having the numbers there right in front of me has certainly been of use.
As mentioned previously, after my lesson I was able to work on my takeaways from that and use the Mevo + to really help bed in a couple of things we looked at, rather than think I am and waiting to see at my next lesson.
The cost of the unit is always going to be a talking point. It may be out of reach for some - but at the same time it's less expensive when compared to other launch monitors on the market that are giving the same level of information.
Whether you're indoors, outdoors or at a driving range, the Mevo+ gets a big thumbs up from me and comes highly recommended.
---
For more information about the FlightScope Mevo+ and other products from FlightScope, please visit their website www.flightscopemevo.co.uk
---
What do you think? leave your comments below (Comments)
---
Tags: review Mevo gear equipment
---
comments powered by

Disqus