Tony Jacklin Interview: Where Golf is Heading
---
THE man who changed the face of the Ryder Cup has called on Europe's young stars to step up to the plate and start winning tournaments on the PGA Tour. Tony Jacklin, who captained Europe to its first Ryder Cup victory for 28 years at The Belfry in 1985, and then led the team to victory on American soil for the first time two years later believes that the 2021 contest at Whistling Straits should be a wake-up call.
"The Americans got it absolutely spot on with their six wild card picks," Jacklin said. "They packed their team full of exciting young guns while we ended up with a team almost half of whom were in their 40s. We need to learn lessons from this.
"It is time that players such as Matt Fitzpatrick won on American soil. He has now played in two Ryder Cups and has yet to win a single point. They need to go over there and prove that they can compete at the highest level. We quite clearly didn't have our strongest team this year and things need to change.
"Europe does have some very talented young golfers, the likes of the Hojgaard twins and the young Scottish left-hander Robert MacIntyre. They represent the future of the Ryder Cup but they must play and win in America."
When Jacklin was captain he had three picks. He was succeeded by Bernard Gallacher, who opted for only two. This year Padraig Harrington had three wild cards.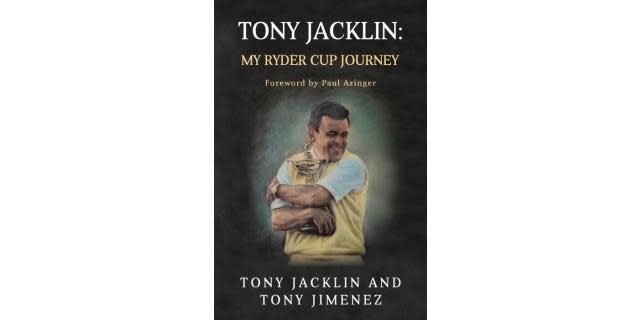 But it is a very different game today and the qualification process is unnecessarily complicated. Gallacher believed that if a player was good enough to finish in the top 10 in the money list then he deserved his place on the team. But Jacklin had a slightly different view. "I had players on some of my teams who qualified as a result of playing lots of tournaments and picking up prize money," he said. "Brian Waites is a good example of that. I had only one mission and that was to make sure that I had the best possible team at my disposal to beat the Americans. I remember that Christy O'Connor Jr didn't speak to me for four years because I refused to pick him.
"It was all about getting the right mix - and you also have to consider that some golfers are better at matchplay than others. Manuel Pinero was such a golfer."
Jacklin was also scathing about reports that Harrington had to go back to the drawing board with his foursomes pairings because he discovered that players he had put together did not use the same type of ball. "That is just absolute twaddle," said the two-time major champion. "Golf balls today may have a different manufacturers' mark on them but they are all the same. Give me strength. You put players together because you know they will gel. It is just nonsense to split up what you suspect will be a winning pair just because one uses Titleist ball and the other a TaylorMade."
He also believes that the unique team room atmosphere he created is a thing of the past. "I created the team room as a means of getting the players together so that we could all bond," Jacklin said. "We would also allow the wives in. Now, I believe it's players, wives, girlfriends, vice-captains, caddies. How can you get the players to bond in an atmosphere like that?"
---
Tony Jacklin: My Ryder Cup Journey Book Review
---
The recently announced Saudi-backed series of tournaments have seen many within the game expressing serious concerns, but Jacklin does not believe it is necessarily a bad thing for the future of the game.
"I find the whole thing quite fascinating," he said. "Nothing stays the same and, let's face it, the PGA Tour has more or less a complete monopoly on the game at present. It could actually turn out to be a good thing for golf. When Arnold Palmer won two Open Championships back to back in the 1960s the media made this big thing of golf being all about the majors and we have spent the next 60 years with the majors being the most dominant thing in golf. Everybody, including me, wanted to win a major and write their place in the history books.
"Nicklaus played in 160 majors and won 18 and his career was judged on that. The likes of Ben Hogan barely played in 50. We could well now be embarking on a new era with this Saudi investment and things could change all over again. We are still waiting for the PGA Tour to officially respond to the announcement of these 10 new tournaments and there has been the threat that those who support these events could be banned from playing in majors.
"The PGA Tour's reaction is going to be interesting, to see whether they stand by their previous statements or soften. I believe there may well be room for another Tour. The immediate injection of £100m is just the starting number. They have untold wealth behind them. I know that Greg Norman would not have put his weight behind this if he didn't believe in it.
"Norman says that he is doing it for the good of the game, to help grow the game. It is the biggest thing on the horizon. I played golf with some friends the other day and it was all that they were talking about.
"Rory McIlroy, who is chairman of the PGA Tour's player advisory council, says he is totally committed to the PGA Tour but you have guys like Phil Mickelson and Lee Westwood, who are coming towards the end of their careers and who may well see the attraction of one last chance at a huge pay day. They are still stars of the game and will be seen as attractions. And other players who don't put such credence on winning majors may well see it as a means of providing complete financial security for their families.
"It's interesting for me because I had the fame but the fortune eluded me. I was playing for peanuts when I was competing at the top level. Today's players all have foundations and goodness knows what else."
Norman has made it clear that the new tour will not be restricted to Asia, with Turnberry one of the courses being mooted as a possible venue. It has been taken off the Open rota because it is owned by Donald Trump but the former president has spent tens of millions improving the course and it deserves to be used to host world-class golf tournaments. Jacklin is also convinced that there will be American venues.
Jacklin is a long-time critic of the distance the golf ball now travels and he despairs of the R&A's ability or will to tackle the issue.
"To be honest, I believe they have now missed the boat on this one," he said. "The USGA constantly say they are monitoring it but they do nothing about it. Everybody who matters in the golf world talks about it. I go to Muirfield Village every year as a guest of Jack Nicklaus and I tackled Mike Davis, who has just stood down from his job as chief executive of the USGA, about the golf ball and all he ever said to me was that they were monitoring it.
"I despair at some of the things they have changed. It's not a water hazard any more, it's a penalty area. Why do they allow players to drop the ball from knee-height? And they still can't get the anchoring thing right either, allowing golfers to anchor putters against their forearms.
"Myself, Gary Player, the late Arnold Palmer, Norman and Jack Nicklaus have all been screaming about the need to do something about the golf ball for years. We have all had our say. It goes 50 yards further than it did when I played. They say it is because today's golfers are so much fitter than we were. That is nonsense. Are you trying to tell me that the likes of Kiradech Aphibarnrat has ever been near a gym in his life? Be serious.
"When Michael Bonnallack was secretary of the R&A he didn't want to go anywhere near the issue of the golf ball. Don't ask me why. He was happy to let the USGA deal with it. The whole point of technology within golf was to allow club golfers to better enjoy the game, not professionals.
"Mark my words, if the conditions at St Andrews are benign when The Open is played there they will be breaking 60 on the Old Course. Even back in 1970, in the first round I played the front nine in 29 and then birdied the 10th hole and the scoring was fantastic because there was no wind. Scores of 67 and 68 were routine. And that was 50 years ago.
"I despair at the way it is going. Scores of 61 are shot almost every week, and they are going in with wedges for their second shots on almost every hole. And that is on every tour.
"Of course the money involved is big bucks and maybe the rule makers are mindful about any legal challenges they might face from the ball manufacturers if they do impose any changes. I guess they are waiting for old geezers like myself to pop our clogs in the hope that the issue will just go away."
Jacklin is right - something does need to be done about the distances players such as Bryson DeChambeau hit the ball. If the R&A and USGA do not tackle it, and soon, many golf courses will simply become obsolete. You can only push tee boxes back so far and eventually there is nowhere else to go.
*Tony Jacklin: My Ryder Cup Journey is now available from all major book sellers.
---

Be part of the action with a selection of unique golf tournament experiences, from playing in a pro-am with the stars to watching the action at golf's most illustrious events. Whether it's the Masters or The Open, The Ryder Cup or WM Phoenix Open, build your own bespoke package with the experts at Golfbreaks.com.
---
What do you think? leave your comments below (Comments)
---
Tags: Tony Jacklin The Open ryder cup PGA Tour european tour daily picks
---
PLAY MORE PLAY BETTER - LATEST TUITION TIPS
---
Leave your comments below
comments powered by

Disqus