Tony Jacklin: My Ryder Cup Journey Book Review
---
MY FIRST memory of the Ryder Cup goes all the way back to 1969, when Jack Nicklaus conceded a short putt to Open champion Tony Jacklin at Royal Birkdale, meaning that the match finished all square. It was a thrilling encounter but a rare moment of parity in a fight for a trophy that the Americans regarded as their own personal trophy. It was the start of an enduring friendship between Jacklin and Nicklaus that continues to this day.
Jacklin would go on to win the US Open at Hazeltine the following year by a staggering seven shots and a few weeks later played the front nine at St Andrews in 29 shots at The Open before torrential rain stopped play. Had there been world rankings at the time, Jacklin would surely have topped them.
He played in the Ryder Cup seven times, losing on six occasions, with only that tie as a genuine highlight. But then he was asked to take on the role of captain of the European team, something he did four times. Under his tenure, the match changed for ever and the story is recorded in Tony Jacklin: My Ryder Cup Journey, written with renowned British golf journalist Tony Jimenez.
Jimenez first became aware of Jacklin's special abilities watching him record a hole in one on a black and white TV in 1967 - it was the first televised ace on British TV and it established Jacklin as the superstar he was.
This book is a must for anybody who has even a passing interest in the Ryder Cup. It records details of every match in which Jacklin was involved, both as a player and a captain.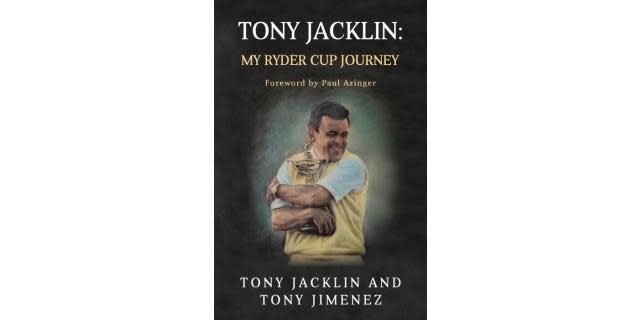 It also reveals that the legendary English golfer has experienced some personal traumas that have not previously been made public. Did you know that he is almost completely deaf? It happened when he was taken clay pigeon shooting and told that he wouldn't need ear defenders. He also reveals that he has fought and beaten cancer. And Jacklin addresses the death of his beloved first wife, Vivienne, and refuses to walk away from an incident after her death in which he unwittingly became involved with a 16-year-old girl who had lied to him about her age.
His life was turned around when he met his second wife, Astrid, but they also faced further huge challenges as Jacklin lost all his money and had to depend on friends and family to get his life back on track. He reveals that one of those who helped him out during that difficult time was Jack Nicklaus and his wife Barbara.
But there is no sense of self-pity. Jacklin doesn't feel sorry for himself, choosing instead to look back on the many positives in his life.
And right at the top of that list is the Ryder Cup.
With the 1983 match at PGA National in Florida just five months away, Jacklin was asked in May 1983 to captain Europe by PGA secretary Colin Snape and European Tour chief Ken Schofield. Still smarting from not being chosen as a player two years earlier, he didn't immediately agree. And when he did so, it was with strings attached. He told the powers-that-be that he wanted the team flown to the USA in Concorde and that he wanted them to be able to take their regular caddies with them. He demanded a team room and told them that he wanted Seve Ballesteros in his side.
At the time, Ballesteros was persona non grata with the European Tour. There had been disagreements over appearance money and the way that the European Tour treated its best players. Jacklin sat down with Seve and persuaded him that he couldn't win the Ryder Cup without him. Seve was on board.
By a happy coincidence, the US team that year was captained by Nicklaus. And so Jacklin took his team to Florida in style. It was a team that included Ballesteros, Nick Faldo, Sandy Lyle, Bernhard Langer and Ian Woosnam. As it turned out, the home team won by a single point. Jacklin reveals that his players were devastated until Ballesteros lifted their spirits by telling them that he now knew for certain that Europe could win.
And so to 1985 at The Belfry, where Craig Stadler missed a tiddler on the final green in the morning fourballs on the second day. Playing with Curtis Strange, he had the putt to win the match against Lyle and Langer. When Jacklin returned to the team room, Ballesteros was beside himself with excitement. Europe would go on to complete a historic victory with Sam Torrance holing the winning putt. Jacklin was thrown, fully clothed, into the swimming pool as his team celebrated long into the night. Finally, the Ryder Cup had become a contest.
Two years later, Jacklin's team won on American soil for the first time. On this occasion the captain ensured that he steered clear of his players, determined not to get drenched again.
And he completed his tenure at The Belfry in 1989 when Europe retained the trophy after the sides have finished level at 14-14.
Sadly, Jacklin admits that he barely watches any golf at all now and takes both the R&A and USGA to task over their unwillingness to do anything to tackle the vast distances today's players hit the golf ball. In his pomp, he hit the ball 260 yards from the tee - some of today's tour pros achieve that distance with a five iron. He refuses to accept that it is all down to improved fitness and calls upon the governing bodies to do something about the technology that has changed the face of the game. Remember that he is not alone in this. As he points out, Nicklaus, Gary Player and Greg Norman have been saying the same thing for years.
It is a measure of the esteem in which Jacklin is held that the foreword has been written by Paul Azinger and features testimonials by Nick Faldo, Bernard Gallacher, Jack Nicklaus, Ian Woosnam and PGA Tour commissioner Jay Monahan.
This is a book that is written with warmth and passion, humour and pathos. Jacklin has endured as many lows as he has highs but he refuses to feel sorry for himself. He was an unfussy golfer, a man who refused to fill his head with untold swing thoughts. It is clear that he lives his life the same way, and Jimenez captures it all perfectly.
Tony Jacklin: My Ryder Cup Journey, by Tony Jacklin and Tony Jimenez, published by Pegasus, £9.99.
---

The Ryder Cup is unlike any other tournament in golf and the atmosphere is something that every golf fan should experience. The experts at Golfbreaks.com can help with all aspects of your Ryder Cup experience, from accommodation and ticket packages to hospitality and travel and playing some of the fantastic nearby courses.
---
---
What do you think? leave your comments below (Comments)
---
Tags: ryder cup PGA Tour european tour
---
PLAY MORE PLAY BETTER - LATEST TUITION TIPS
---
Leave your comments below
comments powered by

Disqus