How Many Birdies Did You Make This Year?
By: Golfshake Editor | Fri 08 Oct 2021 |
Comments
---
Thousands of golfers have continued to track their scores on Golfshake throughout the summer, not only to obtain and manage their golf handicap online and record their scores and stats, but as part of our campaign in association with Callaway Golf to participate in our 2021 #BirdieClub Challenge.
Golfers were encouraged to track their scores, but also focus on shooting lower scores to record as many net birdies as possible which then counted towards our Golfshake Birdie Club Challenge to win weekly prizes provided by Callaway Golf and Odyssey.
With tens of thousands of golfers taking part and tracking hundreds of thousands of rounds it got us thinking about how well we have done this season and how many actual birdies, not net birdies, we have made collectively. For those new to Golfshake or not familiar with the Score Tracker service we offer, the online website provides a wealth of valuable analysis and insights into your game to help you on your quest to improve. Past research from the Golfshake data shows that golfers who actively track their scores and monitor their performance, will, on average save three shots per year using the Golfshake Score Tracker.
---
SIGN UP FOR A FREE GOLFSHAKE SCORE TRACKER ACCOUNT
---
So, how did your year stack up? How many birdies did you manage to record this year? Previous analysis on Golfshake highlighted the following benchmarks
The Average 10 Handicap Will Have
0.88 Birdies per round
7.20 Pars
9.9 Bogeys or worse
0.02 Eagles
The Average 14 Handicap Will Have
0.55 Birdies per round
5.47 Pars
11.92 Bogeys or worse
0.01 Eagles
The Average 18 Handicap Will Have
0.31 Birdies per round
3.6 Pars
14.09 Bogeys or worse
0.01 Eagles
For those that already track their scores on Golfshake we provide an array of in-depth analysis and reports. For those not yet tracking their scores you can simply sign up for a free account today and start tracking your data to get these insights. The free Golfshake service allows you to track unlimited rounds on multiple courses while maintaining your golf handicap for free. Below we round up some of the most useful reports and insights.
The Golfshake Birdie Club & Eclectic Scoring
The Birdie Club report, available from the Challenges section, will allow you to review all your rounds for one particular course. The data presented will then provide your average hole scoring as well as your eclectic scores for the course. An eclectic score is made up of the best scores you have ever recorded for each individual hole. Additionally, we also provide the reverse of this to see where you lost shots!
Furthermore, as part of our exciting Birdie Club Challenge, this report will provide details on which holes you have recorded a birdie. Can you record a birdie on every hole at one particular course?

Your Yearly Performance
The Yearly Report, available from the Analysis section, will provide a snapshot of your data for the current year and allow you to compare with previous years. This is the key report for finding out how many birdies you have recorded this year.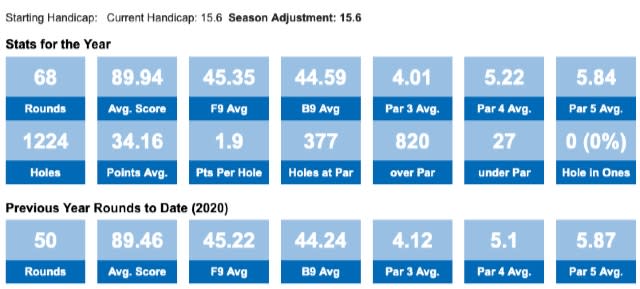 2021 Performance Infographic
For those looking for something more visual or wanting to share online, then the Golfshake Stats Infographic provides similar data to the Yearly Report but in a more visual way. The Infographic report is available from the Challenges section and will allow you to view the current year and look back at previous years. Additionally, you can export the report to an image which will then allow you to download and share via your social media account.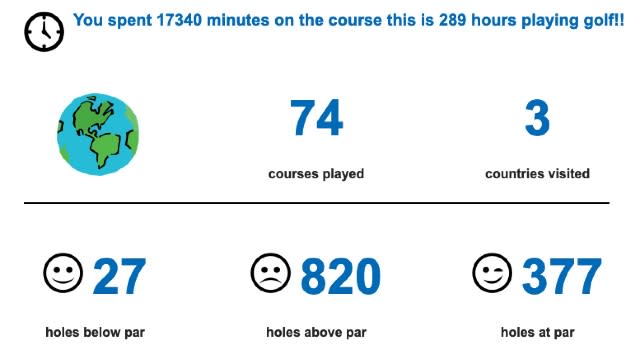 Best Round Performance
If you want to find out your best round for birdies then access the Play Your Best report from the Improve section. This will provide a breakdown of various stats providing your best round ever, best round in the current year and some additional data on your most recent average performance.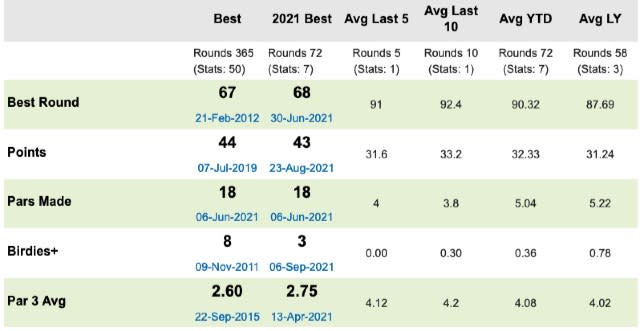 Compare With Mates
Finally, for those that want to see how they stack up against their mates then the Virtual Leaderboard, available from the Group system or the Challenges section, will allow you to review your performance contrasted with friends.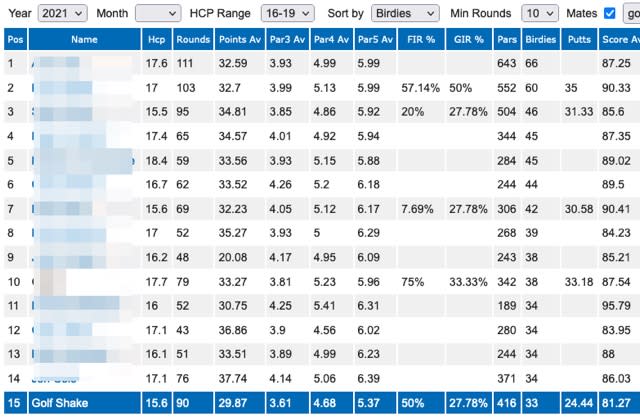 Let us know what you have done this year and if you have set any goals or targets yet for this forthcoming season!
---
Related Articles
Does Confidence Matter - Starting Your Round in Birdie Fashion
What is Your Best Start to a Round of Golf
---
What do you think? leave your comments below (Comments)
---
Tags: golfshake
---
PLAY MORE PLAY BETTER - LATEST TUITION TIPS
---
Leave your comments below
comments powered by

Disqus