Mannings Heath Melanoma Charity Golf Day
---
Article by Golfshake Ambassador Andy Picken
---
As one of the perks of being an ambassador for Golfshake, I was recently offered the opportunity to play in a charity golf day, supporting the Melanoma Fund. They are the charity behind Slip! Slap! Swing! - a well-supported campaign, raising awareness of sun protection to all in golf. This event was designed to showcase this, so thankfully, and topically, it was a day bathed in sunshine.
Given the fact that the organiser, Michelle Baker, the CEO of the charity, is a non-golfer, it was positioned more as an 'entertainment led affair' with golf as part of the fun, and I must admit it worked. From registration to end of play, it was simply a joy to participate in, and I learnt a lot on the way, even though I am not a stranger to organising such days.
It took the whole experience onto a different fairway, providing education, relaxation, networking, great golf of course, fundraising, but without any pressure. They provided lots of added extras, including two goodie bags (one to sustain and the other to refresh), an abundant raffle, a quality event programme and lots of other personal touches that kept the day swinging.
So, to the golf, which certainly cut the mustard! The day was held at the Mannings Heath Golf & Wine Estate. Here is a previous course review from a past visit several years ago.
Since my last visit, there have been changes to the estate, with 9 holes of golf having been turned over to the production of wine. This is a fine golf club with its own vineyard, and really is my dream venue. Especially given the fact that there is wine tasting available, using the owner's own high quality wines, directly from their award winning South African vineyards.
Staying In
To enhance my stay, I was able to sample the rustic delights of the Fullers Cottage, which allowed me to better enjoy the experience, and this is a package I would wholeheartedly recommend for the visiting gourmet golfer. The cottage is situated a stone's throw from the first tee and does away with the need to cloud the mind with relocating after a long day.
Getting Skin Savvy
Throughout the day, all participants had the chance to book an appointment with skin cancer consultants, Dr Elizabeth Blakeway and Dr Jan von der Werth, who both happen to be avid golfers themselves. A fascinating exercise, and a great way to be proactive about your skin health and sun protection habits, especially if you are a seasoned golfer, in a relaxed and unpressured manner.
After the day had finished, Dr Blakeway commented: "The opportunity to provide skin checks and education was both a pleasure and necessity given the significant UV exposure encountered by the golfing fraternity. Our 'on-the-day' survey of skin habits highlighted insufficient adherence to sun safety and self-skin surveillance, indicating that the Slip! Slap! Swing! campaign, is absolutely necessary, in terms of raising awareness."
Dr von der Werth said: "About 25% of the people I saw had significant skin lesions. Two had atypical naevi that I recommended for removal. Others had actinic keratoses which required GP treatment, so this was a day that was not just fun but impactful, and certainly worth the checks and a good enough reason to repeat such an event."
Both provided important and targeted messages for all, at the right time and place, with two top tips emerging from the day:
Use a broad-spectrum SPF30+ sunscreen before heading out on the course, particularly between the months of March and October, and don't forget to reapply regularly throughout the round.
Get to know your skin and carry out regular self-skin checks in a full-length mirror, highlighting any new or changing skin lesions to your GP, a habit that can save your life.
Getting Into The Swing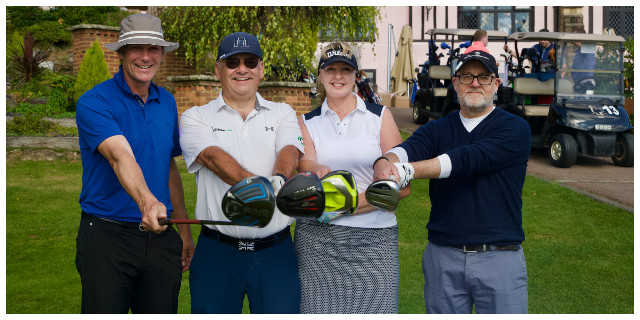 The round started with legendary trick shot artist Jeremy Dale, offering a mulligan shot on the first tee box. However, instead of an even playing ground, he executed his shot from a tee four feet off the ground, and still came up trumps!
Then, further down the course, everyone got to compete against the legendary Ryder Cup golfer Paul Way in the ultimate Beat the Pro competition. Gorgeous par 3 into a bowl, get inside the professional, and then get entered into a draw for a Bushnell V5 Rangefinder.
The halfway house offered a refreshing pitstop with a Pimm's, and then once back at the clubhouse, there was table entertainment from magician, Adam Smith, whilst relaxing on the sun-drenched Terrace, with a glass of the estate's Cuvee in hand.
Once all golfers had returned, we were treated to some more of Jeremy, experiencing his award-winning Golf Show. I had never seen this before, and admit it was simply brilliant. The skill level and ball striking ability from Jeremy must be seen to be believed.
Right-handed, left-handed, reversed, tennis serves, balanced on an inflatable ball, you name it, this man can do it. A simply awesome show and a massive contribution to the day. It was then up for dinner in the club's beautifully appointed Campbell room, accompanied by some of the wonderful wine that is fast becoming synonymous with this venue.
Post dinner, Jeremy and Paul did a great Q&A and then ran the auction for a series of awesome golf related lots. There was a great rapport between the pair, and I genuinely learnt a lot about Paul's career. Imagine partnering Seve in the Ryder Cup exactly as Paul did as a rookie during his first of two Ryder Cup performances?
The leaderboard system was carried out using Golf Genius which allowed the organisers to communicate with teams before, during, and after the event, as well as keeping the scoring visible and clear. This system really added to that feeling of being involved in a professional tournament, allowing the organisers to take time to relax and chat, network and also enjoy the day.
A putting competition to win a SIK putter, compliments of YUMAX Golf, was held on the practice putting green in front of the clubhouse, providing a touch of competitive fun, a chance to show off some skill, and some cunning practice before tee-offs.
And the winners were:
1st place: Team Yumax: Ben Davis, Ali Gill, Andrew Smith, Rhys Western
Prizes included the magnificent Harry Townsend Memorial Trophy, with each player receiving an Edge watch, bottle of Liquid Diamond prosecco, and an Adidas golf cap.
Michelle Baker, said of the day; "Although the aim was to raise awareness and donations for the Melanoma Fund, it was also about investing in the people who have supported us over the past few years get our campaign off the ground. It was a great opportunity to meet those people and also who we are as a charity, to others, setting foundations to a bigger event for next year."
The Melanoma Fund will be promoting its 'Skin Savvy' campaign in late autumn as part of Slip! Slap! Swing! raising awareness of the importance of skin checking to all in golf via 500 Sun Protection Accredited golf clubs. To get your club involved with the campaign, which is free and easy to do, sign up to get accredited HERE.
For further information on the Melanoma Fund and its work within golf, visit www.melanoma-fund.co.uk.
---
What do you think? leave your comments below (Comments)
---
Tags: Golf Courses Golf Courses Charity
---
PLAY MORE PLAY BETTER - LATEST TUITION TIPS
---
Leave your comments below
comments powered by

Disqus