Cobra KING 3D Printed Agera Putter Review
REVIEW: Cobra KING 3D Printed Agera Putter

---
Review by Golfshake Ambassador Matt Holbrook
---
In May, Cobra Golf revealed two exciting new putter families, the KING Vintage Series, which blends classic shapes with an innovative performance, AND the KING 3D Printed Series - the brand's first complete line of 3D Printed multi-material putters.
Given the fact that I had been using a mallet putter for the past eight years, I wanted to stick with this type of model so took the opportunity to try the Agera - from the 3D Printed range.
Tech Specs
The KING Agera features an oversize mallet shape and an MOI over 7600, making it one of the most stable putters on the market today.
The design features a 3D printed nylon cartridge, 261g steel chassis, 27g forged aluminium crown, and extreme tungsten weighting. The intricate 3D printed nylon lattice cartridge removes unnecessary mass from the centre and allows it to be redistributed to the perimeter in the form of 53g of combined tungsten to increase MOI.
Like the other putters in the KING 3D Printed Series, the Agera also features an aluminium face insert with SIK's DLT with four descending lofts (4°, 3°, 2°, 1°) to provide optimal launch and roll consistency for all putting strokes. The KING Agera putter is equipped with a lightweight polyurethane Lamkin Sinkfit CONNECT Grip, and is available in right and left hand in 34", 35", and 37.5" (ONE Length) stock length (other lengths available through custom).
A 41" Armlock model is also available and comes with a special oversize Lamkin Sinkfit CONNECT grip for players who prefer to rest the grip and shaft against their lead forearm during the stroke. The SIK Face insert on the armlock model is designed with slightly higher descending lofts (7°, 6°, 5°, 4°) to account for forward shaft lean in an armlock setup.
Looks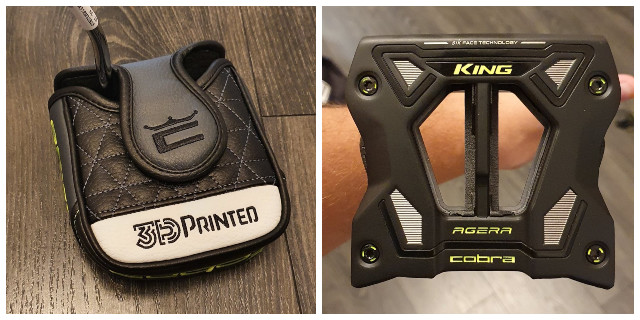 Naturally, the putter looks fantastic and gives great confidence the moment you take the head cover off.
The style and design may not be to everyone's taste, but Cobra have a fair-sized range so there should be a model available to try for everyone.
The idea of the 3D Printing wasn't one of the reasons I wanted to test this putter, but it doesn't look out of place on this model. It blends in with the rest of the modern design and the alignment aid is also a major benefit.
It also looks great at address and is so easy to get lined up which just gives you that added confidence stood over the ball.
Feel
The feel of the ball coming off the putter face is so good. Especially on those longer putts! The face feels super soft and I wanted to push this model to its limits and purposely tried to hit some off-centre and even those felt great and didn't feel like I lost any distance.
The weight of the putter is right where I wanted it, again this may differ for each individual, but there are options available and the grip - with Arccos built in - feels great too.
Performance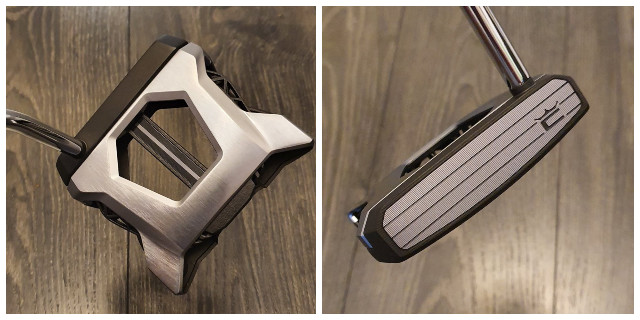 I wanted to make sure I really out this putter through a good series of tests, rather than just taking it out onto the course.
I started off just hitting some putts through a narrow gate using a couple of tees - not even trying to hole anything. Getting the ball starting on the right line is so crucial.
I spent a good 20 minutes hitting putts at different distances getting it to go through the gate and I was incredibly impressed with this.
The gate I made was only just wide enough for the ball to go through and I'd say I hit around 60-80 putts ranging from between 2ft and 6ft from the gate. I could count on one hand how many times I hit the gate, so this was a test passed with flying colours.
Next up were some longer putts. I'm lucky enough to have a nice sized putting green at my home club for some 50ft putts.
The thing here that I was really impressed with was the distance control. I'm not expecting to hole many putts from this distance - but what I did notice compared to my old putter was when hitting longer putts the SIK face tech that's in this gave me a much smoother roll a lot quicker into the ball's journey. With my old putter I'd say over the first two to six feet, the balls were probably in the air and thus harder to control the distance.
Something else I was super impressed with.
Lastly, I went through my entire putting routine from about 12-15ft. Lining up the ball, reading breaks and hitting the putts. Another test I wanted to give so I could make that transition onto the course.
After all this, I went straight out onto the course, where our first hole is a par 5 and after hitting a wedge to about 15ft I was faced with a slippery downhill putt with some right to left break which I duly holed for a birdie 4 and a perfect way to set up what I'm hoping will be a great relationship between me and my new putter.
I ended up with sub 30 putts during the round - I know you can easily say that I may have chipped it close when missing greens - but you'll have to take my word for it when I say how good the putter performed and how much my confidence grew with it as the round went on.
Verdict

Pros
Well, that's easy really, I love (almost) everything about this putter, the looks, design, the feel. I'm so impressed with the tech behind the SIK face and obviously the performance is the be all and end all of any new golf equipment and it ticked every box.
Cons
There is a con. There is only one con, and it may be a minor thing that I'm sure I'll get used to over time, but for eight years I had used a putter that I was able to scoop balls up with from the green. The design of this putter doesn't allow for this - but that's the only bad thing I can say about it.
The Bottom Line
I was very dubious about putting a new putter in my bag. Putting has been, and will now continue to be, a strength of my game and my stats don't lie to me - regularly gaining strokes putting. But I'm now really excited to see what I can achieve moving forward with the Cobra King Agera in my bag.
---
What do you think? leave your comments below (Comments)
---
Tags: review putters gear equipment cobra
---
comments powered by

Disqus