The Best Ever Gift For Father's Day
---
Article by Golfshake Ambassador Andy Picken
---
I have written about my diagnosis with prostate cancer. I was also asked by Golfshake to assist in promoting Prostate Cancer UK through golf.
The charity recognised that the demographic within golf clubs was perfect for the people that they were trying to engage. In my case, 100% perfect, because the more I learned about the disease the more I recognised my own risk factors. I spoke to my GP about getting checked and within eight weeks my diagnosis of having prostate cancer had been confirmed.
I've come to realise that despite being diagnosed with cancer I am very lucky.
The fact that I am aware of my disease, I know where it is, it's been mapped. I know how big it is and this allows my consultant and the rest of the team to manage and monitor it on a monthly basis for any changes. If the cancer migrates from the prostate gland into other parts of my body, it becomes a serious issue.
Around 12,000 men a year in the UK die through this disease because they are not aware of its existence until it's too late to undertake any form of meaningful treatment. There is no screening for this disease, so it is totally reliant on ensuring that as a man you are proactive in looking after your own personal health.
If you care about a man, a father, a son, or a grandfather, please take the time to talk to them about this issue.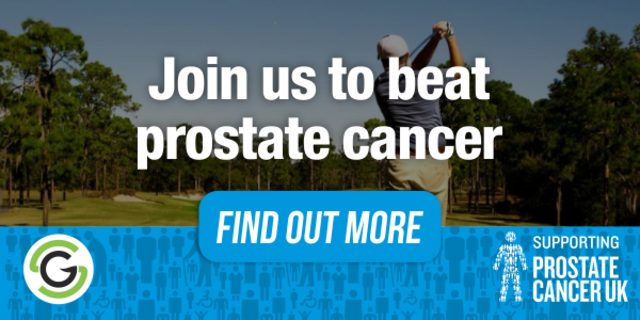 The pandemic has caused thousands to miss the chance for proactive checks and PCUK are desperate to ensure the missing men are traced and offered support. The diagnostic checker within this article takes 30 seconds to complete. Please do it by visiting https://prostatecanceruk.org/about-us/news-and-views/2021/3/find-the-missing-men/.
Golfshake has a banner link across the entire website offering direct links to the charity information pages and services. It's a brilliant facility and I know how important that level of support is.
My work as a voluntary ambassador for the charity has been hampered by COVID, but I am still immensely proud to know that at least seven different men have now had positive interventions that have saved their lives following their engagement with one of my talks.
If you have a man in your life that you love, please talk to them about this issue.
Use the Father's Day Gift as a way of introducing the subject. Visit https://shop.prostatecanceruk.org/fathersday for more.
Now a shameless plug for a man I am proud to call a friend. In 2019, I approached the staff at Golfsupport, Mansfield, for permission to place a charity collection box on the shop counter. This was referred to the owner, John Lines. I was not aware that he had lost his own father to the disease, and he immediately offered to help.
See https://golfsupport.com/info/prostate-cancer-uk for more. This has grown into him donating a percentage of all the profits from his business to the charity. Over £40,000 donated since April 1st 2020.
For this Father's Day, John has arranged a special promotion through his contacts with Titleist, Galvin Green and PUMA.
https://golfsupport.com/info/prostate-cancer---fathers-day-mega-giveaways-
There are some incredible draw prizes attached to this competition. Make this a Father's Day to remember. Simply making a purchase will add funds to the charity and gets you entered into the amazing prize draw.
All fundraising efforts have been hampered by the pandemic. I know from personal experience how important the Specialist Nurses service is. Being able to talk to an expert at a time when it suits you is a massive benefit. No question is stupid, answers can be totally relied upon. Thank you, PCUK for your help.
Let the man in your life become a supporter of the man of men. It could save his life as well!
For more information, visit https://prostatecanceruk.org/.
---
Related Content
Help to Hit Prostate Cancer Out of Bounds
Importance of Prostate Cancer Awareness - A Personal Story
Prostate Cancer - Sparking Conversations to Save Lives
---
What do you think? leave your comments below (Comments)
---
Tags: Prostate Cancer PCUK
---
PLAY MORE PLAY BETTER - LATEST TUITION TIPS
---
Leave your comments below
comments powered by

Disqus