What It's Like To Play TPC Sawgrass
---
The Stadium Course at TPC Sawgrass has been the iconic home of The Players Championship since 1982, designed by Pete and Alice Dye, who created an imaginative and challenging layout that has ranked among Golf Digest's 100 Greatest since 1983.
Golfers have come to revere this corner of Ponte Vedra Beach, Florida, where the likes of Rory McIlroy, Tiger Woods, Phil Mickelson, Fred Couples, Greg Norman, and Sandy Lyle have triumphed. It's a devilish creation, one that divided opinion for years, but now most observers appreciate the questions it asks and savour the drama offered by that thrilling finishing stretch, most visibly dominated by the famous par three 17th.
You've seen Sawgrass on TV, but what is it like to play, especially for an average golfer?
In 2018, Golfshake Ambassador Andy Picken had the enviable opportunity to experience the Stadium Course for himself, courtesy of a stunning prize as part of The Hole In One Club. After paying £5 entry to join the Club, Andy represented Golfshake in a Pro-Am Charity Day at Kedleston Park Golf Club in Derbyshire, where he incredibly made an ace on the 4th hole.
That was verified and - as a member of The Hole In One Club - Andy qualified for the UK Finals at Gleneagles, where he made it through in sixth place as one of 12 golfers to secure their spot in the 36-hole stableford Grand Final at TPC Sawgrass, with all costs covered, including accommodation, flights, green fees, and transfers between courses.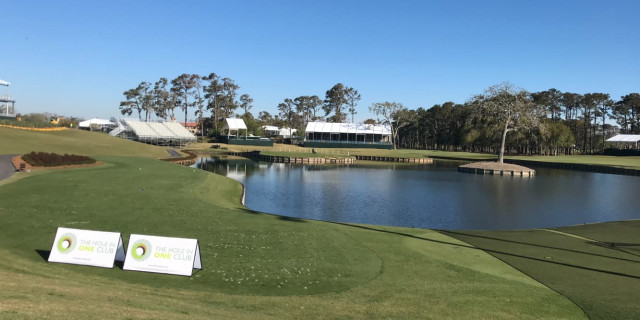 Permitted to bring a guest, Andy invited his son, Alex, who was then playing college golf at Pfeiffer University in North Carolina. You can learn a bit more about The Hole In One Club by visiting their Official Website.
Looking back, three years on, Andy has reflected on that magical chance to play Sawgrass.
"When I first got to TPC Sawgrass it was probably one of the most exciting feelings that I've ever had anticipating a two-day tournament," he said. "We got to play both of the courses, the Stadium and Dye Valley.
"The drive into the venue is wonderful. The clubhouse in front of you was astonishing. The service is remarkable. At the bag drop we were allocated a caddie for each day. They are worth every penny. Great company, brilliant strategic advice, and everyone we met had a wonderful sense of humour and really added to the experience."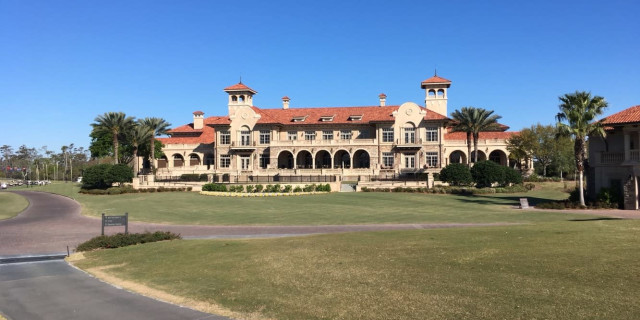 Names as esteemed as Vijay Singh and Jim Furyk have based themselves at Sawgrass, mostly due to the facilities.
"The experience on the practice range was phenomenal. I've never seen anything like it until I played at Adare Manor and the range there is of an equal standard. Simply perfect in every way. They have a replica of the iconic 17th island green built into the driving range. It's a circular range that's over 1,000 yards long.
"The quality of the practice facility was superb, exemplary, manicured."
Visiting golfers travel internationally to sample the setting of Sawgrass, and there is much to see beyond the course itself.
"If you are visiting give yourself as much time as possible to savour the venue. There is so much to see and do I would thoroughly recommend the opportunity of having one of the guided tours from the volunteers. They do this on a voluntary basis and people are asked to make contributions for a variety of charities. Absolutely fascinating, the heritage and history of the place is unbelievable.
"The story behind the barber's chair, the artworks, everything about the place is stunning."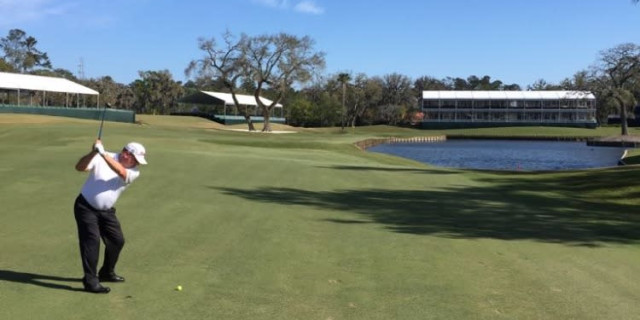 Renowned for its final three holes, which deliver annual drama on Sunday at The Players, Andy still relishes the memory of taking on that gauntlet.
"Playing the finish on the Stadium Course was a dream. The feeling on the 16th tee when you see the tree in front of you. You know roughly what you want to do and how to execute, but you cannot help, and I defy even the professionals, you cannot help but look over to your right-hand side knowing that the little wee 17th green is winking at you. Water all around it.
"We ran a competition throughout the two days of our event to assess how many golf balls were going to be lost in the water. It exceeded our expectations by a factor of five. This is a difficult golf course and we had scratch players and single handicap players and average golfers like me.
"The fact that we played it with all of the stands and all of the hospitality tents and everything in place was incredible.
"As I say this the hairs on my arms are standing up. It really is that special a place."
The first thing anyone who has played Sawgrass is asked about is their score on the 17th, where Andy continues his tale.
"On the 17th, I took a video of my son who pitched his ball onto the green. Unfortunately, it didn't bite and zipped through to the water at the rear. It was simply down to the adrenalin of being stood on the 17th at TPC Sawgrass.
"My shot went through the green but stayed on the footbridge. I have a wonderful video that was taken by my wife of me lipping out for a birdie. I actually finished with a four but prefer to remember the lipped birdie attempt!"
Love this venue. Golfing Nirvana. My Effort for a two. Very quickly turned into a 4 @PeterDawsonPGA @golfshake @GolfPunk_Mag @course_save @GOLF_com @GolfChannel https://t.co/E7WeQk4nXX pic.twitter.com/y2R9u5Oz7L

— andrew picken (@pickenan) March 10, 2021
Camerawork doesn't come naturally to the entire Picken family, as Andy demonstrated on the fearsome 18th.
"The feeling on the 18th tee was fabulous. I hit an absolute screamer just where I wanted it to be. I looked at my son, understanding from his facial expression exactly how we both felt about being there. Wonderful.
"He handed his phone to me and wanted me to video his drive. I did, he hit an absolutely screaming drive. 300 yards. We walked off the 18th green and everybody shook hands, and he gave me the biggest hug with the biggest grin. He said 'you're not going to believe what you've just done' and handed me his phone.
"I had the phone in selfie mode so the only recording that we have of my son's glorious drive is in the reflection on my sunglasses. A memorable moment lost forever. We couldn't go back and replay it. Nothing we could do but laugh."
Recommending a visit to TPC Sawgrass for any golfer who has the opportunity, Andy said: "Playing here was such a glorious occasion as I was able to share it with my wife and son.
"This was one of the consummate golfing experiences of my life."
---
For more on planning your adventure to TPC Sawgrass, visit Golfbreaks.
---

Be part of the action with a selection of unique golf tournament experiences, from playing in a pro-am with the stars to watching the action at golf's most illustrious events. Whether it's the Masters or The Open, The Ryder Cup or WM Phoenix Open, build your own bespoke package with the experts at Golfbreaks.com.
---
What do you think? leave your comments below (Comments)
---
Tags: TPC Sawgrass PGA Tour FedEx Cup daily picks
---
comments powered by

Disqus