View From The Fairway - PGA of America Distances Itself From Trump
---
Back for 2021, Golfshake's Derek Clements shares his View From The Fairway, in which he reflects on the latest lockdown and the impact on golfers, and the news that the PGA of America has distanced itself away from President Donald Trump.
---
Trump National Bedminster has been stripped of the 2022 US PGA Championship because the organisers feel that using the course would be detrimental. The PGA of America voted to terminate the agreement on Sunday.
US President Donald Trump, who owns the course, has been accused by Democrats and some Republicans of encouraging the riot in Washington last week.
A representative for the Trump Organisation said they were "incredibly disappointed" with the decision.
"It has become clear that conducting the PGA Championship at Trump Bedminster would be detrimental to the PGA of America brand and would put at risk the PGA's ability to deliver our many programmes and sustain the longevity of our mission," said PGA of America President Jim Richerson.
"It was a decision made to ensure the PGA of America and PGA professionals can continue to lead and grow our game for decades to come."
The course in New Jersey, one of 17 courses around the world owned by Trump, was due to host the major in May 2022.
Another of his properties, Turnberry in Ayrshire, Scotland, has not been selected to host an Open Championship by the R&A since Trump bought it in 2014 - with the host venues now finalised up to 2024. Turnberry's Ailsa Course has hosted The Open on four occasions since it first staged the championship in 1977, most recently in 2009.
The PGA of America is now searching for a replacement host for one of the game's biggest four men's individual events.
"We have had a beautiful partnership with the PGA of America," Trump's representative added. "This is a breach of a binding contract and they have no right to terminate the agreement."
Watch this space - this may rumble on.
---
So, once again, club golfers in England cannot play their beloved game, with the latest lockdown measures meaning that courses have had to close their doors once again.
And I am not happy. I have been given a laser rangefinder to review and, for the time being at least, it must remain tucked away in a drawer. I wouldn't mind, but I am here to tell you that I have never used a rangefinder before and I was really excited when it arrived courtesy of Doctor Golfshake.
But let's be honest - if ever there was a "good" time to put the game of golf on the back burner, this is it. We all know the feeling - peering out through the curtains on a January day to seeing the frost or snow on the ground or the rain tipping down, and having to drag ourselves to the course, wondering whether it will be open. So, for a few weeks at least, we will not have to worry about hitting shots from rock hard, frozen ground or wading round ankle-deep in mud. We won't have to contend with winter tees and temporary greens.
But we are still going to miss it terribly. Race to Dubai winner Lee Westwood has actually joined forces with former US Open champion Graeme McDowell to call for the resumption of recreational golf in England, promoting an online petition that had received almost 60,000 signatures in 24 hours.
It came as England Golf accused the government of "missing an opportunity" to look after amateur players, with the governing body said the game "could be part of the solution".
England Golf chief executive Jeremy Tomlinson said "the physical and mental wellbeing" of millions of could be helped if government were to reverse its decision to close courses.
"In excess of two million golfers could have been looked after here differently," he said. "That community could have been able to exercise in a different way. It could have taken the strain form public places, parks to be done in a regulated fashion. It is a real shame."
McDowell said: "With correct safety measures, golf is a sport which can easily function in these tough times." And he was supported by Westwood.
The shutdown of golf in England was confirmed when a new national lockdown was announced by Prime Minister Boris Johnson as coronavirus cases continued to soar. Golf courses in Northern Ireland and Wales have been closed since December.
In Scotland, however, golf is allowed to continue under strict rules.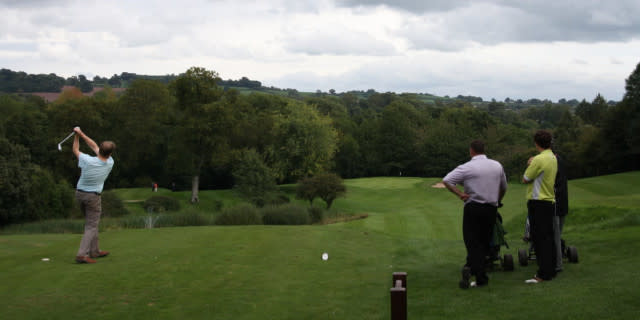 Leading sports scientist Greg Whyte believes the closure of leisure facilities such as golf courses has the United Kingdom "facing an inactivity pandemic" that will lead to a "mental and physical health crisis".
"Covid has stretched the health service, however, it is nothing compared to the overwhelming demand in the coming weeks, months and years," he said.
Even though elite sport is being allowed to continue, Whyte has said lockdown measures could lead to "a future catastrophe" as the recreational sport industry that underpins it faces a major financial fallout.
I have mixed feelings. Of course it would be wonderful to be out there playing - but we face the worst health crisis the world has known in modern times. It is to be hoped that this latest lockdown will bring things under control and with three vaccines now approved we have to believe that we will come out the other side and that sacrifices we are currently making will prove to have been worthwhile.
---

Be part of the action with a selection of unique golf tournament experiences, from playing in a pro-am with the stars to watching the action at golf's most illustrious events. Whether it's the Masters or The Open, The Ryder Cup or WM Phoenix Open, build your own bespoke package with the experts at Golfbreaks.com.
---
What do you think? leave your comments below (Comments)
---
Tags: us pga PGA England Donald Trump Covid-19 Courses
---
comments powered by

Disqus