PhiGolf Home Golf Simulator WGT Edition Review
REVIEW: PhiGolf WGT Edition

---
PhiGolf's Smart Home Golf Simulator WGT Edition allows golfers to play a realistic round of golf from the comfort of home on a selection of pre-loaded courses and game modes, receiving instant feedback and analysis on their swing. It can be used either on a mobile device (Android, Apple) or cast on TV for a big-screen experience. Golfshake Ambassador Rob Cross has been testing it for us and describes what you can expect from the device.
Looks
The sensor is small and compact which easily fits into the top of the shortened club. You won't notice it is there! The club itself has an accurate look of a shortened model with a bright blue ball the end. The grip has markings where you should place your grip - but this isn't essential!
After downloading the app, the visuals within this are clear and easy to use - the options given to the user are WGT (this is an additional £1.79 per month - but unlocks 26 world famous courses on the WGT game), training - this is where I started to just get used to swinging a club indoors, and it gets easier once you trust it is shorter than a real club! You can play online or locally (this is great with different options from full course rounds to individual challenges for putting, approaches and more).
With the sensor on, the app searches for this and connects automatically.
I found using my mobile quite tough as it the screen is small, but once I mirrored to my TV (this can be done in a few ways which are clear within the instructions) it was game on, my son (11) who plays golf, but not as much as he plays Xbox was immediately interested - being left-handed as well was easily ironed out in the settings menu. (I made sure he had the club tied to his wrist using the provided attachment!)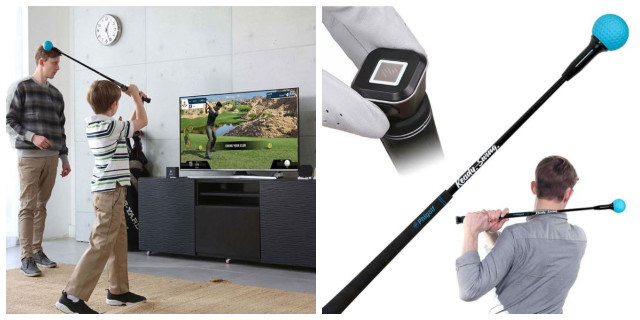 Feel
Being honest, it took a little while to get used to how the club felt, how I was swinging indoors through the air, no impact etc. There are various extras you can mess around with such as swing analysis which gives you distances, club path, swing tempo, face angle + more. As with all such devices in particular without any ball to hit I would question the accuracy of these for any serious feedback!
Performance
PhiGolf is great fun, my wife and son were both interested in having a go and this would be a great addition to any household.
Verdict
Pros
Brilliant fun, easy to use with lots of options to play individually or in groups. Set up is quick and easy and user/club stats available if needed. Plenty of courses to play, challenges and during the winter months ahead can be played indoors!
Cons
Use on mobile was quite hard to see, but on TV was clear and much easier to play. WGT is an additional monthly cost.
The Bottom Line
A great update to a solid bit of kit, can be used for the whole family.
---
For more information, visit https://www.phigolfwgt.com/.
---
What do you think? leave your comments below (Comments)
---
---
comments powered by

Disqus