World Handicap System - A Step Forward Or Cause For Confusion
---
DO YOU want the good news or the bad news? The bad news is that, whether we like it or not, the new World Handicap System, with its accompanying course slope rating, is coming into force in the UK in November for all golf club members.
And all the evidence suggest that the vast majority of you still don't fully understand it - or know why the current system is changing. If our recent survey on the subject is anything to go by, many of you still find the whole thing to be a load of gobbledegook. And that is despite the best efforts of the national governing bodies & golf organisations such as England Golf to explain what it all means. The good news? Erm…
Our September survey on this subject produced some worrying results for those who run the game - and who believe that the new system will help to grow the game. You clearly don't agree.
Over 1,700 of you completed our survey, split 60/40 between club members and non members. We asked a series of simple questions and whilst knowledge is increasing there is still some work to do to ensure golfers understand the system, with 16% of club golfers and 31% of independent golfers stating they still don't understand the changes.

---
One of the key principles of the new system is how your handicap will differ when visiting other courses and how course ratings and slope are used to adjust your handicap index to a course handicap for the course you are playing. Whilst golf clubs will be encouraged to produce information and signage to assist with this our suryey highlighted a further lack of information in relation to this.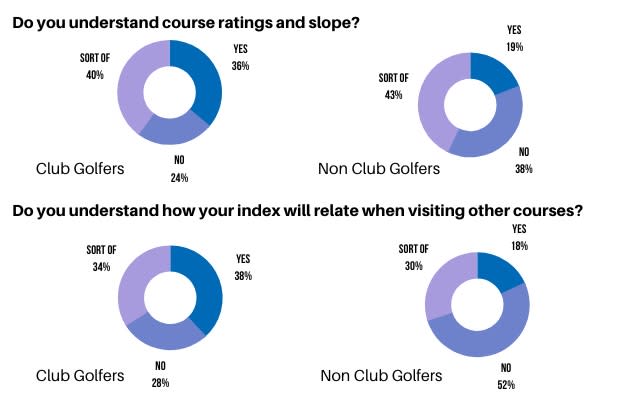 ---
The National Governing Bodies have been working hard to ensure that information is available to golf clubs which can then be provided to their members. However, our data clearly highlights more needs to be done with only 28% stating that they felt the changes were being communicated and explained well at their golf club.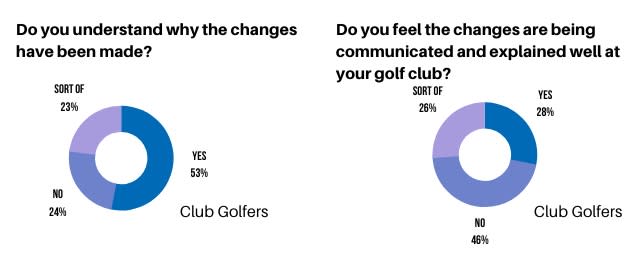 ---
This is what England Golf has to say on the subject:
"The World Handicap System is launching in 2020. It is designed to welcome more players, to make golf easier to understand and to give all golfers a handicap which is portable all around the globe.
"The new World Handicap System (WHS) is designed to be more inclusive, accessible and to make golf easier to understand for all. The WHS incorporates the Rules of Handicapping and the Course Rating System, (a consistent method to calculate a golf courses difficulty), to successfully determine a golfer's Handicap Index.
"With golf being centred around one standard set of rules governed by The R&A and USGA, it makes sense to unify the previous six different handicapping systems, making for a more inclusive and equitable sport. The WHS was therefore developed with consideration given to club golfers who play both sporadically and more regularly.
"The use of Slope allows a player's Handicap Index to be portable from course to course and country to country."
If you have a month or so to spare, check out englandgolf.org where you will find a detailed explanation. If, after reading it all, you understand what's going on, you might want to share it with the rest of us.
There is more…in England, golfers who are not members of clubs will be unable to obtain a handicap using the World Handicap System. The good news (finally some good news) is that Golfshake still provides a system that allows ALL golfers to obtain a handicap for free to benchmark their game and play this great game and socially compete with their friends on a level playing field as intended with the handicapping system.
So just what do you think? Here is a selection of your views from our September survey - and they are very telling…
"At a time when we are trying to recruit new golfers, particularly the younger players, why have we created something so complex and difficult to understand? Nothing wrong with the old system. The new model is hugely bureaucratic at a time when we need to simplify the game to appeal to the masses and younger people. A strategic disaster."
"At the moment it is far from clear and transparent. We all seem to be waiting for someone to clarify it for us."
"Compared to what's happened up until now, it seems long winded but it'll soon be the norm. The challenge is getting all golfers to embrace it and submit scores every time they play."
"It is far too complicated and seems rather ridiculous."
Our survey also highlighted that golfers clearly like the ability, from a system they understand, to be able to work out how their handicap is calculated, know what they need to score to see their handicap change and when they walk off the golf course have an idea of how their handicap is likely to change, CSS permitting.
We asked golfers to rank the following in relation to - How Important Is ..... - 69.3% said it was very or extremely important to understand how your handicap is calculated, 65.9% said it was very or extremely important to be able to calculate your handicap after each round. However, the most important aspects were being able to compete against others and 88% said it was very or extremely important to know the handicap system was fair for all, something we will come back to in a future article.

Reading through your comments further, "Complicated" is a word that keeps cropping up in your views. And you can't all be wrong.
"I feel it is going to make it more difficult for the noncompeting golfer to know what their handicap is on any day."
"How is the handicap calculated, based on the best eight of the past 20 rounds or best eight in the past three years, and what adjustment is made for Stableford points as opposed to stroke play rounds?"
"It all seems too complicated. I am of the view if it ain't broke don't fix it!"
"I am yet to be convinced, as the handicap systems we have had cause huge headaches within golf when you discuss the integrity of some players. Unfortunately as long as humans are involved in the process it will never be entirely right, as it will rely on players entering all rounds and not managing handicaps. Turning up at a course and finding out your mate, who already has a suspect handicap, now gets an extra two shots at this course will be gutting. More so if the course slope rating assumes it's harder for him/her than it is for you when actually it plays to their strengths. Having different handicaps off yellows and whites makes sense, but different handicaps for each course says to me that something else is wrong, like the stroke indexes of holes for example. It is massively contentious."
"I don't understand it and other players I have spoken to don't either. If it's not broke don't fix it."
"I get the impression this is being led by the USGA, so that they control more of the game. No-one has yet been able to explain to me what the handicap index is and how it is applied to my current handicap."
The R&A will definitely take issue with this view. The purpose of the new system is to get something in place that is accepted and recognised globally.
"I'm reasonably intelligent, but despite reading several 'simple' guides to the new system I still can't grasp it. It sounds, in principle, like a good idea, but as a club golfer who would quite like a handicap to use in social golf with my friends, I'm not sure I'm going to bother."
"It will result in confusion and I fail to be understand how every round, friendly and competitive, will be recorded accurately. In Wales, in ladies league golf eligibility for the teams and playing order is based on strict handicap order, down to the point 1s and the date they were achieved. The new handicap system will result in very fluid handicaps. How will teams be decided going forward under the new system? No answer is forthcoming from the league I belong to."
"It seems to be directed at a golfer who plays three or four times a week at multiple courses in varying conditions. For those of us who play socially at one course and not that regularly it seems overkill."
"I'm the handicap secretary for our club, I just hope I can understand working them out."
"I'm really not receiving any info from my club and even info on the internet is confusing. It complicates a staightforward business. All I want is to be able to enter outside and club competitions so that I can play on courses other than my own. Who is really going to benefit - golfers or software producers?"
"It is a mess. You will have no way of calculating your own handicap after every round and will take a great deal of the fun out of the game, and increase the frequency of bandits."
"It is convoluted and not centred in common sense. As such, it makes golf seem preposterously obtuse and mired in old-fashioned arcane methods. But then ultimately I believe handicaps should only be used for social games. For any competition (of which there should be a maximum of four each year) there should be no handicaps and the best player should win."
"It remains far too complicated - perhaps deliberately so, as golf officials seem to enjoy taking golf so seriously . They jump through hoops so competitions can be played off handicaps every week in, week out. Well here is an idea - play golf for fun instead! Everyone have a handicap that is their average for social golf and have a couple of competitions a year only and these are played with no handicaps so the best person wins."
Call me old-fashioned, but I am not sure how much demand there would be for competitions where no handicaps are applied. It would mean that those with a handicap of, say, 10 and over would have absolutely no chance of winning. The whole point of the handicap system is to create an even playing field.
"I am yet to find anyone that can explain the calculation basis though and that will just cause frustration and distrust."
"It's far too complicated. I am the Handicap Secretary for a Golf Society, and I don't want to use it. I would need a software application to deal with 20+ golfers playing two or sometimes three times a week."
If handicap secretaries don't understand it, what chance do the rest of us have?
"It's just a nonsense and players i have spoken to do not understand it and I believe it will ruin the game. If it's not broke don't fix it."
This is a view that keeps being repeated. Can so many people be wrong?
"It's far too complicated. 90% of club golfers only play at their own club or away with their mates when the new system will be largely irrelevant. Handicaps for men beyond 28 is also laughable."
"Not clear, poor communication and over complication make it difficult to understand until it's been around for a while."
Whilst a lot has been done to communicate why the changes were made and how the new system is going to work, there is still work to be done to educate all golfers.
"Most golfers play the same course or a limited number of courses and only a small percentage play in multiple countries (and even then only once or twice a year). If the new system proves to be overly complex to manage going forward it will be detrimental to the game."
"I don't know why any change was needed. It is a concept useful to only a few people who tour round different courses. Mostly change for changes sake."
"The current system works very well, there was no need to change it. The idea that the new system is simpler or easier to understand is complete nonsense."
"The new system will result in people being turned off golf as it's too complicated."
"I like to challenge myself. I know my handicap and I try to improve on it. I have been playing golf for 30 months. I play at least twice a week and love it. I played in a charity competition once and the guy claimed a 36 handicap, been playing for years. Guess what? He won. Has the reputation of being a bandit. Club players won't play if he does."
"What happens if you don't have 20 rounds in the last year to take the average from? I can't find anything which easily explains this - the averaging system means if someone wants to get a dodgy handicap they can push it up fairly quickly over just a few fake rounds before then putting in a good performance as it doesn't go up slowly by 0.1. I think it's good handicaps can come down faster to reward good performances but it can also go up very quickly too. Handicaps are meant to be a measure of 'potential' not current so if in the last year I have shot a 75 (+3) but then other rounds have been 80s I can end up with a handicap of say 10 but I absolutely can shoot +3. Only time will tell if this system deals with this properly."
"Waste of time effort and cost. One of the apparent reasons is to standardise handicaps across continents The number of handicappers competing across continents is minimal."
It is human nature to resist change but the most worrying thing for organisations such as England Golf is that most of you clearly don't understand the new system, believe it is far too complicated and don't want it. As many of you have said, time alone will tell whether it will work. The handicap system has been tinkered with before and when it happens it always causes unrest. But never have the actions of so few caused so much confusion for so many. For sure, this is an issue we will be returning to.
---
Related Content
The World Handicap System - Your Questions Answered
England Golf Launches World Handicap System Education Campaign
Are You Ready For The World Handicap System
---
What do you think? leave your comments below (Comments)
---
Tags: World Handicap System rules GOLFERS daily picks Amateur Golf
---
comments powered by

Disqus