The World Handicap System - Your Questions Answered
By: Golfshake Editor | Mon 05 Oct 2020 |
Comments
---
Launching in the UK this November, the World Handicap System is a major introduction for the game, which is designed to be a unified and inclusive process across the sport.
But do golfers completely understand it? Golfshake has launched a series of surveys to provide an insight behind what golfers know about the WHS and what they expect it to accomplish. In February, 70% of those 2,000 who responded to our survey declared that they understood the WHS, with only 30% saying that they did not.
However, in a most recent survey ran in the last week of September, reaching 1,600 golfers, only 30% stated that they fully understood the WHS, with a significant 49% responding that they "sort of" understood the system.
This underlines that there remains a degree of uncertainty from many golfers, who are still unsure of what the World Handicap System fully entails and means for them.

Discovering key areas that need clarifying, the common themes identified around the comments within the surveys were:
Understanding and calculating slope
Adjustments for weather and playing conditions
Maximum handicaps set at 54 and the allowance of 3 over par
Starting handicaps & retrospective calculations
Ongoing changes and ability to quickly assess your own handicap adjustments
Taking these questions to Gemma Hunter, Head of Handicapping at England Golf, we can reveal the answers in Part 1 of a Q&A, hopefully offering some helpful understanding and education behind the system. Look out for Part 2 in the coming weeks as England Golf build towards launch date. You will also find a link to their toolkit and 'know the score' campaign below.
Why did the governing bodies feel that the current system had to be changed?
The main reason for the new WHS implementation is to make it easier for golfers to obtain and maintain a Handicap Index.
It aims to reduce the barriers of entry into the sport by allowing players to transfer their Handicap Index onto any course around the world and be able to compete or play recreationally on a fair and equitable basis regardless of what course they are playing.
Why does the system need to change to become more complex than current?
On the face of it, it may seem complicated. However, we believe the system will be more user-friendly for golfers.
Why do the governing bodies feel this new system is the right one, and are they confident they have finally found the right formula?
It`s taken many years of research and discussions to get us to this point. We have looked through all the systems in use and taken out the best bits, the bits that golfers liked and used that as a starting point for the system development. We believe we have the best system possible and it will continue to develop over many years to come
What have they done to ensure club golfers understand it and do they think that they have done enough to explain the new system to club golfers?
At England Golf we started our education process almost three years ago, giving club handicap committees the first look at the system as it was starting to develop. During 2020, we have developed a campaign `Know the Score` which will allow clubs to help educate members about the key features of the system.
What have they done to ensure handicap secretaries understand it?
Education of clubs was important, and we wanted to bring them on a journey with us through the process. We have held three rounds of education seminars, plus webinars and provided clubs with a digital toolkit to help them pass on the message to golfers.
What happens to the SSS and is the CSS a thing of the past?
The current SSS (Standard Scratch Score) will be replaced with a Course Rating Value which is very similar but takes the calculation to the nearest decimal point. While we will no longer have CSS (Competition Scratch Scores) we will have a PCC (Playing Conditions Calculation) which will work in a similar way, but is based on all scores returned in a day not just competition scores.
Have all courses now had their course rating, slope and stroke indexes looked at/altered?
Obviously, events this year hampered our ability to get out and rate courses. However, we have now completed the rating of around 1,400 of the 1,800 courses and our work continues. Courses that haven't been rated by November will be issued with a provisional Course and Slope Rating to allow the new system to start. Stroke indexes don't need to be altered unless the club wishes to do so.
How easy will it be to find out different course ratings and what your handicap will be when visiting there?
It should be very easy. Clubs will display their tee set ratings on noticeboards in the clubhouse or on special, fixed look-up boards displayed on or around the first tee. Golfers can also access these ratings via the club's software.
Are all last 20 scores used in calculation of Handicap Index or just those from handicap qualifying competitions?
We will be using the scores from your CONGU record to establish your index. This will be mainly competition scores with some supplementary scores included. Moving forward, the system can use any authorised score. These could be either pre-registered general play rounds or competitions.
Will anyone get more than 54 shots on difficult courses?
Yes. If a player with a Handicap Index of 54 plays a course with a rating higher than 113 then they will get additional strokes.
I'm purely a social club golfer and have no interest in competitions/opens. Can I still accumulate a handicap from social golf only rounds?
Yes. This is one of the benefits of the system. As long as you have pre-registered your intention to post a card before you start the round you can submit the score.
How does the system address those players who play the majority of their social golf as match play or two ball foursome golf? There are clubs where this is the norm.
Unfortunately, match play and foursomes are not authorised formats for the new WHS so these scores cannot be accepted. However, singles competitions scores will still count.
How does it work in stroke play when a player no returns on a hole, subsequently posting NR for the round?
If you do not complete a hole, for any reason, you are assigned a Net double bogey just as you are now. This means that one bad hole doesn't end your round for handicapping purposes. As a player it is your responsibility to try your best and complete your round. This helps you to do this.
Does the system require every stroke play round to be submitted or can players opt out; in which event, can the system be "manipulated" by the unscrupulous?
We don't insist on every score, but all singles competitions must be returned and if you want to return a card from a social round (General Play) it must be pre-registered prior to starting the round. This will stop a player only returning the good scores!
How does an anchor point work? Example – your Handicap Index is around 10 and you shoot level par, but this becomes your 21st round. How does this work, how long is it relevant for?
The anchor point is based on your lowest index in the last 12 months, so it doesn't matter if you have had 10 or 100 rounds in that time. This ensures that handicaps don't rise too quickly and is an accurate reflection of your overall ability rather than your current form.
For handicap limit competitions, say a County Competition the limit is often 5/6. How will this now work using a Handicap Index rather than actual fixed Handicap?
A similar process will be followed. The limits will be set based on the Handicap Index.
Will the updates to a player's handicap and their new Handicap Index go live overnight on the 2nd November?
Yes. We are hopeful that golfers will get to see an indication of their Index in advance of 2 November, but this may not be until late October. From the morning of 2 November, we will start to use our new Handicap Indexes.
What is that transition - and how may it affect what someone has done this season before November?
The transition will look at the scores in a player's current handicap record between 1 January 2018 and 1 November 2020 and convert these to scores that can be used for WHS. This will allow us to give all golfers a Handicap Index from day one. If you don't have 20 scores in that time don't worry, you will still get an index. We will calculate it like we presently do for a new golfer, using a scaling system.
Will handicap committees still exist and annual reviews still take place?
Yes. Handicap committees play an important role in the administration of the WHS. They will carry out a review at least once a year, plus they know you as a golfer better than any software system and, sometimes, we still need the human touch.
Will society golfers and independent golfers be able to gain a handicap under the new system?
In order to have a Handicap Index golfers will still need to be a member of an affiliated club.
---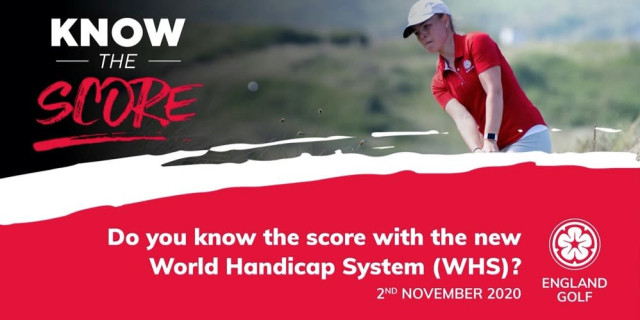 ---
Related Content
England Golf Launches World Handicap System Education Campaign
Slope Rating - What Does It Actually Mean
Are You Ready For The World Handicap System
---
What do you think? leave your comments below (Comments)
---
Tags: World Handicap System rules GOLFERS daily picks Amateur Golf
---
comments powered by

Disqus