Interview With Pro Golfer Holly Calvert
---
Golfshake Ambassador Andy Picken Interviews LET Professional Holly Calvert
---
Alongside my son, Alex, we recently reviewed the magnificent Hillside Golf Club and asked Holly Calvert, professional golfer on the Ladies European Tour Access Series, to join us for the day.
Holly is a highly accomplished player who combines a professional career with work supporting her ability to compete at an elite level. Holly is not yet a household name so we thought we would begin by giving her a short introduction in this feature, covering a wide variety of topics, including growing the game for girls and reflecting on the successful Rose Ladies Series.
I know that you are highly qualified educationally. Could you give us some more detail?
"I have an International Masters in Performance Analysis in Sport, after completing my Sports BA at the University of Central Lancashire.
"Since then I have gone on to do my PGA Level 1, which allowed me to coach at both the Roehampton Club and Altrincham GC, where I launched a successful junior program with junior golfers. In the last couple of years I have done a Level 3 Diploma in Sports Massage, and completed my TPI Level 1 qualification. I have a view to further my TPI knowledge and am looking into completing my TPI Level 2 Medical and Fitness qualifications.
"I also speak fluent Spanish in addition to my Lancashire English. I also speak a little Swedish. (See later.)
"I am proud to be an Ambassador for the Melanoma Fund – Slip! Slap! Swing! Campaign. Which aims to keep skin cancer off the fairway. I know the effect of cancer as we lost my Mum when I was 10 so wanted to raise awareness of the disease."
Who were your golf heroes?
"I have so many, but one of the most poignant has to be Seve Ballesteros, not because Spain is one of my favourite places to be, but because of his skill and creativity on the golf course. Whether he had missed the fairway or found a poor lie in a bunker, the hole was certainly not over. Golf is not only a sport it is an art and he made it so. I think the mark of a good player is also how they scramble when the odds are not in their favour, and at the end still leave with a decent score through solid damage control."
How do you get into the golf?
"My Dad got me into golf when I was around 7, we had a big back garden at the time, so he mowed out a green and a little hole for me. The first thing I ever learnt to do was chip and built the rest of my swing around it. My Dad was pretty much my main coach at the time."
How was your experience as an elite junior golfer?
"I would say I had a pretty successful junior career, winning a few club and county competitions. I won the Lancashire Rose Spoon after firing a 67 nett, which was the lowest in England that year. One of my most memorable moments was playing in the Formby Leveret at 16 as an 11th hour stand-in, I shot 76, 71 that day playing off a 10 handicap, reducing it by 4 shots. I represented my county at the Northern Ladies Championships in Durham, and around the same year I won the North West Regional Final of the Faldo Series."
How do we grow the game for all genders?
"I read with interest the article Alex wrote about the junior set up at Carnoustie. This is the perfect example of what can be achieved when junior golfers are supported.
"With reference to the junior game, golf at the best of times can be an expensive sport to take up, but that shouldn't mean that children aren't given the opportunity to try.
"For myself as a junior, it involved long road trips to and from competitions, fuel expenses, time and money spent by my Dad who was sadly a single parent of three at the time.
"However, times have changed considerably, and I can safely say that any financial support from my home club, or sport governing body at that time, would have been welcomed with open arms.
"It is so great to see England Golf and the R&A launching initiatives to get more children into the game. The R&A have pledged £2 million to The Golf Foundation to help boost junior golf through the use of Tri Golf and Street Golf. However, once these juniors are playing the game the key is to keep nurturing and supporting them, as you never know where the next big talent is going to come from.
"There may be some clubs that already do this, and I want to be careful not to speak out of turn. However, it would be great to see further support of a more individual nature.
"Golf can be an expensive sport to play, but it shouldn't mean that a child that is keen isn't given the opportunity to try. Golf is a wonderful sport that is open to all ages and genders, anything that encourages youngsters to get involved and stay involved is a good thing."
Describe your lifestyle as a professional golfer.
"There is no better job to get than one you enjoy, especially in a sport you love. The lifestyle is a great one if you can get it, as it has the potential to take you around the world. Many players still need to maintain a second job in order to fund the tournament play and it can be hard work combining all the factors. It's easier when playing well!"
Any lessons that you can pass on to aspiring professionals?
"If crows are around NEVER leave your bag open at Evian Qualifying, as they will most certainly nick your banana and rudely leave the skin for you to put in the bin!
"Always make an effort to learn some of the language to wherever you are going – to me it's just good manners. When I went to Sweden, I made it my mission to know my numbers, how to order and how to say please, thank you, my name and goodbye.
"Take lots of photos and make lots of memories."
Have you any advice for junior girls regarding a professional career and pathways to follow.
"Firstly, I would say that as a female professional golfer, unless you're at the highest level, playing full-time isn't necessarily the norm.
"Sponsorship doesn't come easy and from my experience any help at all is hard to come by. Many girls I know who play on the LETAS have some sort of part-time/flexible work to give them some income, helping them pay towards the costs and also that allows them the time to travel and compete as a professional.
"The Tour player lifestyle is great if you can get it!
"However, I would also advise to always keep your options open, try new avenues that spark your interest within the golf industry, and make further connections within it, as you never know where things may lead.
"One thing I will say, however, is that it does take you to the most incredible places, and I have met and made some close friendships along the way. Some of these women are PGA professionals, others are full time players on either the LET or LETAS, but they are some of the most empowering women I know. My point being that no matter what you end up doing within the golf industry, you are helping to inspire the next generation and influence change.
"Secondly, never overlook the importance of good nutrition on the golf course i.e. staying hydrated and eating the right foods. You wouldn't run your car on fumes, so try not to run your body on them either. Always take plenty of water, some sandwiches, flapjack and nuts.
"Finally, I feel there is a lot of pressure on young girls today to look, or dress a certain way on the golf course, probably due to what they see on social media, and sometimes it can border on inappropriate. So, from me to you, stay smart and classy with what you wear on the course, and always make sure you feel comfortable."
What was your experience of the Rose Ladies Series?
"My experience of the Rose Ladies Series was certainly a fabulous one!
"Being able to play against great players week in and week out certainly helps you to have more belief in your game. Furthermore, we were blessed with great weather for pretty much the whole series which was an added bonus. All the courses we played were so accommodating, and made us feel so welcome, they really worked so hard behind the scenes to get them in tip top condition.
"The Rose Ladies Series has been a great addition to women's golf, especially during an already turbulent 2020. It all seemed to spiral shortly after Liz Young organised and was set to host a Professional Golf Open at her home club Brokenhurst Manor.
"Shortly after, Justin and Kate Rose offered their support and were certainly the main driving force behind it. They put together seven events, over seven fantastic venues for British playing professionals, and added £35,000 of their own money to the prize pot, which was shortly matched by American Golf who then sponsored the Order of Merit. The Final was 54 holes over North Hants, The Royal Berkshire and Wentworth West. I would like to say a huge thank you to all seven venues that hosted us. The JCB Country Club who held their first professional tournament, Royal St George's who allowed us to make history, and FINALLY to all the staff that worked tirelessly behind the scenes.
"I feel that this level of competition would not have been possible without the help and support of Justin and Kate. To have a female British tour in the UK was fantastic. Particularly for those players that may find European events too expensive, due to lack of sponsorship, support, or just work commitments."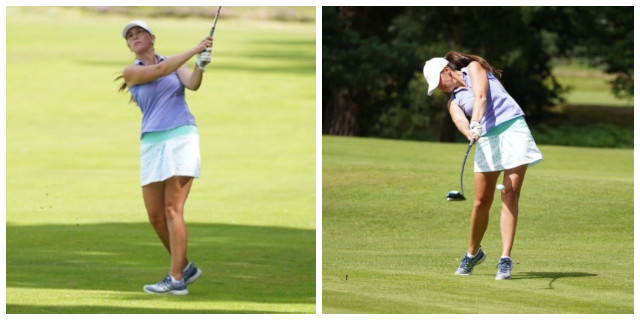 Has it improved things for you?
"The coverage on Sky Sports and social media networks also provided a way for British talent to showcase itself. It gave me a little more confidence in my golfing ability, and pushed me to approach club, car, and clothing manufacturers to see what help I could get. I am sure it may have helped others too.
"Since the series, I have taken on a new ambassador role for the Melanoma Fund and have managed to obtain some support from Mizuno for clubs next season. Other help until now hasn't been as forthcoming, in the past I was lucky to even get a response even if I was just asking for gloves, hats or even golf balls.
"In my eyes, golf still has a fair distance to go with regards to the ladies game, and in giving us the recognition we deserve, nevertheless, things are changing.
"The Rose Ladies Series most definitely gave it a nudge in the right direction, and hopefully made people sit up and take notice. Last year, IPSP Handa and Niall Horan hosted a ladies event in conjunction with the men's Challenge Tour at Galgorm Castle, Northern Ireland which again helped bring about more attention and focus onto the ladies game.
"It would be great to see the Rose Series continue into 2021 and get even more sponsorship and momentum behind it. More young girls are taking up the beautiful game that has already given some of us so much.
"We owe it to them to keep pushing, so that if their dream is to play full time on the Ladies European or the LPGA Tour, that the doors are well and truly open for them, and not closed.
"The JCB Golf and Country Club was certainly my most memorable experience.
"We received complimentary accommodation on site, and were gifted with a personalised bag towel, a sleeve of Pro V1 Balls and a little bottle of gin. They put on a great buffet the night before with champagne for all the players and put on a pitching contest into JCB Buckets at 30, 40 and 90 yards. I got to the final play-off, but unfortunately lost out to Georgia Hall, who took home a lovely hamper."
---
Related Content
Charley Hull Wins Rose Ladies Series Order of Merit
---

Be part of the action with a selection of unique golf tournament experiences, from playing in a pro-am with the stars to watching the action at golf's most illustrious events. Whether it's the Masters or The Open, The Ryder Cup or WM Phoenix Open, build your own bespoke package with the experts at Golfbreaks.com.
---
What do you think? leave your comments below (Comments)
---
Tags: lpga LET Ladies European Tour daily picks
---
PLAY MORE PLAY BETTER - LATEST TUITION TIPS
---
Leave your comments below
comments powered by

Disqus