The ZOOM Focus X Laser Review
REVIEW: ZOOM Focus X Laser

By: Golfshake Editor | Tue 04 Aug 2020 |
Comments
---
Review by Ed Dimambro
---
Golftech, owners of BIG MAX, earlier this year launched the new ZOOM Focus X Laser as part of its emerging rangefinder brand, designed to provide an affordable model into the market, providing golfers with an accessible but innovative option.
Featuring several key features, the ZOOM Focus X Laser boasts six times magnification, 600m range and continuous flagpole scanning mode that will make picking up a target easy. Lightweight in terms of stature, but packed with technology, the device also present a Slope adjusted distance option that measures distances that accommodate elevation changes.
Tech Specs & Features
Dimensions: 108x72x40mm
Weight: 170g (with Battery)
Display: Transflective LCD
Lens: Objective 22mm / Eye Piece 16mm
Power: 1000mA Lithium battery (built-in)
Premium Optics (6x magnification)
Slope Function
Flagpole Scanning
Rechargeable Battery
Vibration on Target Lock
Adjustable Lens
Protective Carry Case
(Ready to Go!)
Looks
The Zoom Focus X Laser I tested was the charcoal model with the black and red trim, simple yet stylish, but it also comes in white with the same black and red trim, which I personally think is the smarter design of the two.
Feel
The device only weighs 170g and is therefore incredibly light, it's very compact and easy to hold and aim towards the target, just what you want on the golf course.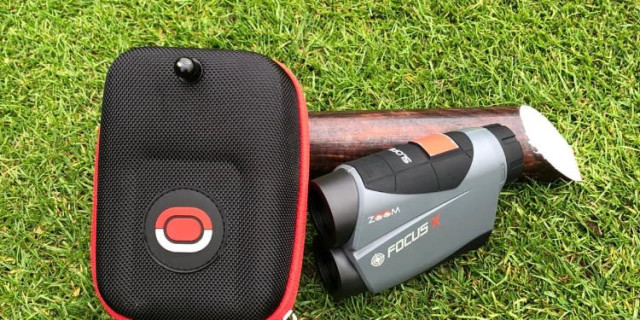 (Simply Yet Stylish)
Performance
I tested this laser alongside my current model and was pleased with how similar the yardages were, the Focus X shows the yardages down to a single decimal point, something that is so incredibly precise that it would be to Bernhard Langer's liking!
The Zoom Focus X has a super clear optic which I found to be a significant improvement on my own laser. The adjustable lens is really easy to use and adjust to your own preference. Simply point and shoot at the target and when it recognises a flag, it vibrates in your hand to let you know. As with all lasers I have used, it may think a tree behind the green is in fact the flag, but you would be able to tell easily what has happened and click again to check.
The laser is easily switchable between yards and metres and the one click change to add a slope yardage which shows separately on the display is a nice addition (but be mindful that it is not legal in competition golf). It is the first laser I have had with this function and it was a real eye opener as to the actual slope adjusted yardage as my home course has some notable steep uphill/downhill approaches of which I had only ever guessed the difference before.
A top feature for me is the rechargeable battery which was advertised to easily do 15-20 rounds on a single charge. I have just completed round 20 since getting this laser and the warning light to indicate low battery is yet to come on, so it is performing well on that front.
I have been advised that when the low battery light comes on there should be sufficient charge to complete 18 holes, so you won't get caught short on the course, but a little top up charge once a month should be more than enough!
Overall, I think the Focus X performs fantastically well and would certainly recommend it, especially when you factor in the very competitive price point.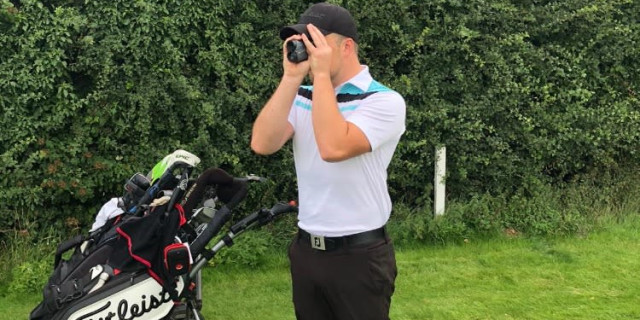 (Lightweight Design, Easy to Use)
Verdict
Pros
Compact design that easily fits into your pocket. Rechargeable battery. Excellent optics through the lens. Slope adjustment function. Simple to use. Stylish.
Cons
The yardage can vary if you zap the same target twice (usually within the tolerance +/- 0.5m) but very occasionally outside of this. The product information could have been clearer for initial set up for battery charge time and life.
The Bottom Line
This is an excellent product at a wonderful price point. The rechargeable battery is an excellent feature, which so far has lasted 20 rounds on a full charge. The optics are fantastic and easily adjustable to suit your eye preference and it is very easy to use.
Bottom line is this is a very solid performing product, kudos to the team behind it.
For more information on the Zoom Focus X Laser, visit the brand's Official Website or find the best value at Clubhouse Golf.
---
What do you think? leave your comments below (Comments)
---
Tags: Zoom Rangefinders gps gear gadgets
---
PLAY MORE PLAY BETTER - LATEST TUITION TIPS
---
Leave your comments below
comments powered by

Disqus