Reflecting on Life as a College Golfer
---
Article by Alex Picken
---
In 2018, I wrote an article for Golfshake about the Life of a College Golfer and what the experience of University in America provides for a student athlete like myself. Two years later, in the midst of a global pandemic, I have finally graduated from North Carolina's Pfeiffer University with cum laude honours (with distinction) and a Bachelor of Arts in Sports Management.
Achieving a distinguished degree was always the most important part of attending university in America, (that's the same line I've rehearsed for my parents if you haven't noticed), but without doubt the highlight of my experience has been the golf. Joining the team in 2016 as a nervous and very inexperienced freshman golfer, I was blown away by the standard that competitive college golf requires. Our team was made up of predominantly senior players who were all very experienced and included some of the most talented amateur golfers I have played with. Competition during practice and for the five tournament spots was unbelievably tough, something I'm convinced helped dramatically increase my own abilities and significantly improve my ability to score on a golf course.
The Competitiveness of College Golf
During my time on the team we began with a tournament win in Bristol, Tennessee, Pfeiffer's first Men's golf team victory in almost five years and a massive validation of the new coaching regime of David Gianferante (also known as Coach G). This win was also team captain Nathan Bull's first individual career win, capped by a final round 66 on his 21st birthday. Your imagination is serving you correctly, it was a very good night of celebrations for all of us…
Surprisingly, this tournament win was the only one we secured during my time on the team. While we may have had multiple individual tournament winners and countless numbers of top five finishes, the unrelenting competitive nature of college golf proved to all of the team members as well as myself just how hard it is to get over the line and win as a team in any event.
During my last ever team event in Hilton Head, South Carolina I managed to shoot my lowest round in college golf, we finished second in the tournament as a team missing out by only four shots. While we may not have had the celebration for a team victory, our freshman golfer Kevin Burris claimed his maiden tournament individual win shooting 3-under for the tournament. At the time, due to the early stages of the on-going issues with the COVID-19 pandemic, I had no idea that would be the last time I represented Pfeiffer and play with my team.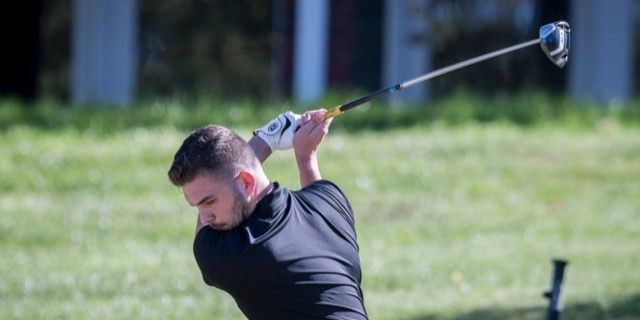 Retrospectively, if I had known this event was going to be my last in college I think I would have taken my best ever round and a close second place on the first tee if it had been offered to me. Personally, what makes me think most positively about this result was the performance of our younger players and freshman.
In my four years at Pfeiffer our team has changed dramatically, but I can still vividly remember how nerve-racking teeing up your first golf shot is in the college arena. Our entire team conducted themselves well, but it was the amazing performances from players like Kev that left me with tremendous confidence for the future of this athletics program that has provided me with so many amazing memories.
Being Part of a Team
The fierce competition, tough workout sessions and technical practices were all fantastic aspects of my golfing experience, but what made my time unique and unforgettable was the camaraderie I have experienced on this team. It's always hard to describe the feeling of being a part of a team, but I believe that one of my favourite moments at Pfeiffer showcases this perfectly.
After the team win in Bristol, Tennessee there was a big party for the golf team. During the party, we were all celebrating together when someone asked for the golf team to raise their glass and drink. The entire team, including the men and women were all in the room, but obviously at a tournament where only five players can attend and participate, this meant a lot of the guys, like myself, felt that when the golf team was asked to raise their glass, that didn't really include them. Without any hesitation, Nathan, the team captain, stopped everyone and raised his voice. He explained that he wanted everyone on the golf team to raise their glass.
At the time, Nathan didn't even notice the effect his words had on me but speaking to him a few years later after his graduation we talked about the incident. For a start, as the celebrations combined with his 21st birthday, his memory of the event was a little hazy anyway, but when I reminded him, he explained why he said what he did. It was simple to him, when he heard the word 'team', to him that meant everyone. The five players who posted the team scores and attended the tournament had no more importance than the team member who was sat in his dorm room back at campus. It was something so simple and perhaps even trivial to others, but to me Nathan's actions showed me what team camaraderie and strong leadership was all about. A team is successful when all of the members are pushing each other to success, it didn't matter we weren't in attendance at the event, what mattered was the work we put in as team beforehand, whether it was on the range, in the gym or during practice on the course, we had all made an impact and earned that result together.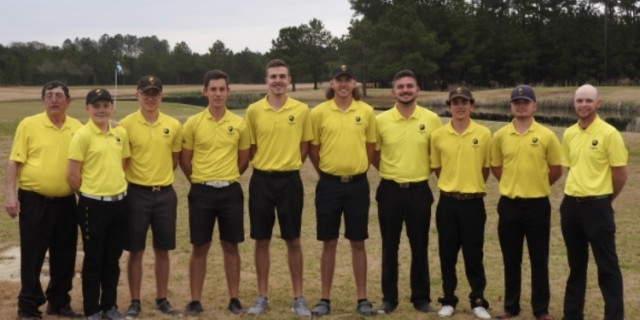 Personal Achievement
During my senior year, I was named team captain and also voted Men's Golf MVP for the 2019-20 season. In his comments for his choice of myself as the MVP nominee, Coach said this: "His dedication to not only his sport but to his academic interests and to the leadership of his team was second to none, he is the gold standard for the type of student-athlete that we want to be part of our program." Firstly, to receive a compliment of any form from this hard-nosed Italian American is special, I'm glad I have it written down and published now.
But in all seriousness, what humbled me the most was his comments about my leadership, something I cannot take sole credit for. I do now consider myself a good leader, but that is due to the great leaders I had the pleasure of playing with. My leadership personality has been moulded by guys like Nathan and Coach G, they have showed me there is no singular method that creates a good leader, it is the combination of many things. Before America, a leadership role would have been something that intimidated me, now I am determined to rise to the opportunity of any senior position that comes my way in the future.
Friends for Life
I cannot possibly write an article about my time in America without mentioning the two people who consistently kept me going throughout my four years. First of all, my Canadian brother, Cory Selander. Cory was my sophomore and junior (2nd and 3rd) year roommate and is without doubt the most talented amateur golfer I have ever met.
In his four years at Pfeiffer, Cory never missed a single collegiate golf tournament. This may not sound like much, but believe me when I say this is truly an unbelievable achievement for any collegiate golfer. While he may swing like an even more unorthodox and slightly less chubby Jon Rahm, he has by far and away the most incredible mental toughness I have seen on a golf course. Whether he had just made an eagle or hooked a drive into the trees, he constantly had a smile on his face. His ability to grind out a score during a rough day on the links is better than anyone I have ever played with. His enthusiasm for the simple enjoyment of the game combined with his annoyingly brilliant talent was something I have always tried to unsuccessfully emulate.
It's that same enthusiasm and unrelenting happiness that made my four years at Pfeiffer the best it could be. Whether I needed a drinking partner, help with accounting homework, or a golf psychologist he was always there. As I sit here writing this article, only five minutes ago we were on the phone Face Timing catching up about everything from golf to girlfriends. We may be separated by a few thousand miles, but I have no doubts he is a friend for life, a friend who helped turned a memorable experience into a completely unforgettable one.
The second person is Coach David Gianferante. During my freshman year, I think it's no secret between us that we didn't get along so well. I was naïve and very ignorant towards the ideas and philosophies that Coach G has always maintained within his teams. By the end of my senior year however, Coach is now one of the first people I go to whenever I have any exciting news going on in my life. I have never met a coach more devoted to the success of his individual players compared to success of the team as a whole.
Don't get me wrong, when we performed well as a team or won a tournament he was the first person smiling and cheering us on, but it is his work off the course to help his individual players succeed that has always been more important to him. No matter the significance of the issue at hand or who the player was, Coach would devote every ounce of his time that was needed in order to help resolve the problem. Whether it was coming to my dorm room at 11pm to check on me after hearing the news of my Grandad passing away or whether it was sitting me down to talk about different authors and reporters he knew personally after hearing about my interest in sports journalism.
Big or small, serious, or just to catch up, Coach was always there and would be for anyone that needed it. For the past four years Coach has been the rock I needed whenever things got difficult in America, from the golf course to the classroom, Coach consistently went above and beyond his duty as an athletic coach in order to make my time at Pfeiffer the best it could be.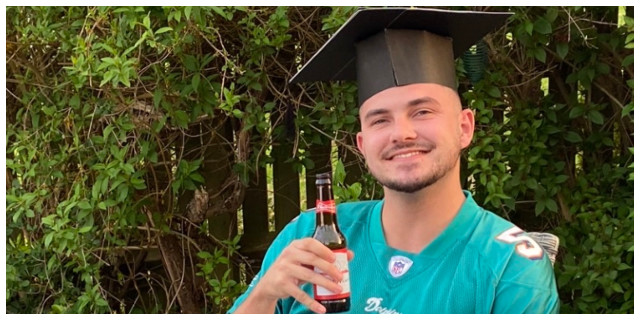 Completing the Journey
Before I came to America, the fear of the complete unknown had me constantly debating the decision in my head. I owe a tremendous thanks to David Bainbridge and his team at Future Pro USA, who helped provide me with all the information I could have wished for in order to make an informed decision. His honesty about the process and his own experience of college golf in America were massive factors in my own decision making. In the end, I asked myself, could I really look back on this moment in ten years' time and live with the idea of not going? For any individual thinking about a similar journey, this is the question you need to ask yourself. There were certainly many moments where the idea of coming home to my family, spending time in the local pub with my mates certainly felt the easier and more comfortable option, but saying no to that at the time makes it all the more sweeter to do now.
My goal of attending University in America was always to come away with a degree, I achieved this in my four years to a standard that was better than I could have ever hoped for. But during this time, I also came away with some truly unforgettable memories. From playing golf at sunset over the lake of Old North State to spending my final spring break by the beach on Hilton Head Island, these are moments that will stay with me forever. I have made lifelong friends with people from as far afield as Columbia all the way to Canada. I've been able to witness and embrace the contrasting cultures of friends from New Jersey to the unique southern hospitality of North Carolinians. I will always be eternally grateful for being able to complete this remarkable journey. For someone who first picked up a golf club only seven years ago and achieved pretty average grades in high school, walking away from my senior year as team captain, team MVP and with a diploma for a degree in Sports Management in my hand, I think it's fair to say I've done alright.
While my name might be the one on the diploma, I did not achieve this feat on my own. From the faculty at Pfeiffer, to my friends, coaches and above all my patient and understanding family, without your support I would never have achieved this goal or got to experience the incredible things I did in my four years at Pfeiffer.
---
What do you think? leave your comments below (Comments)
---
Tags: College Golf
---
PLAY MORE PLAY BETTER - LATEST TUITION TIPS
---
Leave your comments below
comments powered by

Disqus